RED BEANS, PRALINES, AND SATIRE QUEENS
I'm now perched high in a Hilton typing away and looking upon the mighty Mississippi as it rushes past this hotel at the foot of Poydras (poy-drus) towards its famous crescent-shaped bend.  The room and view are both gorgeous and check-in went smooth.  Along with our schedule and concert tickets, I received a goodie bag with all kinds of interesting stuff including canned red beans—you never know when the urge will hit!!!—as well as a cool Saints koozie to which I attached the BTE pin; a BTE decal; a Krewe of Rocckus custom bead (Rocckus on!); two bags of jalapeno cheese puffs; a mini Tabasco bottle, and a praline.
The praline and one bag of jalapeno 'Cheetos' disappeared as I unpacked, but once settled in I headed out for a walk down Tchoupitoulas.  Pronounced 'chop-i-too-lus,' this street has followed the riverbank since the very founding of the city yet no one seems to quite know what it means.  There are many words from local Native American languages that resemble Tchoupitoulas but none that are exact matches, so historians and linguists all have their favorite theory.  The spelling itself changed over time until it was finally solidified on a map and the best theory seems to have it named after either the native local mudfish or a tribe naming itself after mudfish.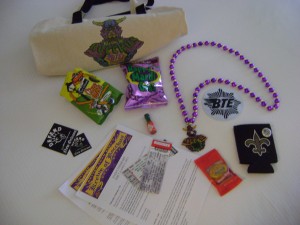 Sorry for the history diversion, but New Orleans is just so dang weird and interesting.
And sticking with the theme of oddity in New Orleans, I quickly stumbled upon floats for the Krewe of Muses as they lined up for action later tonight.  This all female krewe is billed as a local favorite and leans heavily on satire and my sneak-peak revealed a theme for this involving food and groceries.  While satire and humor were all over the floats, political correctness clearly held little sway.  The Bi-partisan Bread float listed Obama as 'multi-grain' while Romney was labeled 'all white.'  Several floats displayed their anger at the NFL and Roger Goodell for the bounty B.S. such as a Bounty Paper Towel float displaying a wad of cash rolled like a towel.  My biggest double-take came at what could be easily taken as either crass or cleverly affectionate…or both… a grocery check-out float for celebrities who cashed in their coupons this past year and went to that great grocery store in the sky!
HURRICANES & HAND GRENADES
After getting my photo in front of Muses' signature giant shoe I wandered westward through the Central Business District and doubled back on Camp St., enjoying a puff on my pipe and sipping a beer from the gift pack my 'Angels' from work gave me.  Simply walking is one of my favorite things to do when I visit a city, and I was thrilled to think of how much time I'll have for wandering these fascinating streets in the coming year. Every city has it's own unique look, feel, rhythm, and vibe and the only way to truly to connect with the energy radiating from the streets is to hit the sidewalks and go, although pausing on occasion for a coffee, beer, or light snack is permitted.  As I made my way back toward the hotel to make my inaugural feast of a decadent 'Ferdi's Special' po-boy at Mother's (ham, beef, and 'debris', i.e. the bits of beef that fall into the gravy and coalesce), I passed a quaint brick building with ornate iron grating.  It took a second look to realize this stylish structure was actually an urgent care center.  I made a mental note.  Hurricanes and Hand Grenades can strike anytime in the French Quarter, though they come in plastic cups rather than storm clouds or shrapnel shells; still, they can pack quite a wallop!
Now I'm off to Lucy's, a local surfer bar to meet my Rocckus mates and await Muses.  I didn't plan the Rocckus schedule, yet I can think of no more perfect way to start my trip.  I came to New Orleans to seek my Muse.  Now I'm starting with a whole parade of them!