TYPE D-
After rushing to Lucy's the previous evening only to arrive unfashionably early, yesterday I wandered over to Manning's, the new sports bar opened by Archie just across from the Hilton, ten minutes comfortably late for the welcome brunch only to find a long food line and the unavailability of a single seat in our second floor perch.  Doh!  Apparently the rhythm method just isn't my thang, as I just can't get my timing right.
It would take more than a seating shortage to dampen my spirits, however, and what better salve for the soul than shrimp & grits, sliders, fried catfish, and beef tacos?!  After filling two tiny plates to the point of overflow (did you really think I'd fall for that small plate trick?!), I headed out to the balcony where I found one last hidden seat with two couples that were reconnecting from Rocckus 2012.  Par for the course, we fell into easy conversation and became fast friends.  KoR is quality peeps—all killer, no filler!  As I chatted with Brandi & Steven and Kelly & Michael, they questioned me about my crazy scheme and immediately pulled out phones to hook up with the blog and twitter.  When the conversation turned to the KoR scavenger hunt, Kelly became an object for teasing, having organized her team like a military commander the previous year.  Both ladies admitted to being Type A as they went on to advise me on promoting my blog.  Brandi chided me for not tweeting yet and emphasized that I needed to hash-tag #KOR2013.  Being tightly-scheduled parents, they were fascinated with the concept of just picking up.  I was homeless, jobless, and plan-less.   As opposed to their Type A, we agreed I was more Type D-!
ROCCKUS OUT WITH YOUR COCKTAIL OUT
Once everyone was armed with Bloody Marys and bloody, rare sliders, the band took the stage to announce the rules of the pre-scavenger hunt competition.  Your mission, should you accept to choose it (I did not—writing and partying are keeping me plenty busy!) was to split into four groups and design the official Roccktail for Krewe of Rocckus.  The back of each welcome badge displayed a picture of one of the three band members or one of the organizers indicating whose team you were on.  Participants followed their team leader to one of four table surrounding a central table full of liquors, mixers, and garnishes to pull from Iron Chef style and the mixing began.  After about twenty minutes of sipping and stirring, members of Sister Hazel, the restaurants chef, and a celebrity guest from Django Unchained took the stage to judge.  Kevin Griffin's group went first.  As a representative introduced their Ezrarac (a riff on the famous New Orleans Sazerac) I cringed when he listed gin and champagne as the first ingredients.  He sounded proud in the way of that buddy declaring he met and married the most awesome girl in the casino last night while I grimaced like his best friend wondering just how bad he was going to freak out when he sobers up and realizes what he's done.  By the horrified looks on the faces of the tasting judges, my intuition was dead on.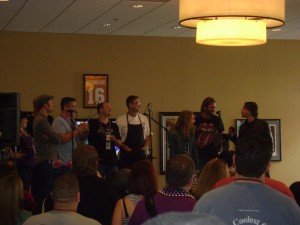 Things began to look up with the next two entries.  Someone in team two had arrived with homemade blackberry simple syrup.  Clearly they were in it to win it.  The judges response was positive but not overwhelmingly affirmative.  Next came 'A Southern Thing,' a whisky and Southern Comfort based drink garnished with a cherry and named after a popular BTE song.  It sounded by the description to be a tad sweet without masking the flavor of liquors.  As a person who prefers cocktails that enhance the taste of whisky rather than masking it with fruit juice and syrup, I was intrigued; so were the judges, though the lone female was its most enthusiastic recipient.  Apparently it was a little sweeter than it sounded.  Lastly, though, Michael Jerome's team presented the Rocck-ito, a riff on the standard mojito with a New Orleans twist.  The judges seemed duly  impressed and, after a short conference, Michael Jerome's team as led by a professional bartender was announced the winner.  Rocckus at last had its own signature roccktail.
After the presentation Brandi, now serving as my unofficial agent, introduced me to Sally, the genius behind the Rocck-ito, and suggested I interview her for our blog.  It sounded like a great idea to me and as we chatted, and planned, she made me a rocck-ito to test.  The verdict: delicious.  Stay tuned for my upcoming interview with accompanying recipe and someday, when the Rocck-ito is famous in bars across the nation you can say you read about it at My Year of Mardi Gras first!
In the meantime, I was off to wander the Quarter in a frustrating search for connectivity in a brief break before things got rolling again.  Soon we would second-line like locals down to Michaul's to feast like kings, catch beads like crazed tourists, and then on to the Joy Theater to Rocckus out like veterans.  Stay tuned.