Although Krewe of Rocckus ended with the House of Blues show Saturday night, I decided to lump the two concert reviews together and save Saturday afternoon's cruise on the Creole Queen for the finale.  After all, every traditional drama ends with either a death or marriage, so read on to see how our tale concludes.
First, however, let me take a moment to wrap-up and reflect.
MARDI GRAS CLUE: JOHN ELWAY IN THE BONEFISH WITH A SHARPIE
Considering how packed with activity and camaraderie KoR is, it's a little weird how suddenly it ends, especially considering it's three more days until Fat Tuesday excess defers to Ash Wednesday chastity.  Saturday night after the show, Rocckus is simply over.  Although several group members headed to the Blue Nile to keep the party going, most went to bed and flew out the next morning.  A few attendees did stay for the holiday, some of whom I kept running into well into Mardi Gras night; but for the most part the krewe just fizzled out.  The welcome brunch was wonderful, and a departure brunch on Sunday morning would have provided nice closure much like horseback policemen clearing Bourbon Street at midnight Mardi Gras officially ends carnival.
That being said, I give KoR a solid A+.  The event was well planned and hosted, with most of the events delivering on or exceeding expectations (the Endymion parade 'viewing' being the only real dud).  The band was present, gracious, and engaging throughout, which was a bonus.  Growing up, my athletic hero was John Elway.  Upon hearing he was hanging out at the local Bonefish every night when the Super Bowl was in Jacksonville, I rushed home to get my dingy old jersey; however, when I introduced myself to him during a break in his flirtations with female staff and groupies, he sneered with such dismissive disgust (despite being in a public place during the most publicized event on the planet!) that I became wary of meeting celebrities.   Admiring a person's work is not the same as admiring the person, and sometimes knowing the person will only lessen your respect for their accomplishments.  I was relieved to find that the band was as personable and approachable as their stage persona projects.
TO ROCCKUS, OR NOT TO ROCCKUS—IT REALLY IS NO QUESTION!
So if you've never been to Mardi Gras and don't have local friends jumping up and down to invite you, then I recommend this event whole-heartedly.  It's a great introduction to both a city and event that can seem overwhelming without guidance.  Even if you're not a huge fan of the band, the schedule of events is solid enough and the attendees so fun & friendly that it's hard to imagine you not enjoying this three-day affair.  Worst-case scenario for any sort of rock-n-roll fan is that you'll find the shows enjoyable if not the highlight of your visit, though I suspect you're more likely to walk away hooked.  Even for a local music fan, the group dynamic and insider access such as the private acoustic Sister Hazel performance at brunch or the Emerson Hart solo on the cruise plus chilling with The Treme Brass Band are enough to make it worth a local ticket.  Don't take my word for it.  Just meet me at Muses next year and we'll share a shoe!
And now (drum roll please, Michael Jerome) the grand conclusion: Will it be romance or does someone bite it off the back of the boat?!?
JUST SIT RIGHT BACK AND I'LL TELL A TALE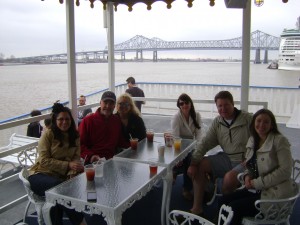 As we loaded up on coffee and king cake (the latter being a delicious cinnamon-infused, rolled coffee cake that is frosted and sprinkled with purple, green and gold sugar that is gorged upon regularly during Mardi Gras season) Saturday morning, I was still buzzing from the previous night's show at the Joy.  Spirits were high all around as fans made their way up to band members to congratulate them on the excellent rendition of How Does Your Garden Grow?
At noon we boarded the Creole Queen docked just outside the Hilton where lines quickly formed at the open bar.  As I waited for an Abita it took me a few minutes to realize that a few oddly dressed krewe members were actually masking for our literal three-hour tour as Gilligan, the Skipper and Mr. & Mrs. Howe!  Classic!  It was turning into a beautiful day so several of us joined Ginger up top to chat about her mishap and admire her for not slowing down.  Unfortunately Mary Ann was nowhere to be found.
PARENTING ADVICE FROM ROCK STARS
Once the boat started, we gathered on the back deck WHERE NO ONE FELL TOPPLED INTO THE PADDLE WHEEL TO DIE A PAINFUL DEATH for a group picture before retiring to the bottom deck for a hodge-podge meal including mashed potatoes, beef sattay, and spring rolls while local acoustic troubadour Jake Smith played in the background.  As dining wrapped up, Emerson Hart took to the stage.
I admit I'm not familiar with much of Tonic's music but Hart was conversational and funny and he spun an engaging set of acoustic tales.  Between songs he pointed out Mrs. Howe's dress, not getting the joke at first either.  When the TV theme was pointed out, he laughed and said: "That may be a joke for you, but it was my reality growing up," going on to talk about his mother's "champagne problems" such as spotting a "brown person" at the country club.  He shook his head in dismay as the crowd laughed.  Later, he spoke of his overwhelming love for his young daughter before telling a story of driving her to school.  When he tried to sing along with the radio, she objected: "Daddy, you can't sing that.  That's a girl song."  Respecting her wishes, he waited till another song came on.  "Daddy, you can't sing that.  That's a boy song," at which point her "turned and said, 'Listen, you little [brat], I won two Grammy's!'"  As the room fell into shocked laughter, he blushed, assuring us that he'd never actually talk to his daughter that way.  I'm sure a few parents present could relate to swallowing the things you sometimes want to blurt out.
His best anecdote came before playing his most famous song "If You Could Only See," when he confessed trying out new material discretely at a small open mic night in a random city.  He tossed this famous song in for good measure and afterwards a man wandered up and said [with thick redneck accent]: "Man, you sound just like that dude from Tonic.  If you'd grow a goatee, you'd look like him too!"
"I JUST KNEW"
After Emerson Hart's set ended and we were nearing a return to port with warm afternoon buzzes, Kevin Griffin took the stage unexpectedly and picked up the acoustic guitar to sing the romantic ballad from Paper Empire, "I Just Knew."  Krewe member Michael from Dallas led his girlfriend, Jewel, onto the floor where they danced as the crowd looked on.  As Griffin got to the lyrics "There's something I've been meaning to ask you: How about doing it for life?" Michael dropped down on one knee and presented a ring.  Rocckus on for life!
And with that image, I'll bid farewell to my Rocckus friends with hopes of reconnecting next year.  But for the few of us that stayed, the adventure was just beginning….