CALLING BATON ROUGE (RING LATE, HANG UP EARLY)
Having detoured around an accident, I arrived in Baton Rouge late Friday night where I'd been invited to attend the parade Saturday morning at the home of Dirty Little Angels author Chris Tusa and his wife Pam. I still miss those late-night, heavy conversations from my days in academia and Chris and I immediately dove into formidable quandaries of art, politics, life and literature, pontificating until after 3 a.m. The only downside of this verbal rambling was that, unbeknownst to me, Baton Rouge is an early party town. The parade that would pass by their front yard began at 10 a.m., so guests were already arriving 8 a.m., reluctantly rousing me. I guiltily yet groggily rolled out of bed searching desperately for coffee.
As we waited on the parade, Chris played dueling stereos with his braggart neighbor, eventually turning off his system in disgust at the one-upper next door while I stayed inside and had a pleasant chat covering a few hundred years of U.S. history with his former neighbor, a retired firefighter. Two consecutive sprawling conversations with well-read sparring partners—it was nerdy nirvana.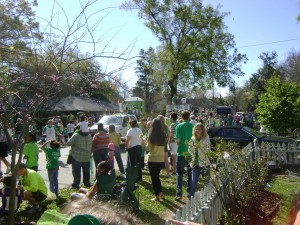 When the parade finally did roll by it was muted in comparison to a New Orleans affair. All the floats were green and gold boxy truck floats, although a few managed to stick out with creative wit. Manti Te'o jokes were still in vogue (the Notre Dame linebacker busted for having a fake girlfriend whose 'death' inspired his play) and at least 10% of them were blaring the new-grass bluegrass tune: "Calling Baton Rouge."
Most of the beads thrown were a standard green, white, or gold, although I did catch a Bacchus medallion—one rider apparently had  Mardi Gras surplus—which was fortunate since I'd left that parade without a prized throw. Plastic cups were annoyingly popular as ever.
I'd come packed for the weekend, thinking of 'party' as a nighttime term, but the parade was over by noon and the crowd quickly thinned out. A few stragglers stayed to chat, but the Tusas were due at a fundraiser in New Orleans that evening so I headed back to town, switching gears to plan on diving into the festivities that had been raging for two days.
CREATIVE PEOPLE PROCEEDING THOSE WHO SIMPLY HIRE THEM
I took a nap upon arriving home, still groggy from my shortened night, so it was nearly six by the time I started the forty-five minute walk Irish Channel to check out the block party.
Irish Channel is a small neighborhood between the Garden District and Central Business/Warehouse District stretching south of Magazine (a popular restaurant and retail corridor) all the way to the river. Lying due south of Central City, the rough and impoverished part of town where unfortunately the majority of the city's homicides occur, this was, by all reports, a sketchy neighborhood before Katrina that is undergoing a rapid revitalization. People keep advising me that Irish Channel is the place to be, (unless they're Marigny fans, which is also the place to be) residing in that period of synergy sparked by an influx of creative people of modest means to a revitalizing area. Eventually prices will rise to replace creative people with those who can afford to hire creative people but right now the window of opportunity is open, though the market tight from demand.
SISTERLY CAT FIGHT: BLOCK PARTIES AND ROAST BEEF PO-BOYS
Two popular Irish pubs anchor this neighborhood, Tracey's and Parasol's. Typically these two sisters compete for the title of best roast beef po-boy (a debate I will soon have to weigh in on) but ever since Thursday afternoon they have been jousting for St. Patty's block party supremacy.
The Irish Channel parade had rolled that afternoon and I arrived at Tracey's on Magazine just in time to catch the aftermath. Although only shortly after six, but the crowd was already surprisingly thin, though they had left the street trashed in typical fashion. There were still plenty of revelers milling about, however, and it was immediately apparent that just like Mardi Gras, gaudy masquerading was heartily embraced. As I looked over the damage, I snapped a photo of an attractive young couple amidst the trashed street for creative contrast, and then was particularly pleased to steal a shot of a guy in goofy glasses straight out of Beerfest, my favorite absurdist comedy. A few lucky procurers of prime real estate were holding house parties along the route and I snapped an envious photo of them, as well, hoping to someday worm my way into such a circle.
A SHOT FOR A SWEETIE BEFORE AN EARLY RETREAT-IE
Next I wandered away from  Magazine Street to Parasol's a block deep in the Channel. The crowd here was denser and a parade float housing its own DJ kept things shaking amongst the distribution of drink vendors. I did a quick survey, but there was no Guinness in the streets so I waded into the bar, a tiny wood-siding shed whose reputation far outstrips its size. The frazzled tender at my end of the bar was trapped dealing with a finicky, demanding cluster of patrons, and when they finally split she raised a toast: "The annoying family has finally left the building!" Everyone cheered and raised their drinks.
I had been waiting some time already and when the bartender passed me by, she squeezed my hand an apologized, explaining her system was to start at the far end and work her way down. This put me at the end of the line behind newer patrons, but I just shrugged, content to soak in the costumes and chaos. When she finally reached me, I chirped with presumably excessive and unexpected cheer, "A Guinness, please."  She started laughing and reached for a bottle of Tullamore Dew, pouring each of us a shot. "Thanks for being a sweetie," she said as we clinked plastic.
Returning to the streets, I happened by a Pope, which was a popular costume considering the recent announcement, and several people sporting Kermit the Frog to fill their green quotient, somehow pleasing my inner childhood Muppet fan, but I was having trouble connecting with this crowd in my normal chatty, networking fashion.
Instead, I tried to order a roast beef po-boy, but it was eight o-clock and they were closing up–strange for a party that had been going since Thursday (or any party in this city). I walked back to Tracey's but they too had things cleared out by eight-thirty.
JOEY K'S & BACHELOR WAYS
I now ambled back up Magazine to the popular neighborhood restaurant Joey K's that was once featured on Drive-in, Diners, & Dives. As I sat at the bar, the staff was notably enthusiastic and friendly even though it was approaching closing time on a hectic day. (In fact, they were eager to join the festivities.) I ordered a half fried shrimp po-boy with jambalaya and red beans & rice off the special board, and all three were tasty and generous. It wasn't amongst the most remarkable variations I'd had, but Joey's was known for value and I received a generous portion of quality food for $12. I've paid a whole lot more for a whole let less and worse, so will definitely be back.
Contentedly full, I wandered on to the Balcony Bar were I discovered a chattier crowd including some costumed marauders I'd photographed earlier and a bachelor party down from Memphis. The Memphis crew was a varied lot, ranging from friendly and locally knowledgeable dudes, to attention-seeking space-invading dorks, to arrogantly stand-offish and aggressive dicks (the groom-to-be shooed me away as I stood in this crowded bar for encroaching upon the radius of his awesomeness as he flirted with an exhibitionist local girl and I gladly offered to stay as far away as he could physically remove me; he declined.) I swapped tips and stories for a while with the friendlier visitors while watching the groom-to-be and fellow 'playas' swarm around the exhibitionist while a protective friend who had already shot down their advances hovered by with protective glares.
I enjoyed making a few new connection, but otherwise this was mainly boring bar behavior observable at any given bar on any given Saturday so I quickly lost interest. I wandered on to a few more spots, but nothing caught my fancy so I turned on my iPod and began walking home around eleven, allow my first real buzz since Mardi Gras weekend to dissipate.  It was a lovely night and I felt relaxed and inquisitive as I enjoyed the city at night—staying on well-lit, busy thoroughfares, of course! New Orleans is never as safe or innocent as it may appear.