DOWNTOWN IRISH CLUB WALKING–AND SCOOTER–PARADE
The Central Business District was empty as I passed through, but people were already crowded along Canal Street watching the beginning of the walking parade as I arrived. Unlike most elaborate float parades, this one was led by old men dressed in Irish garb driving dune buggies–very odd.  Behind them, revelers mostly walked and there were large gaps in the procession typically not seen in motorized parades. The straggling may have been caused by the fact that stops at local bars were listed along the official parade route. Now that's Irish!
I walked over to Decatur where the unbroken chain of onlookers were calling out with outstretched hands for green and white beads. Many of the walkers wore tuxedos, a trend I'd encountered in the Irish Channel but have yet to figure out, while others eschewed formal wear for costumes, most notably a pope in green and white and a flock of gaudily flamboyant girls with colorful fake hair and neon braziers.
A few floats passed by, but most of the procession chose to walk. Or, as in the case of  one older gentleman, drive the route on their scooter. This Irishman wasn't going to be denied!
As expected, most people I met lining the streets of the French Quarter were from out-of-town. There seemed to be an inordinate number of people from Texas and Minnesota, although I did meets strays from all over such one Michigan native who was proudly showing off her big, um,  beads.
The crowd was having fun, but was a bit more muted than at Mardi Gras. The participants, however, were posing humorously for pictures, strutting flamboyantly, and stopping to chat with spectators–seemingly having more fun than their fans–and I figured this wouldn't be a bad way to spend next St. Patrick's Day if I could find a way.
BEATLES BABE ON BASS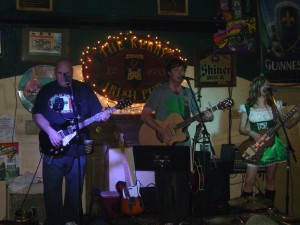 A few Irish pubs also inhabit  the Quarter, but when I peeked inside it appeared most of the crowd was in the streets. Kerry Irish Pub is perhaps the most authentic Celt in the Quarter and when I stepped inside there was a band with an attractive female bass player covering a Beatles tune. This was enough to hold my attention for a few minutes, but the crowd was thin and the band playing classic rock rather than Irish music in an Irish pub on the most Irish of holidays so I quickly moved on; besides, the girl never smiled.  If you can't relax playing Beatles songs on St. Patrick's Day dressed like an Irish bar wench, then when exactly do you let your hair down?!
IS THAT ELVEN FURNITURE OR ARE YOU SITTING ON A LIGHT BULB?
I wandered on down Decatur but the parade ended before I reached Esplanade on the far end.   It was dark and I wandered over to Frenchman Street to check out the music. Walking onto Frenchman Street at night is always  welcome sight with its soft and hazy glow in contrast to the the glaring neon of Bourbon. Beside Apple Barrel I noticed an alley that was decorated with dangling overhead lights to illuminate an impromptu local arts market. Had this artists alley recently sprung up or had I always missed it?  I took a quick detour to peruse the tables displaying jewelry, paintings, and small sculptures. Although nothing caught my fancy, it was lovely just to wander around.
Near the back a glowing, translucent sofa and love-seat caught my attention. It added an air of elven magic to an already mystically lit night and I spent a few minutes chatting with a writer from Alabama who had just moved here from L.A. He was resting on the glowing furniture with his girlfriend, and after we opined on the endless stream of creativity flowing from this town in new and surprising forms, I asked them to pose for a picture and then wandered on to the Spotted Cat to see who was playing.
MODERN RETRO & MANLY BEER
The Spotted Cat was packed except for a dance floor where two couples were spinning and twirling gracefully to Kristina Morales and the Bayou Ramblers. I found a spot at the bar and boldly ordered an Abita Strawberry Blonde, a refreshing and light local seasonal ale that was a nice change of pace after two days of heavy Irish beers–hey, I'm secure in my manhood! Onstage, the band was deftly navigating a classic swing repertoire with a subtly modern tinge. Their young, blonde namesake had a rich, sultry voice that belied her years and the band backing her was obviously composed of seasoned veterans with sharp chops.
As both a jazz and rock/pop lover, I was thrilled in the 90's at the sudden surge of popularity of swing bands such as Squirrel Nut Zippers and Big Bad Voodoo Daddy and was equally disappointed by their quick fade from the forefront. Although quickly abandoned by radio, this swing revival lived on underground and most cities with a hip youth culture have a thriving swing scene. In New Orleans, however, swing is far from underground but rather spills out of bars all over town.
Although I was seeking Celtic music to set the mood, I couldn't help but sit and enjoy this talented band. The two jiving couples covered the entire dance floor as the musicians reinvigorated sultry standards such as the classic tease: "Don't You Feel My Leg." Kristina Morales and company are regulars at the Spotted Cat and definitely warrant a return visit.
As I bopped about on my barstool, I struck up a conversation with a couple down from D.C. who'd  just moved there from New York. I handed them a card and told my tale for the thousandth time that day before weighing in on that eternal Northern Virginia debate: Does the abundant access to arts and culture justify the soul-grinding traffic?  Soon I finished my manly beer and headed back out in the streets. I'm not sure if the quality of the music was off that night or if it was just that it didn't meet my Irish expections as nothing sounded remotely Celtic, but either way, Frenchman failed to cast its usual spell on me. I headed back into the Quarter to catch a streetcar back to my truck.
BOURBON BEING BOURBON
I recently read in Gambit Weekly that the city is planning a streetcar line north of the French Quarter that runs into Marigny and Bywater. That will certainly make it easier to get to Frenchman someday; driving surely isn't an option–even residents of these neighborhoods struggle to find parking. That day, however, is still in the distant future so I took advantage of my lack of public transport to check in on Bourbon Street. There actually are nights where Bourbon slows down, but they are rare and even then it never grinds to a halt. On St. Patrick's Day the crowd was out in full force. No lady leprechauns were flashing for beads, but the balconies were full and the crowds below begging for trophies with their usual fervor. The only difference from Mardi Gras was that these beads were green, gold, and white instead of green, gold, and purple.
Part of my mission on this blog is to write about New Orleans without the pretensions of a re-Baptized a local. So much written about New Orleans is produced by people who move here and embrace the culture but then try desperately  to sound hip and aloof, fearful of being viewed as a New Orleans Tourist. I aspire to maintain the wonder of a New Orleans Visitor, but to do so with a greater understanding of the city and thus act as a conduit for outsiders gain a broader understanding–pretension and aloofness just reinforce the barriers of misconception that mask that city's true soul; however, I've already unwitting and unavoidably adopted one such pretension: a local's disdain for Bourbon Street. Although I can still enjoy Pat O'Briens with a group of friends (though I'd quickly redirect them to Frenchman), when you're alone Bourbon is just a loud, obnoxious boar. I made it only 2/3 the way through the crowd before cutting over to Royal Street and calling it a night.
I had had a wonderful and diverse St. Patrick's Day in New Orleans and there was no use letting Bourbon wreck my karma. Instead, I'll raise a Guiness to you and toast to seeing you next year somewhere between Parsol's and Tracy's.