THE OTHER WHITE (EUROPEAN) MEAT(LESS)
New Orleans is always celebrating something, whether enlivening national holidays with local color such as the four days of St. Patrick's Day I'd just enjoyed or the magical Christmas I blogged about in my last post; growing local festivals into epic regional holidays such as Jazzfest, French Quarter Fest, and Voodoo Fest; or taking traditions from around the world, mainly of European and African descent, and celebrating them in ways unique to the United States. Mardi Gras is the most well-know of this latter category, but another Catholic European tradition, this one arising from the large Sicilian population, follows closely on its heels. On March 19th, in honor of St. Joseph, earthly father of Jesus Christ, churches as well as local families around the city build elaborate altars and cook large feasts (meatless, of course, as it fall in Lent season) open to anyone who wants to pay tribute or sit and eat.
HBO AWARENESS, COSTUMED INDIANS, CHRIST'S FATHER, IMMIGRANT ITALIANS, & OTHER RELATED TOPICS
I first learned of St. Joseph's Day when a main character would not be denied masking in full costume on this sacred night on HBO's Treme, an excellent original series highlighting the resurgence of both the culture and people of New Orleans after Katrina's ravishes. By including a character who is a Mardi Gras Indian Chief trying to reassemble his tribe after the storm caused and government aided diaspora from poor neighborhoods, Treme shed light on and spread awareness of this fascinating cultural phenomenon that for generations was easily dismissed because it not only came from poor, black neighborhoods, but could not be co-opted by white culture like jazz, blues, and rock-and-roll and African cuisine (the world 'gumbo' derives from an African tribal word for okra.) There are no white Mardi Gras Indian tribes and it takes decades of deep culture tradition, connection, and compulsion for someone to spend large chunks of  precious time and disposable income seeking out sequins, beads and feathers to hand-sew into elaborate costumes that will likely only be worn three times a year, not to mention practicing the elaborate songs and secret languages used while marching and engaging other tribes in mock battles. We've already discussed masking (marching in costume) by the Indians on Mardi Gras and then Super Sunday, both by daylight. On St. Joseph's night, as I learned first on Treme, the Indians emerge for one last time to wander the city at night for reasons that no one seems to understand.
Until Treme, I too dismissed Indian culture.  Unsure of what they had to do with Mardi Gras, I'd often pass over songs they contributed to compilation CDs and walked by Jazzfest stages where they performed in costume (an emerging trend allowing select tribes to make an additional appearance). In recent years, however, I have read a great deal about Mardi Gras Indian culture and my fascination and admiration has grown.
Then I encountered second mention of St. Joseph's Day while reading Sara Roahen's excellent food memoir, Gumbo Tales: Finding My Place at the New Orleans Table. A transplant chef and food writer from Wisconsin, Roahen paints a vivid picture of the city and its traditions by devoting chapters to the city's most prevalent food habits and subcultures. In her chapter "Red Gravy," she discusses participating in preparing a St. Joseph's Day altar with a local Italian family who added a special annex on their home where they spend weeks making an elaborate tribute to St. Joseph and preparing dinner for over four hundred diners, mostly strangers. I was now both intrigued and confused. Apprarently the holiday originated in Italy and Indian culture latched onto it somewhere down the line. As March 19th approached, I was eager to understand this strange cultural hodge-podge.
A COUNTRY BOY CAN SURVIVE (BUT NOT PRAY TO SAINTS!)
All of my St. Joseph's morning and most of my afternoon was frustratingly wasted on my latest failed housing search so, considering my research on this holiday had turned up little information–even online–getting off to a late start further complicated things. Fortunately I had learned through Roahen that the New Orleans Times-Picayune publishes a list of churches and private homes that open their altars to the public.I have written a great deal about the generosity of this city, but this seems an extreme manifestation. To a Baptist-raised boy from the Appalachian hills where praying to saints is frowned upon, inviting complete strangers to stop in to honor a saint and then grab a bite seemed weird enough without advertising! Still, though I had read that you can look for homes with a palm branch above the door signifying an open altar, going to the paper's website seemed much easier.
The paper's site listed mainly church altars (although I would learn this didn't used to be the case) but the idea of total strangers inviting me into their home fascinated me so I decided to visit one of each. Picking two sites close-by in Uptown, this country boy set off to get his Catholic on.
THE TALAMO FAMILY ALTAR: 28 YEARS OF DEDICATION & GIVING
I decided to go to a private home first, intrigued that someone would spend days and even weeks preparing food for complete strangers. I felt a little odd pulling up to this modest home unannounced–if it had been a mansion perhaps I wouldn't feel like I was being a burden if offered food. Because of my late start, the altar was closing soon and there were only a couple of people inside as I crept up my the porch and stuck my head in, half expecting to be expelled. Instead I was eagerly waved in by the host who stood proudly by the elaborate display in his front room.
I introduced myself, immediately professing my ignorance. Joe Talanno offered his name in turn and graciously and proudly filled me in on the history of this holiday and his family's connection to it. According to Joe, St. Joseph is the patron saint of Sicily where a couple of hundred years ago a severe famine hit. They prayed to St. Joseph for deliverance, promising to feed the poor and celebrate his holiday if delivered. The fava beans that they traditionally planted for livestock somehow survived and flourished in answer to their prayers, and when Sicilians immigrated to New Orleans in droves, they brought their tradition thanksgiving with them.
The Talamo family has been presenting an altar for 28 years and many of the original family members who began the altar have since passed. The altar is always in three tiers with Mary on top. It is Lent season so altar is meatless, consisting of bread, fruits, vegetable, nuts, wine and complex cakes and confections; even elaborately shaped bread is Lent-friendly, shaped as seafood to avoid the semblance of meat. Flowers, statues of the saints, and painted plates are spread decoratively throughout the display as can be seen entirely in the video below.
The altar is only for display, Joe explained, and some of the food will spoil and have to be thrown out but the rest is donated to a local parish once the altar is dissembled. The food preparation and presentation for guests is done behind the scene, and as I didn't see a sitting room, I assumed most of the food offered here was take-out. As I pulled out my wallet for the small donation plate, a family came in for their goodie bag. I had learned from this tradition from Roahen as well. For a small donation, these prized bags supply visitors with a prayer card, cookie, and dried fava bean, the latter seen as a symbol of luck for its role in the famine and is either carried in a purse or wallet or buried in the front yard.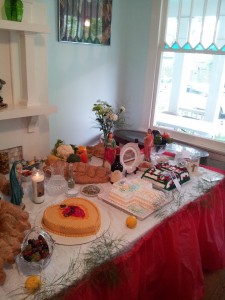 When I asked if mostly friends and family showed up, Joe shook his head 'no.' During most years they feed between 50 and 100 people whom are mostly strangers. I asked him how long it took to prepare and he said around eight family members had spent two or three days assembling the altar with a couple more spent in food preparation. By way of comparison, local churches will feed thousands though with scores of volunteers. I still find the family offering more impressive and Joe explained that private homes used to comprise most of the offerings, but in recent years they have slowly moved into churches. This made me a little sad as it really is a unique and beautiful act of trust and generosity to put your home out there so publicly in such a cynical age.
As I thanked him for his time, Joe asked if I wanted to take a plate. I hesitated, but curiosity outweighed politeness and I left with a  steaming styrofoam container that smelled of garlic and general Sicilian goodness.
ST. STEPHEN'S CHURCH: A MASS-IVE HURRY
Although tempted to dig into my meal right away, I first drove by St. Stephen's Church wHere I hurried to take a few photos before Mass began. I had missed their meal–churches tended to have set times–but really just wanted to see the altar which turned out to be slightly, though not exponentially, bigger than the Talamo family's and not quite as beautiful; though perhaps this was just my bias. Before rushing out, I talked the Scanio family whose patriarch had grown up in the area with Sicilian roots and spent his life visiting altars. I felt I was imposing again when I asked for a picture, as it took a while to wrangle up both rambunctious boys. I thanked them for their time and rushed out before the mysterious Mass began–this was no time to attend my first!
SPICY RED GRAVY & BAT SIGNALS
Back home, I sat on my porch and dug into my meal. The main course was pasta with a red sauce, meatless of course, that was spicy and bursting with flavors I didn't expect in a marinara. It was excellent, as was the artichoke casserole. The carrots were cooked very thoroughly, as is typical of vegetables in this town, but were sweet and flavorful. It was a wonderful meal and I sat and enjoyed the sublime evening as dusk fell. Although rushed, my altar hunt had been a success and I'd learned quite a bit in a little time. Still, I was a little disappointed that I hadn't been able to find anything out about Indians masking later that night.
I'd asked around, but nobody knows where they're going to show up and I had heard they stick mostly close to home in neighborhoods I wasn't ready to blindly wander at night. I was resigned to disappointment when my roommate called: "Get your camera and get out to Fourth Avenue now! The police have everyone stopped for Mardi Gras Indians!" You could almost see a cartoon trail of dust behind me.