MY FLORIDA YO-YO: TO MOVE OR NOT TO MOVE
After St. Joseph's Night I was buzzing on New Orleans, but prior commitments soon brought me back to Jacksonville. Although I supposedly moved to New Orleans February 7th, I've spent as much time back in Florida–the deep roots I've planted keep drawing me back. I had to return a few days earlier than planned to deal with personal business, though I'd known for a year that my best friend from high school, Todd VanDenLangenberg, was flying down from Wisconsin to spend the week and tie the knot.  He and Meg, his fiancé, used to visit annually and fell in love with St. Augustine so decided to marry on the beach there, arriving Tuesday March 26th and leaving to honeymoon in Key West the following Monday. (I've lived in Florida a decade now and my best friend gets married there the month after I move!?!)
That Sunday was Easter and spring break for half of America when two of my best friends from my camp years, Carson and Heather, come down annually with their two kids whom I've known since birth and call me 'Uncle Eric.' It's one of the few chances I get to see these dear friends I left in Virginia, so how could I justify not staying another week?! Thus, like so many college kids half my age (sob!) I  headed to Florida for spring break!
ONE (HEART ATTACK) FOR THE ROAD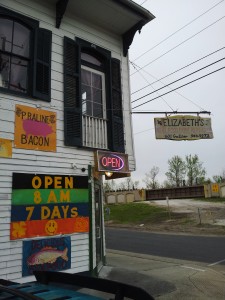 The last time I left New Orleans I was sick and eager to escape, but this time I felt I was departing too soon. Craving one last injection of artery clogging Cajun cuisine, I Googled 'best breakfast in New Orleans'. A funky little Bywater spot called Elizabeth's kept popping up so I plunged into the winding, narrow streets of Marigny and Bywater on one last mission.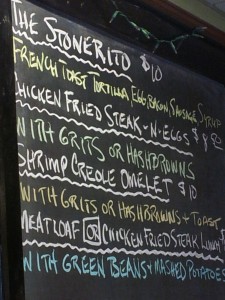 Elizabeth's is a nondescript house on a nondescript corner, though quaint and cozy inside. The coffee is good if not notable but the menu and specials were sinfully memorable. This was no nouveau vegan cafe. At this funky little dive with a hip, creative flair meat (and a little grease) was on the menu and pork's what's for breakfast. Salivating at the special board, I asked the waitress for her recommendation hoping she'd lead me to the Stonerito. She did. The chalk board described this as a flour tortilla cooked like french toast and stuffed with eggs, bacon and sausage and then covered with syrup and powdered sugar. My health-conscious head said No! but my heart said Oh, yes: Do me, baby!
When it was plopped before me, I wasn't prepared for this log of cholesterol. It was enormous. And it was delicious. Guilt be damned. The sweet french toast tortilla perfectly complemented the savory prailine bacon–PRAILINE BACON!–and the fresh-ground, richly meaty breakfast sausage that was in a different food group from typical over-processed pork parts.  I contentedly pounded out a blog entry while savoring every bite, and then, with pants unbuttoned, said farewell to my city of sweet excess.
A STREET CARJACKING NAMED DESIRE
Unable to resist the temptation, I drove out on Desire of Tennessee Williams 'Streetcar' fame. Since I was leaving the weekend of the Tennessee Williams festival (boo hoo!), this was as close to literary magic as I would get. When this famous play was written Bywater was a rough part of town, but now it's a trendy, gentrified neighborhood of small, cute houses and small gardens. It was a pleasant drive, but I should have remembered where I was.
Before Katrina, few outside of New Orleans had heard of the Lower 9th Ward with its crime and crushing poverty but now it needs little introduction. The neighborhood has slowly come back, but not in the candy-coated manner of Bywater. My GPS led me right into the heart of this struggling neighborhood before I could re-route. The strange looks I received indicated that hillbillies in beat-up pickups weren't common in these parts.  The roads here were bad even by New Orleans standards (I'd hiked abandoned mountain logging roads with fewer ridges and craters!) but I paid little care to my suspension, rushing towards the interstate bouncing around like a lottery ball.
TOSSING  OUT MY BABY BUT NOT THE WARM SOUTHERN BATH WATER
Back in Florida, it took me a couple of days to readjust as I dealt with mundane matters. Tuesday though, Todd VanDenLangenberg, (0r Todd VanDenLongestNameInTheWorldenberg as I dubbed him in the satiric super hero stories I wrote about us in high school) arrived in St. Augustine with soon-to-be Mrs. VanDenLongestNameInTheWorldenberg and I drove down to meet them that evening.
St. Augustine is the reason I moved to north Florida in 2003. I was dating a girl who grew up in Lakeland, FL and wanted to move closer to home. We had fallen for St. Augustine on several visits so, after much fretting on my part, she talked me into leaving Virginia. I took an occupational therapy job in the local school system but ended up in some strange beach town called Ponte Vedra that was actually closer to Jacksonville than St. Augustine. I soon discovered I loved the beach and sun but not the girl. I stayed; she didn't.
THE GOLDEN DAYS BEFORE LIABILITY AND PRESERVATION
Still, I go to St. Augustine–45 minutes to the south–every chance I get. Everyone does. I've yet to meet anyone in Jacksonville who says, "Yeah, I don't really like St. Augustine." The oldest continuously inhabited city in the nation, it is celebrating its 450th birthday soon and beautifully combines a mix of romantic and macabre history with modern tourist kitsch (though lacking a comprehensive preservation policy, the history is haphazardly maintained).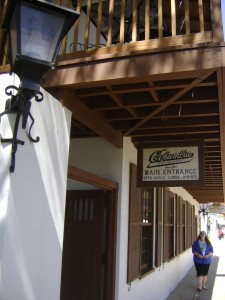 Located on a glistening blue-green bay, dotted with palm trees and flowering tropical plants, and  filled with stately 19th century southern homes with high porches and painted shutters, a stroll through St. Augustine always stirs the slumbering romantic within the modern digital drone. The highlight of town is the old fort located on the bay. Lacking hard stone, the settlers were forced to build from coquina–a limestone bricks made from tiny sea shells and fossils. While feared as a disadvantage, these spongy bricks proved to absorb mortar fire rather than crack like stone and the fort has stood the test of time, having never been taken in battle. Locals, however, have done more damage than invading marauders. I've seen faded pictures of old festivals where locals dressed up like pirates, threw grappling hooks over the walls, and scaled the fort in mock raids, although this was eventually stopped as the fort slowly crumbled beneath them. Still, I sometimes long for the fun days before insurance liability and archeological protection.
Sigh.
Nevertheless I'm glad the fort was saved because the views of the bay up top are stunning, as are those from the lighthouse on Anastasia Island on the southern edge of the bay. Having once been on a nautical and lighthouse kick for a decade or so, I can say this is one of the most well-preserved towers and grounds in the nation and a must-visit when in town. In the historic district itself, the main street, St. George, has its share of t-shirt shops and upscale shopping, but also plenty of quaint bars where tourists and locals mingle to watch sports, hear live music, or have a cigar. Also, with a few tourist-trap exceptions, the restuarants are excellent. In the center of St. George sets the sublime Spanish restaurant, The Columbia, whose parent restaurant is in Tampa.  Their cuban bread arrives decadently hot and flaky with gobs of butter to overcome your better judgment, their yellow rice rich enough to devour as a main course, and the brown sauce they stew pork and fish in is transcendently rich and herb infused.
So of course, we never managed to eat there all week.
MIDNIGHT IN THE BARLEY REPUBLIC
Meg's parents, sister, and brother made the drive all the way from Wisconsin and met us for dinner that first night except for the reclusive, temperamental teen boy who rarely unplugged and left the room. Everyone was tired, so only Todd and his future father-in-law, Brian, drove across the bridge with me to downtown St. Augustine  to sip micro-brews, discuss brewing technique, and jaw about sports and music. After midnight we got the munchies and wound up at a new Irish Pub called Barley Republic  for some late night oysters since they had the only open kitchen. The seafood was fresh and perfectly chilled and bartender/owner congenial, his Boston-Irish accent perfectly complementing his fiery red hair and beard. He and his wife had moved down recently and renovated this former cramped pizza parlor to splendid effect. The atmosphere was open and inviting and we promised to be back.
BILL IT & THEY WILL COME–BUT WHERE ARE THEY GOING TO PARK?!
I dropped off the guys at the oceanfront Hampton Inn in St. Augustine Beach and drove home, returning the next afternoon to check into the Super 8 down the road–I am a broke blogger, after all. St. Augustine Beach is a quaint little beach town just across the bridge from the historic city thick with relaxing beach dives featuring fresh seafood. This small stretch captures that quaint beach village feel Jacksonville beaches lack.
Meg's best friend, Sarah, arrived the next day with her husband and two kids. so the whole group headed downtown for dinner. It was hectic seeking group dining in the spring break crowd and by the time we left O.C. White's, it was late so Todd, Meg and I were the only one's up for going out. When we settled into Meehan's Irish Pub, I was amused the topic of conversation hadn't changed since I was here last month. Mumford & Sons apparently had read about St. Augustine's 450th anniversary and decided to visit and support this small community, which is great except this is a small community and they sold 24,000 tickets to a tiny field that usually holds festivals for a few thousand. Since this news broke, locals all over town have been consumed with where they're going to stick all those people and, more importantly, where 24,000 people are going to park!. Todd and I had spent our enthusiasm the night before, so after a few beers our Wednesday was done.
HERDING IN-LAWS
Thursday was spent wandering the historic area. Todd's brother-in-law to be emerged from his room, only to complain of an aching back after walking St. Augustine's granny-friendly main street. He was wholly unimpressed by the fort as well and having him pose for pictures was a challenge, though I have to admit the results were quite amusing. The only way Todd could capture his attention was to point out holes in the coquina and tell him that someone had been shot there.  "Awesome!" he'd cry,  racing over to check out the morbid scene.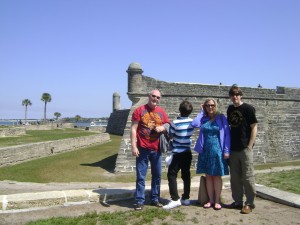 My parents were camping outside of town on their way back north from snow-birding, and met us for another crowded, hectic dinner at Panama Hatties. After another drawn out affair, Meg and her family joined Todd and me at a sports bar to watch the NCAA tournament. My parents are strict Baptists and don't drink, so it was surreal to watch Meg's parents egg on Todd and Meg as they exchanged humorously named premarital liquor shots they looked up on their phones. Meg started with a Jim Morrison, a nod to Todd's love of classic rock, and I had to help him finish this double shot of mixed bourbon. Todd retorted with a Flaming Meggers–don't ask, marital secret I'm guessing– and then Meg bought us both a Pink Pussy (is that legal?!), which was like a Margarita made with pink lemonade. Todd considered sending a Blue Balls back her way, but we decided it sent the wrong message so I left to tip the singer and dedicate a Beatles song to the inebriated bride and groom while they continued firing shots. We were all a bit tipsy so Meg's underage sister Claire drove us home. We were all fine the next morning, but I never could have guessed what a long night was ahead of us.
 YOU CAN'T SELL IT, BUT THERE'S NO LAWS AGAINST GIVING IT AWAY
Friday started off normally. The weather continued to improve and thus did the spring break crowds, so a late afternoon oceanfront lunch turned into early dinner. Afterwards, I retreated to my room while Todd waited for his father and brother, Chad, to arrive. As co-best man with Chad, I felt compelled to plan a wild night but Todd eschewed the typical bachelor insanity for a simple night in a sleepy city. As if.
I soon left to catch up with some friends at Coquina Beach, another beach bar though a little more upscale, but soon the guys split off and headed back downtown to J.P. Henley's, a local pub with the best beer selection around. Todd and Brian have long been in-law bonded through brewing beer and discussing music, and things started off with genteel sampling, chatting for hours and even entertaining a drop-in by the bachelorette party. By half past midnight, though, our late lunch had left us famished and even Barley Republic, our late-night savior, had closed their kitchen. Todd urged me to call back and bribe them to open and they responded that while hot food was out, they'd shuck as long as we stayed.
Todd's father departed as we stumbled under a luminescent Florida moon down deserted ancient streets alongside with the ghosts of a bygone, rougher era. Arriving at Barley Republic, the owner poured the first round before deftly shucking several dozen succulent gulf oysters. Todd also insisted on shrimp cocktail, that also turned out to be amazingly fresh. For an Irish pub, they had seafood down. We slurped and slurred till 2a.m. when the owner said he'd have to close or be closed by the city. We asked to buy a shot for the road but he only had a beer and wine license. "There's no law against giving it away, though," he said with a wicked Irish grin as he pulled out a large bottle of Jameson. The whole bar raised a toast to Todd, and then we tipped well and departed feeling buzzed but in control thinking the night was over.
AFTER MIDNIGHT: A GREMLIN'S LIFE FLASHES BEFORE HIS EYES
By 2:30 I was in bed, snug and content. At 2:45 the phone was ringing. And 2:50. And 2:55. I knew it was Todd before checking the messages: "ERIC!!!!!," slurred my painfully quiet and reserved friend who at midnight, especially with the help of booze, Gremlins into the most talkative, back-slapping drunk you'll ever meet, "WE'RE ON THE BEEEEEEACH! ME AND MEG AND MEG'S DAD AND MEG'S SISTER AND HER COUSIN RUSS HAVE GOT A BOTTLE OF SKYY VODKA AND ARE HANGING OUT! GET YOUR ASSSSS DOOOOOOOWN HERE!"
My best friend was getting married the next day so I had to dress and head across the road. The beach was empty when I arrived except for a dark cluster in the distance. I called out, but they must have been toasted because my voice ringing across an empty beach didn't faze them until I was twenty feet away. As I strolled up with my awesome MP3 playing cooler Todd cheered while Meg rolled her eyes: "Only you would have a cooler that plays music. Todd's still looking for those fold-up speakers you brought up three years ago."
As they passed the bottle around, I played their song, "Banana Pancakes," by Jack Johnson and then "Juicy" by Better Than Ezra under the guise of marital advice. Later we settled on Led Zeppelin as we huddled in a circle for warmth while reminiscing. Todd was slurring like I hadn't seen in fifteen years, and he and Brian gulped vodka heartily. I fish-lipped it to control the flow like I'd learned at the lake every summer where my brother's friends still pass bottles of Mad Dog 20/20, coloring my breath just enough to prove I'd drank.
A few times Todd wandered off to look wistfully out at sea before contributing a small stream, and one of us chased after him for fear he'd fall in and drown. There was a reflective look in his eyes I rarely see. It wasn't regret or fear–just the weight and implications of this pivotal moment spinning through his mind. Perhaps a wedding truly is death and rebirth, for his life was flashing before his eyes. We both managed to reach midlife single, the last holdouts of our cohort. He turned forty last fall and I'm well on my way. While he was reflecting on the changes ahead, I was adjusting to being left behind–the last man standing. At 4:30 I took my last sip and slapped him on the shoulder. Time would press on whether we slept or not, so I opted to sleep. Todd and his future father-in-law did not. It was a decision they would both regret.