VISION OF A CITY FULL OF VISIONARIES
Okay, so the title of this post sounds a little conceited, but I've been working on a catchy title for some time and this was the best I could do. Besides, it fits for, though I may not be some transcendent, visionary artist, I do have a vision of New Orleans growing into a city full of visionaries. People frequently ask me why I moved to New Orleans: "You can write anywhere!" Yes, but, in addition to my long love affair with this city and the fact that there's so much beauty, weirdness, brilliance, and absurdity to document on a daily basis, New Orleans is going through an artistic Renaissance and I'm hoping to hitch my wagon to its shooting star of synergy.
Since moving here I have read many sources state in many ways (and have observed enough to agree) that New Orleans is in a historic period of artistic rebirth.  Granted, this has always been world-renowned as a creative city, but the artistic commodity it has produced has largely been relegated to a niche market. Some singers have made a national splash from Fats Domino to Aaron Neville to Harry Connick Jr. to Mystikal, but these have been the exceptions. People love to visit New Orleans but don't tend to seek it out on the radio. The same with literature. It's been a long time since Tennessee Williams rode A Streetcar named Desire to Marlon Brando's house, or even since A Confederacy of Dunces shocked the world by winning the Pulitzer on the strength of its shocking protagonist: an obese, haughty, rude, gluttonous, lazy, hapless, chronic masturbator. Only in New Orleans. Yes, New Orleans (arguably) gave birth to jazz and has for over a century nurtured talent to ship off first to Chicago and then New York and L.A. to help steer the cultural trends brewing there. People have always loved to visit this expansive, churning factory of local flavor to take a step back into the past (often mistaking innovation for stagnation) and trace the 'roots' of cultural trends that seeped into Anywhere, U.S.A. from real cultural centers. New Orleans was never the trend-setter, but rather the influence on the trend setter. Until, perhaps, now.
THAT DOUBLE-EDGED BITCH, KATRINA
No person with a heart would ever argue the loss of life and depth of human suffering brought about by Katrina was 'worth it.' It was a horrendous event. I didn't live through the devastation but have read extensively and believe most Americans still don't comprehend how truly horrific things were after the storm. Bodies floating in a toxic brew of sewage and chemicals, boiling in the later summer sun, filling homes to the second story, turning all of one's possessions into a moldy, rotting lump of indistinguishable goo. Crime was rampant, politicians inept, citizens scared and confused, and no one in control. Not only were lives lost, but entire neighborhoods and entire cultures. And New Orleans is a city where neighborhood culture is everything. There is no homogeneity. 'Folks on our block swing our horns our way, march our way, cook our way, and congregate our way.'
The personal accounts I've read of the storm are written in a tone of pain, confusion, loss, hope, rage, despair, and determination that I've never encountered in a lifetime of fervent reading. Yet renewal is the very basis of human creativity and biological resilience. Without death there would be no birth. Without tragedy there would be no triumph. This applies to larger cultural trends as well.  You can see this in Chicago which would not be a world-class architectural gem without the horrific fire that cleaned opened it up for a complete re-imagining during the golden age of architecture. No fire, no influx of architectural one-upmanship. In New Orleans, after several years of struggling to find its way after the storm, there is now an influx of creative energy and sense of renewal, and this time the nation–and world–is watching.
PUBLICITY SPARKS INTEREST
That's a sad fact of life. Everyone's eyes are on Boston right now. People who've never so much as ran to the pantry to grab another Twinkie can suddenly recite specifics landmarks along the course for the Boston Marathon. So it was after Katrina. The whole world's eyes were on New Orleans, and because of the extent of the damage, this story lingered for years. I've read many local media sources talking about how the publicity from the storm put the city in the nation's spotlight like never before. You can't plan or pay for that type of publicity–though, as I said above, the price was steep–but the morbid fact remains that the city became of topic of national conversation like never before.
SCARCITY BREEDS DEMAND
That's basic, cold economics. I haven't exposed my body to the processed atrocity of a Twinkie in two decades, yet if I passed one in the store right now I probably couldn't resist the temptation. It's human nature. Before the storm, many regarded New Orleans as merely a fun place to party or attend a convention. It was like that odd, funny cousin you visit for kicks every now and then but would never dare invite over. Then there were those who would 'get there someday.' After the storm, though, there was no guarantee that quirky cousin would be around when you got to him.  So while the ones who lived here dealt with the frightening reality that this city's wonderful culture may never return, the entire nation and world shared this dread to varying if lesser degrees. What if I never get to go . . . or go back? What once seemed disposable now became precious. When Rebirth Brass Band or Galactic came to town, suddenly there was a nostalgic urgency and catching the show, and perhaps buying a CD to hold on to what may slip away. There's no way in hell Rebirth Brass Band wins a Grammy if not for the storm, and for an album not coincidentally titled Rebirth of New Orleans. Did they deserve it?  Of course, but the Grammys are much more about publicity than merit.
BLEEDING-HEARTS BLEED IN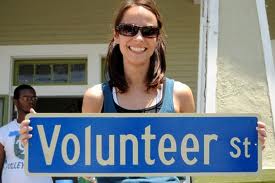 As I roam around snapping pictures and looking for stories I chat up anyone and everyone who makes eye contact, and I swear two-thirds of the twenty-somethings I meet who aren't locals moved here volunteering for AmeriCorps after college and stayed. This army of volunteers is everywhere. Then there are people like the neighbor across the street who helped my jumpstart my truck yesterday. Although closer to my age, he moved here to pitch in and met his wife volunteering as well. Not only was there an influx of money and good will after the storms–Harry Connick Jr. and Brad Pitt have started foundations–but a generation of young, creative, community-minded people that came to help and stayed because they fell in love.
REBUILD IT & THEY WILL COME
Jazzfest and French Quarter Fest and every other Fest in the city have grown to new heights after struggling to simply exist following the storm. As the profile rises and word spreads, new artists are flowing into the city. I just caught young, local rock band The Revivalists at Wednesdays In the Square. Their lead singer moved here from Ohio, eschewing L.A. or New York, because he felt this was the city that would challenge him–this is the place that's happening right now. David Shaw had only been here a few weeks when he was on the porch strumming his guitar and singing when a guitarist looking for a band, Zach Feinberg, rode by on his bike and overheard him. Now they're playing Bonnaroo. That's creative synergy.
THE TREMÉ EFFECT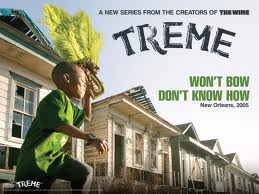 If you haven't watched HBO's excellent series on the post-Katrina recovery, Tremé (TRIM-ay), then queue it up on your Netflix immediately. But slow down and give it a chance. This isn't a fast-paced thriller. This ambling drama follows a huge cast of characters including an attorney investigating police abuses during and after the storm, an honest cop trying to bring order amidst incompetence, an angry professor whose rants against the government become a blogging sensation, a musician struggling to hustle gigs after the storm, a chef trying to keep her restaurant open in face of a scarcity of resources, a bumbling hipster who reveres the culture but can't hold down a job, and a Mardi Gras Indian Chief trying to reassemble his house, tribe, and neighborhood in the face of bureaucratic interference. It unfolds slowly like a poem, a rarity in a CSI world, doing a superb job of accurately mining and reflecting local culture.
It seems everyone who is anyone has made an appearance on the show (when I saw Paul Sanchez and the Rolling Roadshow, he pointed out that every of musicians the musicians joining him on stage had appeared at some point!), and certain artists, such Kermit Ruffins, have become national names. Obscure spots like Bullet's Sports Bar in the Seventh Ward have gone from neighborhood dives to nationally known hipster haunts. The food culture is stronger than ever, with more restaurants in town than before Katrina, and exposure by HBO surely has helped bring tourists back. Then there's the awareness they've raised about Mardi Gras Indians that I've reference multiple times. The creators of the show (of The Wire fame) had long wanted to set a show in the city but couldn't get backing before the storm. No storm, no show, no hipster fascination.
THAT DOUBLE-EDGED BITCH, RECONSTRUCTION
Just as it's a dicey topic writing about the positive byproducts of such a painful event as Katrina, the recovery in itself has had somewhat of  a backlash. With rebuilding, updating, and improving comes gentrification which is always a charged issue, especially when wealthy whites move into historic neighborhoods that were predominantly black and usually low-income. Tremé derives its name from the neighborhood of the same name, the oldest free black neighborhood in America, located just above the French Quarter. Many fear it's losing its character as it is infused with new residents with new money. Many of the most disadvantaged displaced by the storm are still unable to return and there's no doubt the city is whiter than it was. Though still an African-American town, the percentages have shifted. So while there has been an influx of new talent and energy, there has also been an exodus that has taken with it much of what made this city great and unique in the first place.
FROM TENNESSEE WILLIAMS TO WEST VIRGINIA GUMBO
Hey, it's a pipe dream and a longshot. Who knows where I'll be in a year? Who knows if this blog or the novel I'm about to throw up on Kindle, or anything else I ever produce will ever catch on? Odds are against it, for sure. But a dream never has a chance of defying the odds without a leap of faith. And right now this seems to be the right place at the right time to make that leap. There are certain places that are forever tied to certain periods of artistic renewal: The Harlem Renaissance, the 'Left Bank' or 'Expatriate' literary movement in Paris; the Chess blues years in Chicago, Greenwich Village in the sixties, and, perhaps, the Post-Katrina Surge in New Orleans.
Only time will tell if I'm a visionary or merely having hallucinations.