PUNGENT MUD, COLD WIND, & LUKEWARM MUSIC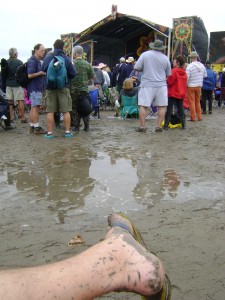 The second Friday of Jazz Fest 2013 was a day unlike any other. Although this is only my 7th or 8th, local performers who had been appearing for decades scratched their heads at the rain, mud, and cold. "It's the second weekend of Jazz Fest and I haven't even sweated yet," declared one WWOZ host. The first Saturday had gotten a little toasty but hadn't quite topped 80–it just felt warm in contrast to the unseasonable cool. Then the rain had started Sunday for Dave Matthews, thinning the crowds and keeping the weather cool. It rained on off during the three-day break and by Widespread Panic's set on Thursday it was pouring. Thus by Friday herds of galloping music fans had turned this municipal horse track into a giant mud bog spiked with the pungent smell of horse shit! On top of the mud, the weather turned from cool to downright cold, the wind cutting sharply through my light windbreaker. Worse, with the pop outfit Maroon 5 headlining–not my cup of voodoo juice–and no one strong anchoring the early line up, the music had cooled down as well. That is until later in the day when the Blues Tent unexpectedly caught fire!
COREY HENRY AND THE TREME FUNKET: BRASS TO THE FUTURE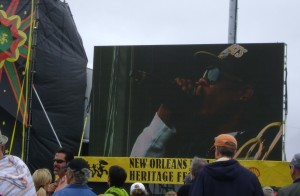 The upside of Friday was that I now had a partner in crime, and as my dear friend who'd flown in from Jacksonville settled her chair into the mud, I apologized for the weather, explaining this was not Jazz Fest. She shrugged: "A bad day at Jazz Fest beats a good day at work!"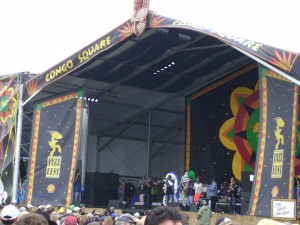 We started at Congo Square Stage (whose open grassy, field was now a giant mud hole) to see Corey Henry & Treme Funket. I'd seen Henry light up Freebird Live! in Jacksonville playing trombone with Galactic but his band today meandered though the traditional New Orleans standards without ever quite finding their sound. It was another case of talent that had yet to find direction. It's hard to find your niche in this talent-crowded town, but, having glimpsed his promise, odds are good that Henry will get there.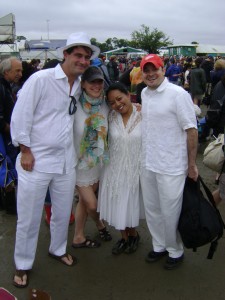 More impressive than the music, though, were our neighbors who all showed up wearing white suits and dresses in this mud bath. They were in town for a wedding and said there were actually dozens of them congregating at the Acura Stage later. It was a bold move–I can't drink water in white without getting a stain–and I thought back to an old piece I'd recently read by a prominent New Orleans columnist Errol Laborde about buying his first white suit. White suits are the high society staple in this town in summer and he was amazed how confidently and safely social elites were able to navigate the spicy, dark Creole stews and ever-present red sauces without a care or mishap. He would surely be impressed.
LOS HOMBRES CALIENTES: THE HOT GENTLEMEN CAN'T WARM THE WEATHER
Los Hombres Calientes was a happy accident that heated up the national jazz landscape in the years surrounding Y2K. This project began as high-level schooling when young trumpet prodigy Irvin Mayfield and drum prodigy Jason Marsalis approached percussion legend Bill Summers out of a desire to expand into the Afro-Carribbean rhythms he excelled at. The young musical geniuses were quick learners and the chemistry between the three so strong they formed a band which quickly became a Jazz Fest favorite and caught the attention of the entire jazz world.
ABOVE: Los Hombres Calientes performs "Foforo Fo Firi"
I was at those early Jazz Fests and experienced the energy that this outfit conjured. Historians and cultural anthropologists frequently posit that New Orleans is culturally a Caribbean city as much as American or European and the spicy Latin beats that Los Hombres Calientes explored fit perfectly under the blazing New Orleans sun; however, that was well over a decade ago. Marsalis is no longer playing with the band and Irvin Mayfield has his own orchestra, a jazz club on Bourbon, and a thriving solo career. Thus, I don't know if it's that Los Hombres is now more a side project, the excitement has worn off for performers and/or audience, or that this sunny Caribbean music just didn't jive with the chilly wind and mud but the performance failed to heat up the fairgrounds as in years past. It was a solid set, and some salsa dancers gleefully splashed through the mud, but it fell short of igniting my soul.
THE MAVERICKS: TEX MEX DWIGHT YOAKAM LITE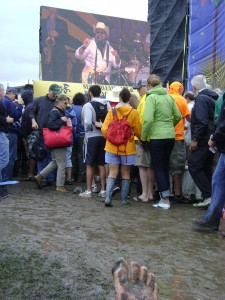 Next we moved to the Gentilly Stage to catch old staples The Mavericks who I knew by reputation but not sound. They played a solid set, infusing their Texas country/rock with a south-of-the-border flare. It was a good show and they drew a huge enthusiastic crowd but, while I enjoyed the music, they didn't herd me into their flock. Their songwriting was solid but to me sounded like Dwight Yoakam lite with a Tex Mex flare. My friend who grew up in Texas disagreed, saying them were fighting words. She enjoyed the band much more while strongly disagreeing with my Dwight comparison and assertion that he is one of the country greats ("He sings through his nose!") Fortunately we had a giant mud wrestling pit to settle all disputes musical and otherwise.
FEST FOOD: CRAVING CRAWFISH BREAD, JAMMING JAMBALAYA, AND CAJUN DUCK PO-BOY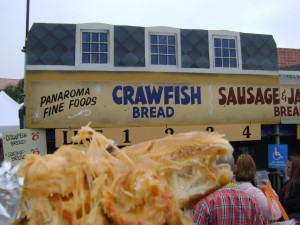 Music differences weren't the only point of debate. I had yet to have my annual Crawfish Bread, a soft and crusty loaf stuffed with cheesy, spicy goodness full of crawfish tails and then steamed into gooey heaven. It's a fest favorite, seldom seen outside the fairgrounds and I've heard people pine for it at music festivals throughout the southeast. It is definitely in my top five yet my friend's reaction was, "Meh." Sacrilege!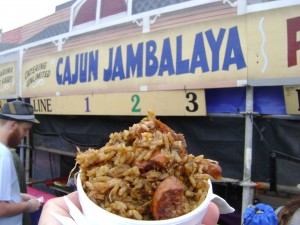 She instead opted for the Jambalaya that anchors the left end of Food Area I. There is another Jambalaya in Food Area II but this was the better looking choice. It instantly became her fest favorite and I admit it was one of the best Jambalayas I've tasted. Jazz Fest truly is the best restaurant in New Orleans, offering unique items like Crawfish Bread along with staples such as Jambalaya and Gumbo that are better than famous restaurants in town. This rendition was packed full of tender chunks of chicken and luscious andouille. Many Jambalayas end up dry, but this was moist and richly spiced. My brother used to get this and I remembered it being good, but had written off my memories as nostalgia. They were not. This was jamming Jambalaya.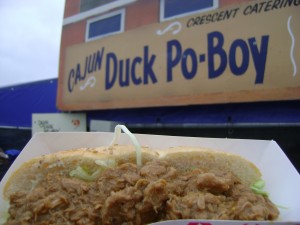 Later I snuck out for the Cajun Duck Po-Boy. This is a niche favorite with a small but loyal following. It was packed with spicy, moist duck in a rich, surprisingly spicy gravy. I thoroughly enjoyed it but, as with the stiff musical competition, it suffered less by lack of quality than by the high quality of competition. If not following classic Crawfish Bread and jamming Jambalaya, I would be raving about it.
ANA POPOVIC: HEATING UP THE BLUES TENT ON A COLD, MUDDY DAY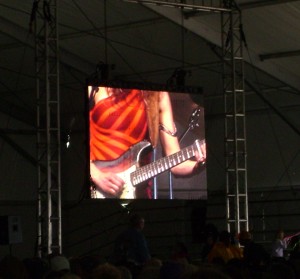 Nicholas Payton is one of many great local trumpet players that moved to New York to become a jazz giant. I am a fan of his early trad jazz and even saw him perform at Snug Harbor a decade ago when he first played this trumpet through an effects pedal and dubbed his band and album, appropriately, Sonic Trance. I enjoyed the experimentation at the time but a decade later, seeking shelter from the mud in the jazz tent, I longed for his more energetic and melodic past–hipness be damned. Sometimes an artist can be too cool and clever for his own good. My friend, not a jazz fan at all, was going to sleep so we left and tried to get in the Gospel Tent to hear Irma Thomas's tribute to Mahalia Jackson but couldn't even get close to the tent flaps. (This along with the Kids Stage are the only two I've ever visited so my streak was left in tact.)
Out of options we wandered into the Blues Tent to catch curiosity Ana Popovic, a blues guitarist born in Belgrade, Yugoslavia and living in Amsterdam. Non-British European blues masters are more rare than female ones, so we weren't sure what to expect. Surprisingly, we finally stumbled onto the fire to heat up our chilly day of aimless wandering.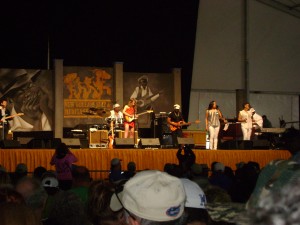 Ana Popvic's bio said she was the only European ever nominated for the W.C. Handy 'Best New Artists' award and she instantly had our vote. She shredded effortlessly through soulful, intense solos and worked the fretboard like a master. The entire crowd was on their feet by the end of her set and we were kicking ourselves for only catching the last 20 minutes. It was perhaps my greatest misstep of Jazz Fest 2013 and I was so in awe of her talent that I didn't think to film a snippet till the last minute of her set!
ABOVE: Ana Popavic & Mo' Better Love end their blistering Blues Tent performance
TAB BENOIT: BAYOU BLUES AT ITS BEST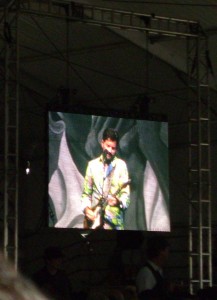 The Blues Tent had finally stirred our souls so even though I'd seen Tab Benoit several times and had only seen legend Willie Nelson once with Bob Dylan, we decided to stay put rather than wander out into the cold and mud at the Gentilly Stage (though word is he put on a great show). Fortunately, Tab delivered one of his best performances. In New Orleans, only Anders Osborne (on a planet of his own and perhaps having delivered THE performance of Jazz Fest) surpasses Tab Benoit on blues guitar.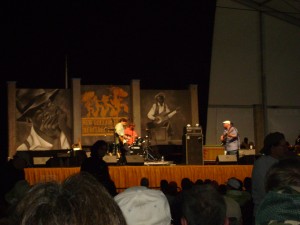 True to form, Tab put on a raucous, turbo charged, rocking blues party to put a hot end to a cold day. His style has that dirty-edged Delta influence, but electrified like Chicago blues and with just a touch of Stevie Ray Vaughn attitude. Take some time to watch below as he burns through "Night Train," or for a real treat catch Voices of the Wetland Allstars, a group he put together to raise awareness and money for preservation of the Mississippi Delta. In this outfit he and Anders often pair up on the guitar. Now that's a damn good reason to get the blues!
ABOVE: Tab Benoit jokes with the crowd after breaking a string before rocking a "full six-string song!"