THE BIGGEST 'BONER YOU'VE EVER SEEN!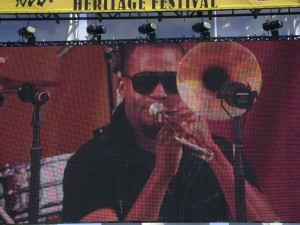 For over twenty years The Neville Brothers have closed out the main Acura Stage at Jazz Fest with a slight post-Katrina disruption. Per organizers, this has at times spawned awkward conversations, informing superstars like Santana, Neil Young, Van Morrison, Foo Fighters, and Kid Rock that they would be opening up for these local legends rather than vice versa. Local jam band The Radiators traditionally closed the Gentilly Stage on the opposite end of the fairgrounds but times they are a changing.
When Aaron Neville recently parted with his brothers it demoted The Nevilles to opening for Dave Matthew and him to closing out Jazz Fest 2013 at the Gentilly Stage. The Radiators also split after decades together, though most members were represented elsewhere. Thus it was a little surprising to learn the replacement for The Nevilles would be rising star Trombone Shorty with his band Orleans Avenue. His national appeal has grown surprisingly over the past few years, especially considering he is rocking out on trombone–A STAR TROMBONE PLAYER– yet in his introduction the MC and festival organizer declared him 'the future.' The crowd had thinned somewhat after the Black Keys but there still had to be a good 80,ooo people watching to see if Shorty could fill some mighty big shoes–8 to be exact.
Part of Trombone Shorty's appeal, though, is his confidence and swagger on stage. If this twenty-seven year old phenom and his young band felt the pressure, they sure didn't show it. In fact, it looked like they were having the time of their lives on stage, crescendoing with a Mardi Gras Indian-esqe percussion tribute where the entire band took up sticks and gathered around the insanely talented drummer's kit to hold a drum circle so extended and exuberant I started to think a Rusted Root concert may break out! I can't read the minds of the New Orlean Jazz & Heritage Foundation leadership, but per the exuberant crowd jumping up and down in the drying mud at Shorty's command,I'm confident I witnessed the birth of a tradition and crowning of a new king. Twenty years from now, I hope to say, "Well, I was there when . . . . "
NEW ORLEANS CLASSIC R&B RECORDING REVUE: LIMPING LEGENDS LIVE ON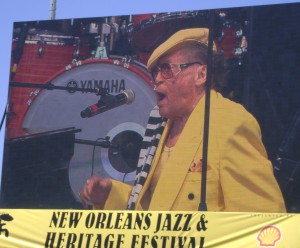 Before the British invasion, New Orleans R&B had a sizeable national presence. Fats Domino is the most remembered but a steady string of hits were coming out of the city in an era when 'race records' were desegregated by Billboard and re-classified with the race neutral 'R&B' label. Morning errands caused me to miss former Cowboy Mouth bassist Rob Savoy's new band The Creole String Beans, but we arrived in time to see The New Orleans Classic R&B Recording Revue, a multi-headling set put together to give fading local stars one last chance to shine and remind us of an era when New Orleans was a prominent part of the rock-n-roll and R&B landscape.
First old rock-n-roller Johnny Ford hobbled–literally–onto stage guided by an assistant. It took the elderly man in his bright yellow suit several minutes to make it to the piano, but his voice was in good form once he got rolling. His spirits were high too, though his non-PC Cinco de Mayo jokes left the crowd unsure of how to react. Still, they were appreciative of his renderings of a handful of forgotten hits, ending with the timeless tune that he stumbled into, making his reputation, "Sea Cruise."
Al 'Carnival Time' Johnson followed, a little younger and more nimble, ending of course with his Mardi Gras standard "Carnival Time." Finally Clarence 'Frogman' Henry shuffled out, introduced as having performed with numerous legends and toured with many others, including The Beatles. He had to sit on his four-wheeled walker to perform but his voice was still strong as he continued the stroll down memory lane. Yes, it seemed a bit like a nursing home talent show, but the performers were thrilled to play in front of such a large audience once more, and, as for the audience, such a chance to observe fading history is part of the beauty of Jazz Fest.
ELLIS MARSALIS: CLASS IS IN SESSION (AND IN SEASON)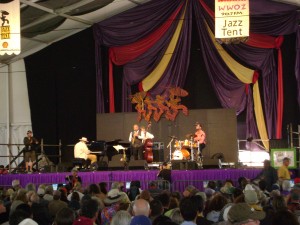 We didn't want to miss Irma Thomas, who was next at Gentilly,  but I had to dash across the fairgrounds to catch a glimpse of local jazz piano legend Ellis Marsalis. This patriarch is not only father to Wynton, Brandford, Jason, and Delfeayo, but one of the great jazz educators and innovators in the city. He doesn't get spacey, obtusely experimental, or too cool for school on the ivories–he's simply all class, playing elegant, melodic, inventive, and inspiring melodies with one of the most delicate touches I've ever heard. Even though I couldn't see much from my seat on the floor in back of the Jazz Tent, I was glad he still draws such a crowd and it was a thrill just to hear a few songs. I've seen every musician son of his play and though two may have gone on to be superstars (at least in jazz terms!) Ellis Marsalis remains one of the greatest jazz performers I've ever had the honor to observe.
IRMA THOMAS: STILL THE SOUL QUEEN OF NEW ORLEANS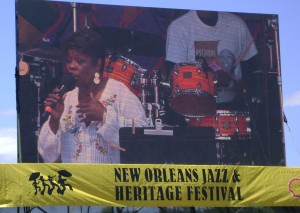 Speaking of local legends, Irma Thomas has to be getting up there in years. She began singing in the fifties but remains a youthful and vibrant presence on stage. Early in her career she hit the charts with songs like "Time Is On My Side" and "I Wish Someone Would Care." It didn't take long for a hard life, though–via poverty and early pregnancy, not typical self-destructive indulgence–to derail her career but she re-emerged in the 80's to regain and retain her title as Soul Queen of New Orleans. It's a shame the nation hasn't taken more notice, for she deserves one-name mention with other greats of her generation such as Aretha and Etta. Irma sings with passion, finesse, range, and absolute control. On stage, she looks like she's barely whispering, yet powerful waves of crystal-clear vocal distinction wash over you, giving you chills.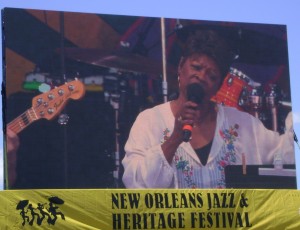 My friend–who's become a recent avid convert–and I couldn't help but dance to her infectious grooves and heartbreaking laments. She stuck mainly to classic hits such as her humorous first single: "(You Can Have My Husband but Please) Don't Mess With My Man" and her anthemic "Second Line Medley: I Done Got Over/Iko Iko/Hey Pocky Way," which I wrote about previously. She's still moving forward, though, and trotted out a new recording about a woman ready for commitment, telling the crowd if they were considering getting married and weren't convinced by the time she was through: "Don't do it!"
I've seen Irma twice this year all ready, and if there's one minor regret it is that she hasn't performed the song she recorded with Galactic, "Heart of Steel." I wonder if she even realizes how much of an underground hit this has become, introducing her to a young, jam-oriented crowd who wouldn't know New Orleans R&B from Deep Memphis Soul. The crowd at the Gentilly Stage was multi-generational but still leaning on the younger side and I have no doubt the place would have erupted if she would have busted out this powerful modern-day answer to "I Will Survive."
THE BLACK KEYS: KEEPING A STEADY BEAT IN BLACK & WHITE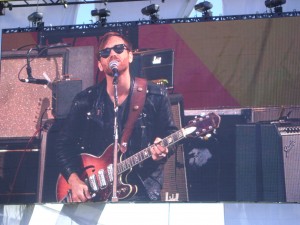 The Black Keys are all the rage these days for their straight ahead garage rock with little embellishment and I want to like them. I really do. Thus, we dove into the thick crowd at the Acura stage–no doubt about their popularity–but their sound was just too limited and repetitive to enthrall me. Last night Mick Fleetwood blew my mind with his continued agility and creativity on the drums and later Trombone Shorty's drummer would amaze me. When you're playing at a festival with past and future legends, the simple driving beats played on a simple kit by Patrick Carney do little to impress me. Dan Auerbach's guitar and vocals were a little more deft but not in league with the wealth of talent he was competing against. As much as I wanted to like them, I refuse to follow the crowd. These guys didn't impress. Period.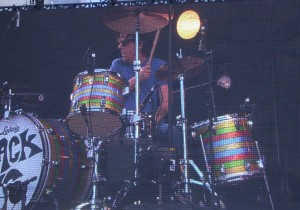 The Black Keys would certainly be a fun in a small club for their pure raging energy, but they are not an arena draw. The songwriting and musicianship are much too narrow. One excited older fan beside us compared them to early Rolling Stones, but even in their youth the Stones had a distinctive sound to go with their growl. Besides, I'm a Beatles guy. I'll take aptitude over attitude any day. The punk aesthetic flips this–it's not what you do as much as the attitude you do it in. This is fine for second lining, but if you're going to be a revered musician, you need to show it, not just tell it through your hipness.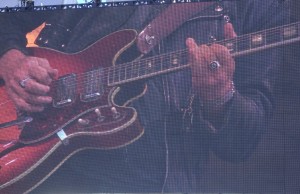 It's not that I didn't enjoy the show, but they didn't rank anywhere near the top of the talent that graced the fairgrounds this year, and this was an off-year by Fest standards. About two-thirds through the set we wandered off to catch a little of jazz legend Wayne Shorter and then local funk and R&B guitar legend Walter 'Wolfman' Washington.
FEST FOOD: STUFFED ARTICHOKE, FRIED OYSTER SALAD, & A THIRD SECONDS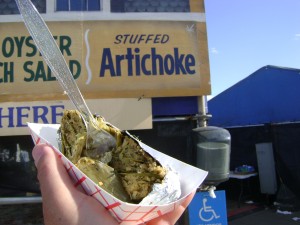 We were starved by the time we left The Black Keys and I couldn't help but sneak off for a second Trout Baquet. This is only my third 'seconds' of Fest as I attempt to sample as much as possible so it's easy to guess what will top my list. However, although I thought I'd tried all the major contenders by now, we ended with two strong choices. My friend opted for the Stuffed Artichoke. I was worried when the sign said 'half' artichoke, but the serving was huge. At $4 it was definitely the bargain of Fest! The breading was moist and flavorful and the artichokes tender and fresh. My friend said her Italian grandmother would approve and, though not what I think of as Fest Food, it was a sleeper hit of the festival.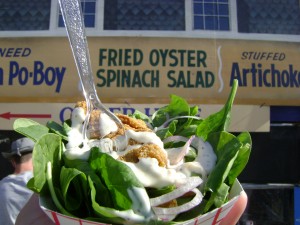 I, in turn, got the Fried Oyster Spinach Salad which I'd been eyeing since day one. You can also get a Fried Shrimp or Oyster Po-Boys at this booth and you can't go wrong either way. I had recently tried the legendary fried oysters at Dick & Jenny's, Casamento's, and Ye Olde College Inn and these may have topped them all. Once again Jazz Fest Food reigns supreme! They had a crisp but not greasy cornbread crust and were moist and meaty inside. I would love to go back and get the Po-Boy as well. If I had one complaint, they could have been more generous with the spinach and red onion and perhaps offered something other than ranch. The dressing complemented the salad wonderfully, but it would be nice if the oysters were the only indulgence for guilt's sake. Nevertheless, it was  a strong end to seven days of Fest Food indulgence!
TROMBONE SHORTY: A NEW KING OF CLOSING IS CROWNED
I first stumbled upon Troy Andrews, a.k.a. Trombone Shorty, when he was sixteen and playing the Lagniappe Stage. Tucked away in the grandstand, the tiny Lagniappe Stage is on the way to nowhere and most years, this one included, I miss it altogether. I believe it may have been a search for raw oysters for my silent friend Melvin–he'd asked for nothing all weekend so I had to make good on his one request–that drew us there but we stayed, our jaws dropped in amazement. His skill was matched only by his energy and stage presence and I immediately bought his first album which offered solid but standard smooth funk as he searched to find his sound.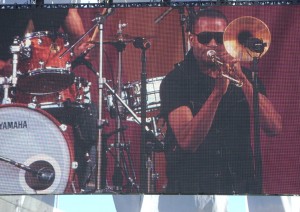 Trombone Shorty is now 27 and a rising superstar. It was only a matter of time, being the prodigy he is. He got his name from leading jazz funerals by age four when the trombone was taller than he was! Now, a combination of stellar talent, budding songwriting, stage presence, assertive vocals, and Tremé exposure has launched him into the stratosphere, allowing him to ascend to the most coveted slot at Jazz Fest: closing the Acura Stage.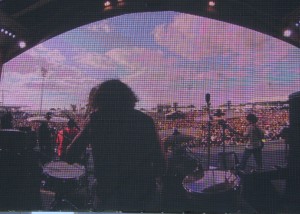 One of the pleasant surprises about New Orleans's post-Katrina revitalization is how the city has learned to rock. Even brass bands such as Bonerama and Big Sam's Funky Nation have an aggressive, hard rock edge to their funk. None rock harder than shorty though. He doesn't play funk with a hard rock edge, but rather rocks out with a funky flare. Switching between the trombone and trumpet (though a bit much for my taste–the city is full of great trumpet players, but no one so prominent on the 'bone!) he tore through rocking numbers with nimbleness and confidence, always keeping it fun and danceable. His young guitar player, Pete Murano, was apt to tackle damn near anything and is developing quite a voice with his smoking solos. And then there was Joey Peebles on drums . . . lord. He is the best rock drummer I've seen since Taylor Hawkins of the Foo Fighters last year, and with his manic energy, unrelenting drive, and creative fills, I wouldn't be surprised to learn Hawkins is his idle. He even beamed with the same Chesire Cat 'Damn, it's good to be a gansta' grin. No one at Jazz Fest had more fun!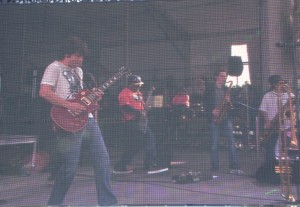 The entire fairground was jumping and dancing, set afire by the band's energy. Having gone beyond his 7 o'clock ending time, Shorty came out after the wrap up and said "But I've got to play one more." The band then launched into a sprawling version of the soon-to-be-legendary anthem "Do To You." As the sun set on Jazz Fest 2013, Shorty took a play from the Cowboy Mouth book and had everybody get down on the ground and then jump up and go crazy on his cue. The energy and sense of communal love and celebration was so intense the thrilled star decided to rinse and repeat. It was a rousing end to another great year and as Trombone Shorty and Orleans Avenue took a triumphant bow after freezing mid song like statues for Shorty's introductions, a new legend was born. Trombone Shorty was given a chance to pull the sword from the stone and left no doubt that he was the new King of Jazz Fest.