MANLY MEN IN RED EVENINGWEAR
You were my angel, now you are real.

So like a stranger, colder than steel.

The morning after no one should brag.

If love is a red dress, well hang me in rags.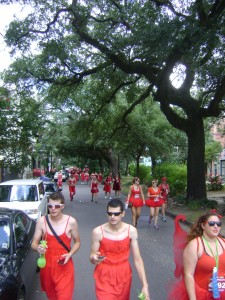 I don't know if Pulp Fiction is the greatest movie ever made (I could be swayed) but I'm pretty certain its soundtrack is the best ever assembled. (Making The Statler Brothers hip is in itself accomplishment enough to assure Quentin Tarantino's genius!) The night before returning to New Orleans I streamed this classic for the first time in years and and wound up with one of its lesser known tunes, "If Love Is a Red Dress," stuck in my head. I should have taken this as a sign to rush out and buy one that fits for that first weekend back every manly man in New Orleans donned the most outrageous red lady's wear he could find and took the the streets of the French Quarter.
RUNNING WITH A SIDE OF BEER & BREASTS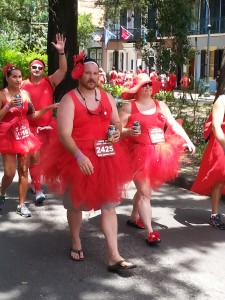 The previous Thursday I'd returned to Two Tony's to chat with New Orleans Guardian Angel/Cajun Jedi Master Pat Thompson. On my last visit he'd pontificated on how even minor events have mushroomed into huge ordeals post-Katrina. Case in point: The Red Dress Run, an event put on the Hash House Harriers that once involved a few drunk guys running through the French Quarter in drag. Now thousands of men and women alike ante up hefty registration fees in the name of charity to don their best—and by best I mean absolutely brilliantly worst—red dresses and take to the streets at a pace that would give the Tortoise pause to stop and share a Hurricane with the Hare.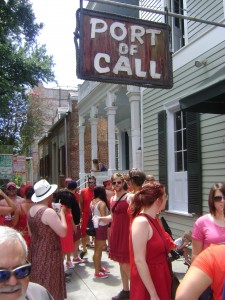 For the unfamiliar, the Hash House Harriers is an international organization started between World Wars by British colonialist looking to shed weekend hangover and keep in touch with the hijinks of their youth. The tradition slowly spread worldwide, finding a broader appeal in the 70's amongst people who liked to run but also drink, i.e. health conscious but not obsessed. Shunning juicers (of the carrot and celery ilk, not ala Bonds and A-Rod) who run repetitive routes looking to shave seconds off their times, HHH meet at different spots to mark off adventure courses of all difficulty levels. (I've heard tales of runs trudging through chest deep swamp water.) Rather than water stations, there are beer stops along the chalk-marked route. When a runner reaches a mark, he deciphers it and heads to the next clue with a cry of On, On! These chalk marks often provide all sorts of absurd edicts, as well. The lone hash I attended years back in Jacksonville (although we had a blast, none of my running friends were brave enough to make a return trip and I couldn't muster the nerve to go back alone) involved some mild flashing.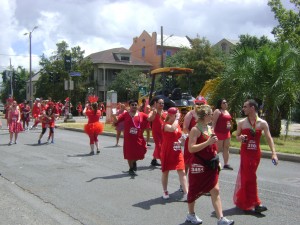 If you wonder how things can slide so deeply into so frivolity during a run, I'll just mention that there's tailgating beforehand. (Although it seems counterintuitive, I felt no pain that night and seemed to have one of my best runs ever!) The Red Dress Run sponsored by New Orleans hashers, a mere two mile job in drag through the French Quarter and Marigny, seems tame in comparison.
SADDER THAN A MAN IN A RED DRESS DRINKING ALONE
The topic of Red Dress Run came up again on this return trip to Two Tony's when a couple down the bar mentioned that the local Salvation Army Thrift Store was advertising on local radio: Red dresses in all sizes, even for the big men! Pat laughed and turned to me adding that if I headed out to the mall I'd find it full of men scouring the lady's section, though he assured me that it would be hard to find a dress at this late date. The couple added that registration has topped $70 so they're going to bandit it (run without registering). Not that I needed discouragement. This is the kind of thing you need a group of friends for. What could be sadder than a guy drinking alone and running in a red dress on a Saturday morning?! Maybe next year. Still I was curious so took to my bike in a red shirt to catch the mayhem from the sidelines.
CHARIOTS OF MOLASSES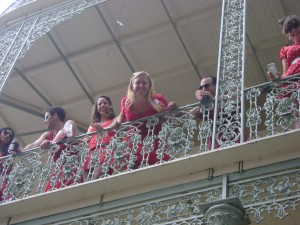 Saturday turned out to be a beautiful bright summer day with a touch of Autumn clarity, though perhaps the mid-morning partying simply lent it the texture of football season. It looked like the Saints had suddenly changed their colors to red and everyone decided to attend the game as cheerleaders. Although certain bars were designated official stops where your wrist band scored you free beer, every inch of the French Quarter was packed with men and women in everything from elegant evening gowns to ballerina tutus. While absurdity was widely embraced, a few girls managed to look hot! The men, well, just looked hot—it was August in New Orleans, after all. While some went out of their way to attract attention such as the man running in a horse head, the most amusing runners were the muscle bound body builders in simple ensembles, busting out of their spaghetti straps like transgender Hulks, prison tattoos peaking out beneath bodice and lace.
As I made my way up Esplanade and turned up Rampart to Armstrong Park, I didn't spot a single person running during this run. Hell, no one could even be accused of a steady saunter. In grand New Orleans style the participants where parading in a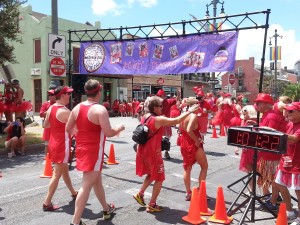 casual stroll, posing for pictures and waving at onlookers lining the sidewalks and perched on balconies as for any other parade. That explains the finish times I observed upon reaching the start/finish line outside Armstrong Park. As runners crossed the grand banner as an announcer melodramatically hyped their accomplishment, the same style clock that graces fiercely contested marathons now measured 1:01:22. That's thirty-minute miles for the math challenged, yet his didn't stop the rouge racers from tossing their arms in the air (carefully so as not to spill their beer) and reveling in victory as the crowd cheered.
AGING FRAT BOYS IN DRAG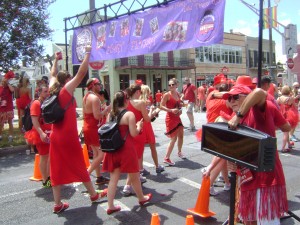 As I wandered into the park I could hear Dash Rip Rock through the fence and felt a twinge of sadness that I wouldn't be admitted–I wasn't feeling the confidence or sense of adventure to try and hustle a media entry. Cowboy Mouth was scheduled to follow and I can think of no two bands better to stoke up a group of aging frat boys in drag. Listening from the fence is lame, though, so I did my best Charlie Brown slump back to my bike.
No worries, for I didn't miss much. Shortly after I plunged back into the Quarter seeking quirky photos the skies clouded over and then opened up, sending me rushing home. I had plans for later, anyhow. A good friend from Jiu Jitsu was in town with his family for a cruise leaving Sunday and wanted to meet for dinner. They were all asleep, though, so we agreed to meet at Molly's at the Market to imbibe and discuss our mutual music obsession. As we both, well above 6″ and 200lbs, elbowed for space amongst the drag kings, Rob mentioned one of our fun but constantly ranting BJJ buddies and laughed. "I don't think XXX could handle the daily unpredictability of New Orleans." I laughed. True Dat. That's what makes New Orleans great. It's like a giant clubhouse that naturally selects the open minded and free spirited. On On! red dressed Romeos!