IT'S MIDNIGHT AND I'M NOT A FAMOUS PIRATE YET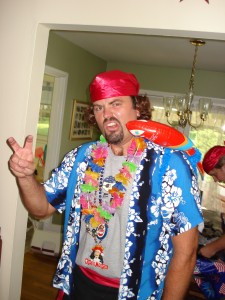 Well here I sit looking back on it all. One of my rationalizations for quitting my job and embarking on this adventure was to take a mulligan on my literary dreams and ambitions as forty approached. Now that it has arrived, I can't help but reflect upon all that's led me to this point.
My favorite song has long been "A Pirate Looks at Forty," and back when I lived in Virginia and attended Buffett shows three times a summer I'd dress like a pirate and stroll around with my guitar during the tailgating, which was as much the draw as the show. Soon I was recognized as simply 'The Pirate' by the returning faithful and pirate imitators started springing up in the Virginia/Maryland/North Carolina triangle. Yes, of all the crazy costumes at this annual bacchanalia I was the original pirate. Never, though, did it seem possible that someday I'd actually be that pirate looking at 40, and much like the subject of that song—a real Buffett compatriot in those early Key West days, not some escapist fictional conjuring—I feel like a man meant for another era floating outside the mainstream rather than marking the years with those typical adult mile-markers: wife, kids, promotion, retirement, regret.
Perhaps I don't feel 40 because  [Read more…]