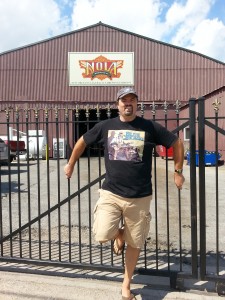 So it's Friday afternoon, you're visiting New Orleans, and you're looking for something to do. Or better yet, you're a local with the day off and want to enjoy your town without feeling like a tourist. Then I'll let you in on a not so well kept secret: NOLA Brewing Company does a free 'tour' every Friday from 2:00-3:00. Get there early, though, because there's sure to be a line: This isn't your typical beer nerd tour.
I can say that, having toured many breweries in my day. My best friend lives outside Milwaukee and has taken me on several beer tours including the highly entertaining and educational one at Lakeside Brewery where they have you chant the three actions of fermenting yeast—"eat, eat, eat; shart, shart, shart; screw, screw, screw!"—and  then sing the Laverne & Shirley song at tour's end. One of the best assignments I ever had working for a Jacksonville magazine was to do a story on all the local breweries leading up to their annual craft brew festival. Anything but the briar patch, says Brer Rabbit! Plus I've taken several Jacksonville visitors on the free Budweiser Brewery tour where they offer a whitewashed version of their history (Adolphus Busch didn't just 'think up' the word Budweiser, it's a region of central Europe with it's own brewing technique and namesake brewery that sued the crap out of you) and you get two free beers at the end.
All these other tours were medium to heavy on education and light on beer. Usually you get two free samples even at—heck, especially at–Budweiser who, according to my interview with Bold City Brewery, spills more beer in a day than they brew in a year!
But this is NOLA Brewing. You ain't in Kansas—or north Florida—anymore.
WORST KEPT SECRETS & BEER LOVING MOOCHES
I received the recommendation to take this tour from a couple of locals hanging at the bar one Thursday night while I consulted with Yoda Pat at II Tonys. They described it as a big, free weekly party and were debating whether to go the following afternoon themselves. NOLA Brewing is the preeminent micro brew in New Orleans whose NOLA Blonde can be found in about every bar in town, and are the main competitor to nearby stalwart Abita whose beers out-stock Bud Lite in this town— NOLA is always local first.
Unfortunately, the tour was cancelled the next day for Saints pre-season, but when I finally made it to their warehouse on Tchoupitoulas and 7th it was twenty minutes before 2:00 on a warm, sunny autumn afternoon and the line, which chatter revealed to be a mix of tourists and locals, was already wrapped around the front gate. Apparently my informants weren't the only beer loving mooches in town.
SO SIT RIGHT BACK AND I'LL TELL THE TALE OF A 3 SECOND TOUR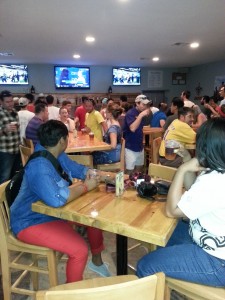 At 2:00 sharp the doors opened and beer fans were given plastic cups and directed through the warehouse to an inviting bar with flat screen TVs and pine tables. There was also an open taproom on the opposite side of the warehouse to handle the overflow.
Once in the bar, everyone lined up for free beer without restrictions (except age) while mingling with the social crowd psyched to be getting gratuitous quality beer. Tour over.
Seriously.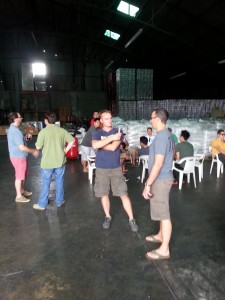 The most education you get on this 'tour' is "Welcome to NOLA Brewing." They simply open the taps for an hour and let you guests drink their fill. They're generous with their selection, too, with about a dozen beers up for grabs, though some of their more exotic seasonals were available only for purchase at a steep $6 a cup—a stark contrast between hospitality and commerce!
GOOD FRIENDS, BAD HYGIENE
The friend accompanying me stuck with the excellent seasonal offering 7th Street Wheat—their best brew, in my opinion, that is sadly in few bars in town—while I tried a few new varietals including Smoky Mary, a rich, hoppy brew named after the iconic float of that other Krewe lacking an M, and Hurricane Saison, a light summer beer brewed with peppercorns and coriander to give it a pleasant kick. It's one of those beers that's amazing for a pint but you wish you'd order another a few sips into your second.
I also tried a sip of a thick, chocolaty stout purchased by the couple we made fast friends with from Metairie, Jim and Gia—hygiene be damned. A fireman and a flight attendant, they were exuberant lifelong locals looking for something new to do on their afternoon off, and making such easy connections is the true magic of the NOLA Brewing tour. This is about the happiest Happy Hours you'll ever attend!
We also chatted with a couple from Boise, Idaho who overheard me in line talking about re-watching my favorite movie, Beerfest, on my birthday. He was in town celebrating his own birthday and had subjected his girlfriend to a viewing. Beer nerds, unite!
PROUD TO BE THEIR BUD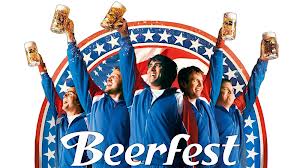 Our hour flew by, leaving some confused imbibers asking: "When does the tour started?!?!" Oh, NOLA Brewing, you cheeky bastards, you. (Disclaimer: That's a Beerfest line. I'm sure all their brewers are of legitimate lineage.) We shuffled back out in the sunshine and headed home for a nap before another Friday night of great food and music in this magic city.
The NOLA Brewing Tour is a great way to kickoff the weekend for tourist and local alike, and it's brilliant marketing for the label. This weekly rumpus must cost tons of free beer, but keeps a buzz and goodwill alive in this community of ten thousand competing options. Of course, I like to think that in a world where one of the most recognizable and wealthy brand names in the world enforces their two beer limit after their tour with an iron fist, NOLA Brewing is just channeling the New Orleans spirit of good times and neighborly hospitality over corporate avarice.
We all know Laissez Les Bon Temps Rouler, but how do you say, "Let the good beer flow" in French?!