WE THREE KING(CAKE)S OF ORIENT ARE (NOW AVAILABLE!)
January 6th was Epiphany which not only marks the arrival of the Three Wise Men to the manger but the annual arrival of Mardi Gras season to New Orleans (and the arrival of king cakes to local bakeries and groceries! Yippee!) Although Mardi Gras day changes in relation to Ash Wednesday, which changes in relation to Easter, which changes in relation to . . . well, I'm not really sure why Easter hops around like its furry mascot . . . Epiphany is always on the 6th. Thus Mardi Gras season is rushed when Easter falls early, sometimes wrapping up in barely a month, whereas this year's late date of March 4th provides two full months of revelry.
If you've been following this blog, however, you know that my preparation and planning started early last fall as I have become increasingly active in Krewe of Morpheus and Intergalactic Krewe of Chewbacchus. While I'm excited about rolling with both krewes, they couldn't be two more different organizations.
THE MODERN TRADITION
Morpheus operates in what has become the traditional fashion in modern times, though large parades with elaborate floats only date back to the last half of the 20th century. With such krewes, the board of directors does most of the planning and organizing while the actual labor of building and decorating floats is commissioned by local artists. Beads, plush toys, and other throws are shipped in from China. Literally. At our meeting this past Tuesday we were told that our costumes were currently on a train from China (and our throw packages on a slow boat!) A good portion of Morpheus riders are from out of town and can pay to have their throws delivered to the float and loaded the day before the parade. (Some locals choose this option, too.) They simply have to show up and ride.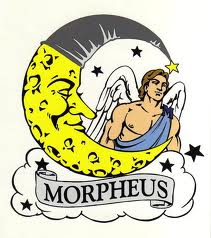 There is nothing wrong with—and much to be grateful for—having seasoned veterans who understand the process making the decisions and paving the way for what I'm assured will be the time of my life. As I've written before, Morpheus sponsors a Make-a-Wish float that allows for sick children's dream to come true (Morpheus is the god of dreams, after all), but, with an active board doing the heavy lifting, it also allows this dream to come true for many healthy adults who would otherwise only be able to attend Mardi Gras as observers.
At the first krewe meeting I attended back in October at a local Mardi Gras warehouse, Plush Appeal, I chatted with Mike and Jason who just happened to be in town from Virginia and Maryland. Kim Morgan, my float lieutenant, introduced them as fellow riders on our float, and as they related that this will be their fourth year returning to ride they described how they got hooked: "You feel like a rock star with everyone screaming and crowding and trying to get your attention." Who wouldn't want to be a celebrity for a day?
I also met another out-of-towner from my float in from D.C., Doug, and offered him a ride to his hotel when his taxi failed to show in this iffy part of town. As we drove he vouched for the addictive rush that Mike and Jason described, admitting that he'd joined last year just for once so he could check it off his bucket list but got hooked and couldn't help joining again.
At Tuesday night's meeting this year's king, Phil, stood up and gave a rousing speech counting down the days and hours until we roll. His enthusiasm iswas as infectious as John's, the Krewe Captain I previously described. Let the games begin!!!
THE NOUVEAU TRADITIONAL
If you're more a hands-on creative type, however, a DIY walking krewe like Chewbacchus may be more your style. From what I've read the first Mardi Gras parades were organized by civic leaders trying to channel the often destructive energy of marauding youth during Mardi Gras in centuries past, and they were typically unorganized rag-tag affairs, although they evolved over time to become more and more elaborate and structured. Still, my friend 'The Captain,' Marquis de Metairie's father, was at Tulane for the first Tucks parade and, though now a large 'traditional' krewe (though retaining their mischevious roots), that first year it began as a bunch of drunk college kids (him included) pushing grocery carts down the street, keeping the old tradition alive.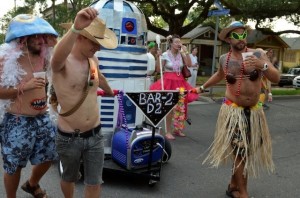 As parades became more extravagant , though, wide modern floats wouldn't fit through the narrow streets of the French Quarter, so as the tradition grew in stature it abandoned the most traditional neighborhood in town. Organizations like Krewe du Vieux, however, have successfully revived this tradition and the fledgling Chewbacchus, now in its fourth year, is following in these footsteps (though marching through the Marigny as opposed to the French Quarter). Thus, though giant parade productions with elaborate floats have been around so long they feel traditional  they're actually modern evolutions, whereas the resurgence in popularity of these early walking parades, seeming like a new trend, are really harkening back to the roots of Carnival.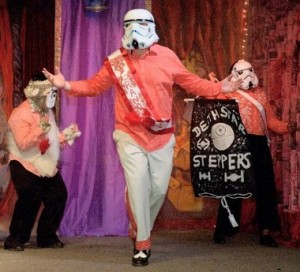 With its focus on personal expression and creativity, all Chewbacchus members imagine and create their own costumes. Outlandishness is encouraged, and they even have their annual 'fashion show' coming up on January 25th where the most creative and outlandish costumes will be judged: Set Your Phasers to Stunning. Costumes don't have to deal with Star Wars—or even Star Trek with this year's theme of Wrath of Khan-ival—though they are expected to deal with some branch of sci-fi or fantasy fandom. Unicorns and elves, however, are expressly forbidden. Seriously.
Instead of floats, Chewbacchus builds their own 'contraptions,' and since it's a walking parade these objects must be self-propelled so are built in shopping carts, around bicycles, or on carts pulled via bike. (Combustion engines aren't allowed but electric motors are so there are a few self-propelled contracptions such as a golf cart converted to the Millenium Falcon.) Even the throws are handmade, such as the bandoliers and perler beads I discussed in a previous post.
So, while both Morpheus and Chewbacchus are excellent ways to get involved in Mardi Gras, they couldn't be more different than day and night (although they both are night parades!)