ANY PORT(ABLE HEATER) IN A STORM
When I awoke in New Orleans the Wednesday after the 'Big Chill' my physics teacher roommate was downstairs sipping coffee, so school was cancelled again which meant the city would still be shut down. A little research revealed that while more businesses were opening, most remained closed. This wasn't a huge disappointment since I was shutting down myself—the crud I'd been fighting since Friday had finally triumphed after a night of inhaling stale smoke on Bourbon. Kevin was only here for a week, though, and wanted to see something (and find heat), though we got off to a slow start since I was sick and Kevin hadn't slept.
The ironic thing about this frigid spell was that everyone panicked and stayed home, yet these old houses are the worse possible place to be in the cold. I rent half of an old two-story home built to mitigate the brutal summer heat. Thus it's built with high ceilings to trap hot air, a raised foundation to allow cool air to circulate beneath, and no insulation. In fact, we had to leave the water running that night to keep the pipes from freezing. Add to this a common lack of central air and you have houses that are impossible to heat.
In an odd twist, my rental has central air upstairs but only inefficient window units downstairs. There is a single gas fireplace in the dining room, which is the equivalent of spitting in the ocean to dilute salinity, and we bought an electric space heater that's a little better—spitting in a brackish pond, I suppose! This system barely keeps my fingers warm enough to type on chilly days so did absolutely nothing for my brother during frigid nights as arctic air circulating beneath the leaky hardwood floors chilled the air in the air mattress to painful lows. He'd slept less than an hour so any plan involving heat was fine with him. I figured if New Orleans was shut down we might as well flee.
After a late lunch at Mellow Mushroom—the best pizza in the worlds despite being a chain—I consulted a daytrip book belonging to my roommate. Ever since moving to New Orleans I've wanted to take a day trip south to the mouth of Mississippi and delve as deep into the delta as I could on four wheels just to see what lies at road's end (though I never held illusions that it would be much!) Due to our slow morning, however, it was 3:30 by the time we departed, leaving us only two hours to beat sunset. It was cutting it close but it was something to do…I figured they couldn't shut down the delta. Boy, was I wrong!
IN DISTANT DAYS BEFORE GOOGLE EARTH
As s I drove across the Mississippi and past the urban sprawl of the West Bank, the land surrounding 23 south gradually began to narrow, and Kevin promptly fell asleep.
He didn't miss much.
As expected, the Mississippi was hidden behind the tall, shrub-infested levies that were soon visible on both sides—one holding back the mighty Mississip and the other countless acres of snaking bayou and delta. The only break in the landscape came from a steady stream of rusty, sputtering oil refineries. Sadly, but not surprisingly, this diverse and sprawling estuary has been converted, via oil and shipping, into an industrial eyesore like the other great U.S. watershed turned major port I  once lived upon: The Chesapeake Bay in Virginia and southern Maryland.
Nevertheless, the lack of scenery didn't wreck my day. It wasn't a search for sublime beauty that had drawn me to land's end, but rather an itch to see where the road ends. Growing up I was extremely close to my grandfather (a huge inspiration for my novel Jeremiah's Scrapbook), and as a teen I would spend Saturday afternoons with him in the days before Google Maps driving West Virginia back roads just to satisfy his unquenchable curiosity "to see where they turn out." He'd study new maps and state road plans until an unexplored route would catch his eye, then we'd saddle up and drive to its conclusion, grab a bite to eat, and drive back home. Thus, although I could have called up pictures on Google Earth of this great American draining basin, I wanted to stand on the edge of the continent and feel the wind on my face. I just hadn't planned on it being such a painful wind!
VAN HELSING CHASING A DELTA DUSK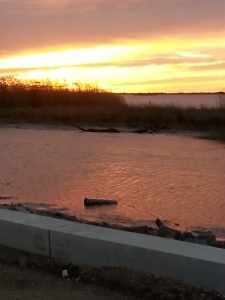 As I progressed deeper into the continental funnel I was chasing sunset like Van Helsing racing dusk on horseback on his frantic ride to Dracula's castle. The roads were mostly four-lane, though, and the speed limit climbed to 65 so I made better time than expected. Then, about twenty miles from the end, two police cars with flashing lights blocked an elevated bridge over a narrow channel. Just in case ice should form. They'd closed the delta after all!
Every other vehicle turned to a side road as if they expected the diversion, but there were no detour signs so I pulled off and checked my phone. We were in the middle of nowhere, though, so it took forever for the map to load and by the time I realized a smaller bridge crossed the channel on that side road, we'd lost precious minutes and would soon lose more to extra distance and slower speed limits. After following a truck that looked like it knew where it was going back to the main road, I sped on until we finally reached the last town in the U.S., Venice, LA, just as the sun set beyond the endless marsh grass.
VISUAL POETRY: SUNSET SERENDIPITY
Although we nearly missed the view, there was a certain serendipity in our arrival. Most of the drive had been blighted by industrial muck, but the road ended with stunning views of receding delta marsh bursting into color—fierce and fiery oranges and yellows at first and later soft and supple blues and purples. Even the marks of industry here—a worn and haggard fleet of shrimp boats—loomed like visual poetry, their overlapping masts a tangle of shadow upon a canvas of vivid swirling color.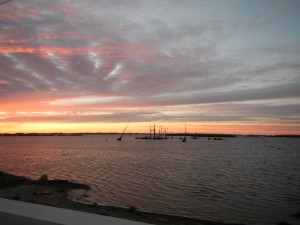 After stopping for pictures we continued along a partially constructed road (one lane was unfinished concrete and the other merely a gravel foundation),  unsure if it was open to traffic. Soon we realized we'd missed the Delta National Conversation Area marked on our maps. It was hard to tell exactly where the road did end, so when we finally reached a stoplight directing one way traffic we turned around since daylight was fading and we weren't sure where we were going.
ALPHA+OMEGA=DELTA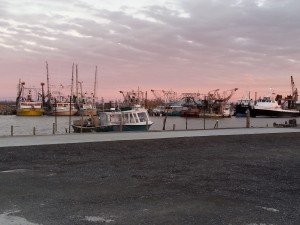 Upon turning around we spotted the Delta National Conversation Area which was marked by a single bench and three educational plaques. No wonder we missed it! The mouth of this great delta is one of the prime fishing areas in the nation, and thus is a treasure to anglers as well as bird watchers, researches, etc…if they have boats! There's not much to see if you're stuck on dry land and the gale force wind blowing off the water cut through our coats so viciously that we couldn't even finish reading the three plaques, so after snapping a few pictures we retreated to the truck to soak the moment in.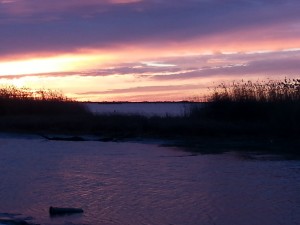 However, despite the cold, industrial blight, and fading sunlight it was a moving and weighty moment. The Mississippi is in many ways the heart of this great nation. Without its vital shipping routes branching deep into the core of North America, the U.S. would have likely remained a tiny coastal nation of modest influence. Beyond its economic and military influence, however, think of its cultural importance. Without the Mississippi Mark Twain doesn't become what he became—the Great American Writer, in my opinion, and rock, blues, and jazz fails to spring up in the absence of cities like New Orleans, Memphis, and St. Louis. (Louisville, Cincinnati and Pittsburg, amongst countless other towns and cities, also likely don't arise).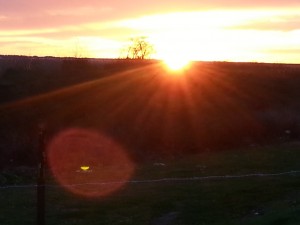 I've stood at Mile marker 0 in Key West and been on the other end of US 1 in Maine. I've seen both the Atlantic and the Pacific and crossed into both of our neighboring nations. Still, both physically and metaphorically the mouth of the Mississippi is in many ways the Alpha & Omega of this great nation and I felt the thrill of accomplishment and a surge of pride standing on this spot being slapped by arctic air as the orange, red, and blue light of a distant fading star bled upon the intersecting canvas of marsh and cloud.
Mission accomplished (despite the almost ice!)