ON WITH (AND INTO) THE SHOW!
With the start of parading season, the stretch run to Mardi Gras is underway and the whole town is hopping, making social scheduling nearly impossible as everyone adds last-minute touches to their costumes, picks up throws, and completes contraptions and/or shuffles them around town for repair and delivery.
Wait. That's me!
Which makes me officially part of the local insanity. And into this maelstrom flew my oldest brother, Jerry who, by the end of his first night in town, was already part of the show!
A GRAMMY FOR FRIED CHICKEN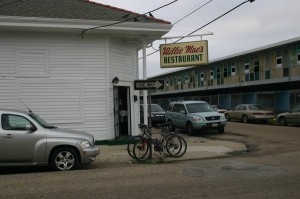 Jerry landed in New Orleans with a blossoming cold so my plan to rush him to Liuzza's by the Track for a Barbecue Shrimp Po-Boy before the free NOLA Brewing tour was squashed. Instead, we headed home so he could lie down before heading to Willie Mae's Scotch House, as comfort food sounded more in order than spicy seafood! Willie Mae's has been voted 'best fried chicken in America' by multiple outlets and won the James Beard award (a culinary Grammy); yet—as there are two thousand 'legendary' spots in this town—I'd yet to try it.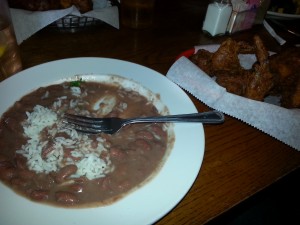 The neighborhood in somewhat disrepair between Treme and Mid-City that we plunged into definitely foreshadowed authenticity. This was no touristy restaurant row! Inside the modest white-paneled house, though, there was a wait even at 2:30 on a Friday afternoon, though it was worth it. Although the wings with our white meat orders were somewhat disappointing (it didn't have enough meat to absorb the spices and retain moisture), we both agreed after that the breasts were superb, having deeply absorbed the spicy rub. What really stood out, though, was the unique batter which was almost tempura style. The red beans we ordered on the side were tasty—easily top-ten in the city. I'm not sure it's the best I've ever had, but Willie Mae's strikes me as one of those places that slowly hooks you.
JUST THE DRINKS, MA'AM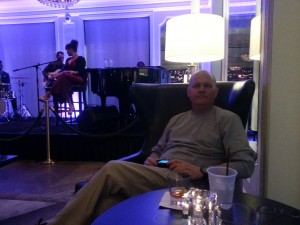 After our late lunch we wandered the French Quarter to kill time before Kermit Ruffins's weekly 7:00 gig at Blue Nile. I'm completely bummed that Kermit closed his Treme Speakeasy, and Jerry was looking forward to visiting after reading the blog and my Geaux Local guide (Good brother!), but still, seeing Kermit anywhere is a treat.
As fate would have it, though, that Friday was Valentine's Day and it felt a little awkward wandering around with another dude amongst all the couples holding hands. After a stop at PJs for coffee and surprisingly moist and tasty king cake, we settled into the Carousel Bar at 5:00 to listen to my friend Robin Barnes—a rite of passage I've now established for all visitors.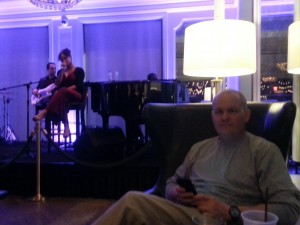 Jerry is the one who started me drinking bourbon yet he's never tried a Sazerac, the local rye whiskey and bitters cocktail, so when the waitress walked over—Robin purring her sultry jazz in the background of this swank and romantic club—I ordered us both a round. "Are they together?" she asked. "Yes," I replied, but as she walked away I almost yelled: "But just the drinks—we're brothers!"
EATING YOUR MUSICAL VEGETABLES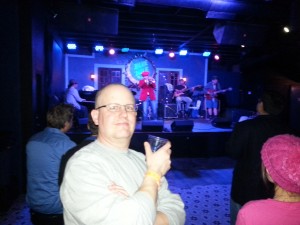 During the Jazz Fests Jerry attended with me years ago he somehow missed Kermit Ruffins, who hooked me my very first trip in 1998 when he was still a hidden local treasure. Treme, though, has made him a minor superstar and definitely put him on Jerry's radar, so he was eager to finally catch him live. As usual, Kermit didn't disappoint, though he did seem tired, later explaining that he'd played NBA All-Star gigs all afternoon and had to leave after that set to do another. Still, he soon found his second-wind and energized the crowd as he always does.
A direct heir to and disciple of Louis Armstrong, Kermit is a walking party whose smile and swagger light up the room. And it's a generous swagger. Most stars swagger to let you know they're up there and in control and thus so much cooler than you. Kermit, though, includes the crowd as if you're all apart of his clique of cool. Paying to see Kermit is like renting hipness for the night like that crazy 80s movie Can't Buy Me Love! With his oft-repeated catchphrases—"All aboard!" & "We par-tee-un!"—he places himself at the head of the pack—not above it. Everyone's invited along for the ride. He is a musical encyclopedia and stylistic genius, so don't mistake his generosity of spirit for a lack of talent, tenacity, or intelligence. Perhaps he is just the smartest man in the jazz room, for he alone seems to remember that jazz began as party and dance music–'the devil's music' long before rock-n-roll. Kermit sees himself as a chef as much as a musician, and if you're a good enough cook you don't have to force people to eat their vegetables!
JAZZY HOBOES & FATE OVER FAVORITISM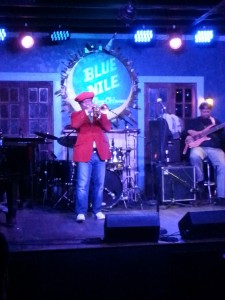 Although Kermit's set wrapped up around 9:30, we hadn't had dinner so were planning to head to Coop's Place for a late bite. As Kermit decamped, though, the captain of Krewe of Cosmic Debris, a walking krewe that departs outside the Blue Nile on Mardi Gras morning, took the stage. Apparently we'd stumbled onto their annual selection of a king or queen via the baby hidden in the king cake. Traditionally, the person who finds the baby is responsible for bringing the king cake to the next party, but some krewes use this method to choose their royalty, favoring fate over favoritism. He invited the whole crowd to join them Mardi Gras morning as past royalty gathered on stage behind him. Then this year's queen was announced—a first time parader—and a brass band that had been hiding in back of the room struck up and the krewe second-lined out the door.
They were heading down Frenchmen toward Decatur, where Coop's is located, so I busted a move and motioned for Jerry to follow. He had just landed and he had already graduated from spectator to part of the spectacle. That is the beauty of New Orleans. Mardi Gras is a giant party thrown by the people for the people, and the carnival rages year round with the line between observer and participant always blurred and shifting. A small crowd gathered on the sidewalk gathered to cheer us on and we rode all the way to Coop's where we jumped off the train like a couple of jazzy hoboes.
A LITTLE SERENDIPITY?
The Force was strong in NOLA that night, for in a weird bit of serendipity the last person I talked to in Blue Nile attended Radford University in Virginia around the time I received my Master's in Literature there and the first person I talked to in Coop's attended Virginia Commonwealth University shortly after I received my Master's in Occupational Therapy there. The next morning I awoke to a message on the blog from someone who grew up in New Orleans and now lives in Beckley, WV—my hometown where Jeremiah's Scrapbook is set. Freaky! I began to worry that while stumbling onto Krewe of Cosmic Debris someone had slipped me an invitation to Lucy in the Sky with Diamonds!
KING CAKE KREWE KING ICING FLASHBACK
Adding to the surreal and trippy feel of my Friday night prior to Krewe du Vieux, the king cake coronation I stumbled into at Blue Nile was my second of the week. As I write, My Year of Mardi Gras will finally begin its climax tomorrow night as I join The Intergalactic Krewe of Chewbacchus for my first Mardi Gras parade as host and participant. The Wednesday before Jerry's visit, however, I rushed back to the Den of Muses where Chewbacchus was electing their king from amongst the red shirt security volunteers via a Chewbacca hidden in a king cake.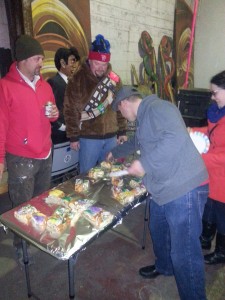 As I've mentioned before, the joke with the red shirt security personnel on Star Trek is that when these nameless characters show up to accompany Kirk, Spock, and McCoy on a mission you know they're not returning. It is a humorously satirical tribute to those who choose to guide the spectacle rather than star in it, and the Sacred Drunken Wookie decided to honor their sacrifice by making a servant king or queen.
It was like herding tribbles, though, getting everyone registered and then distributing 45 slices to those who had signed up. There are over twice that many red shirts, but many prefer to stay in the background so withheld their name. I suggested that three of those that did register 'accompany' Kirk & Spock on a 'mission' to bring the number down to the sacred 42 but there would be no sacrifices that night. When the hopefuls were finally freed to dig in, though, a familiar face raised his hand. I'd met Chester (now King Chester) while riding with the Crescent City Cruisers, so felt a small tinge of pride for having hobnobbed with royalty. All Hail the Sacred Drunken Chester!
As he was coronated and measured for his robes, glowing with pride (or PBR–I'm not sure), I saw there was some king cake left from Manny Randozza's—a popular brand I'd yet to try. Yet the non-red shirts descended like locust and as I reached for the last slice someone quickly snatched it up. Doh!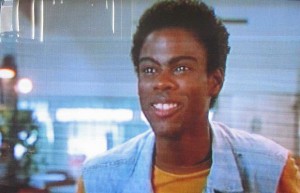 "How much for just oooooone bite?"
LET'S DO THE TIME WARP AGAIN
If you haven't noticed, linear storytelling has evaporated in the mad rush to Mardi Gras. More is happening now than I can keep up with, but I'll definitely be posting more often! Be sure to tune in tomorrow as I prepare for my first parade with Chewbacchus in a costume that will surely turn a few heads (though maybe looking the other way!)