ANCIENT DRUIDS & NYX: OSHUN & CLEOPATRA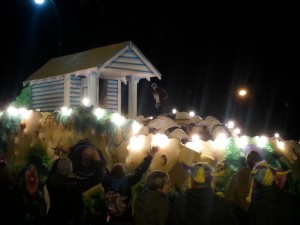 Nyx Grand Marshal Susan Spicer
Yesterday was rainy, cold, and wet. Even at a little after 5:00 as I rushed to Krewe du Brew, my favorite New Orleans coffee shop, to blog and try and beat the closing of St. Charles Avenue it was cold and drizzly.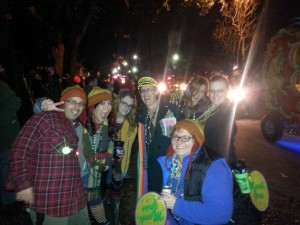 The K.R.A.P. Krewe Gathers
Ah, but the Gods of Carnival shined upon us. The ladies (and Pimp Daddy Bryan 'Rocksteady') from K.R.A.P. were gathering to watch two of our own parade in Nyx, the all female krewe that formed three years ago with Muses membership (the reigning sarcastic hipster queen of female krewes) and has quickly swelled to over 1,300 riders and rivals Muses for top diva–countering their custom shoe throws with hand decorated purses.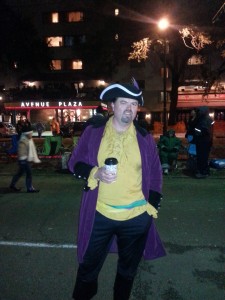 The Purple Pirate Cradles Krewe du Brew Coffee On A Night When Ice Cream Wouldn't Melt
K.R.A.P. co-founder and Thunderlord Rachel Unger was riding in float 21 and last-minute Mordor refugee Ann Thompson was in #12. A few others were mixed in as well. Their Chewbacchus compatriots made 'K.R.A.P. ♥ Nyx signs'–as well as a highly effective purse snagging 'Purses > Shoes' banner–and agreed beforehand to dress in costume. I'd ordered a gold pirate shirt to go with my purple coat to bust out on Mardi Gras day, so this was a great excuse to give it an early spin. My green sash is on its way from Jax, though, so I made a green bead belt instead.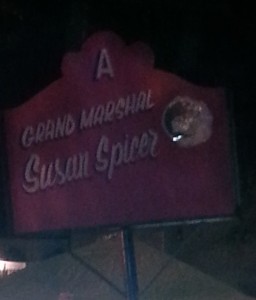 Celebrity Chef Susan Spicer is Cookin' With Nyx
It was frigid as the K.R.A.P.ateers gathered near the intersection of Washington and St. Charles, but the rains stopped and there was a tolerable crispness to the air, though my fingers would go numb over the hours of reaching out for throws.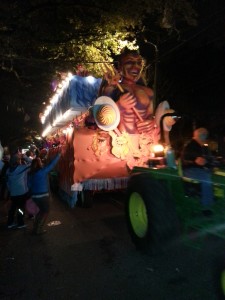 "Throw Me Something Devil(led Egg)!"
Much like my Oshun & Cleopatra experience, Ancient Druids had plain floats, sluggish riders, and stingy throws. I caught nothing and wasn't motivated, anyhow. But Nyx ruled The Avenue, raining beads, flashing rings, lighted bouncy balls, and purses upon us. The pirate suit certainly helped, and many female riders waved me over to place really cool specialty beads around my neck (once I doffed my hat, of course!) Later when a house between Washington and 6th was selling portalet access for $1 (a bargain, hint! hint!), I didn't have change for a twenty but they said, "Hell, you're a pirate" and waved me in.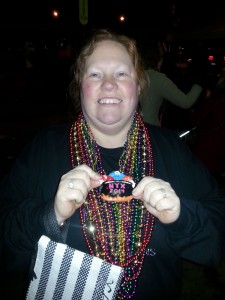 Lucky Recipient of Nyx Medallion
Later, Danielle Wheeler took me three blocks Uptown and made some introductions to pirates who hang out in this same block every Mardi Gras, including one friend she says dressed like a pirate all the time except when at work and who finally found a woman this year who was down with it, so he proposed on Halloween. I was also recently invited to join the KOE walking parade on Mardi Gras day when they found the blog, and when I said my costume may not fit their theme they  assured me a contingent of pirates walks with them. Finally networking with local buccaneers. Score!
Two Rival Schools Combined Their Bands to Aweome Effect

(It was as much fun watching Chrissy's 'happy dance' when they made a concert formation!)
As Nyx rolled by for hours in all its glory with one long break and super chef Susan Spicer leading the way, Chewbacchus friends helped me gather loot. This was appropriate as they had food theme. (Ann told me via text convo after that her 'Chicken of the Sea' float had originally been 'Tuna Casserole' until they inquired who they'd pissed off!)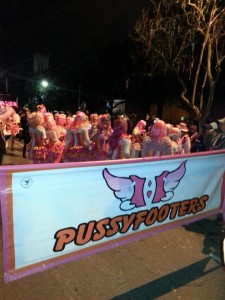 Say What?! Something Smells Fishy Here.
With my pirate super powers and a little help from my friends  I made out like a bandit in my quest to gather as much as I can to redistribute on Friday. In fact, I wound up with almost more than I could carry!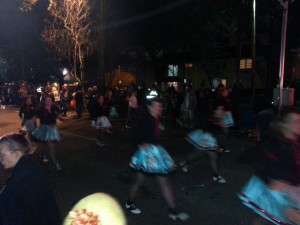 And Now the Muff-A-Lot-As. No Euphemisms Here!
It was after 11pm when the last Nyx float rolled and it was a long mile walk back to Krewe du Brew (though I'd learned and padded by pirate boots this time with 3 pairs of socks!) lugging three bags full of beads, but it was worth it. (I also noticed that parades roll at the same pace as a brisk pirate walk as I tailed the parade down St. Charles never gaining ground but never falling back!) I'd captured quite a haul of pirate booty, and with guests arrive in town tonight we're going to slay them at Muses!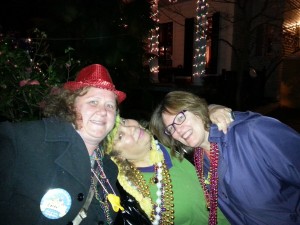 Permissive Pirate Portalet People
A Booty-ful Sight: My Nyx Pirate Swag