TOO TIRED TO GREASE A POLE
The night before my big day with Morpheus my friend Aimee had driven from Jacksonville for her first Mardi Gras, bringing nephew Kyle who is in law school there. His girlfriend, Kelly, flew in from San Antonio where they're all from (though she was born in Baltimore) and it was the couple's first trip to New Orleans at all. Thus, I'd rushed them to the Muses parade and then took them for their first (and only of the trip) obligatory stroll down Bourbon Street as is legally required of first timers. I wanted their first night in town to be memorable—mission accomplished (more on this in future posts)—but we stayed out much later than was wise before such a monumental day, for I'd been warned that riding on a Mardi Gras float was the longest—though greatest—day ever.
Thus Friday morning we missed the 'Greasing of the Poles.'
For 44 years now the Royal Sonesta Hotel on Bourbon Street has been greasing the poles supporting their balcony to discourage onlookers seeking a better view, and I wanted to take the gang to see this spectacle although I was skeptical before they arrived that we'd actually get moving in time. The Greasing of the Poles began when parades used to roll through the narrow streets of the French Quarter before they grew too big and moved Uptown, yet the ceremonial 'greasing of the poles' continues. (And, besides, there's still plenty to see on Bourbon, per the much publicized flashing that is mostly contained to this area.) New Orleans loves an excuse to party, so the suggestiveness of rubbing Vaseline on metal poles is not to be wasted and has grown into an annual event with celebrity hosts, bands, and girls in sexy garb from local dance and/or social groups competing for best pole-greasing performance. It is, I hear, quite a spectacle, but, alas, we were much too slow shaking off our hurricanes and hand grenades to make this 10 a.m. lube job.
(COSTUMED &) MASKED MAN IN COMFORTABLE SHOES
It was already close to 10:00 when I stirred to life and began preparing for my first ever ride through the streets of New Orleans on a Mardi Gras float, so my excitement easily drowned out this mild disappointment. Per our Morpheus meeting Tuesday, Generations Hall in the CBD would open its doors at 2 o'clock for the pre-party as local cover band Bag of Donuts (whose awesomeness first graced these pages during this French Quarter Festival post) would take the stage.
We were warned to get there early, though, to avoid the lines, and instructed to wear our costumes and wrist bands or we wouldn't be admitted. This wouldn't be possible for me, though. I'd laid my band out the night before with my keys so I wouldn't miss it, but had been sent a 'medium' costume?! I'd bust out of that like a Mardi Gras version of an angry David Banner going green!
I'd arranged, though, to meet Kim Morgan, my float lieutenant extraordinaire, when I got there to figure something out, so for now ran around trying to prepare for my marathon day. After three hours of partying at Generations Hall we'd load up at 5:00 out front and then make the slow creep Uptown to Jefferson and Magazine where we wouldn't start rolling until after 7:00, slowly winding our way down St. Charles Avenue and through much of New Orleans proper before disembarking back at Generations Hall around 11:00. It was an all day affair. Thus I struggled through the haze of a slight hangover to make sure I was fully prepared. My Shriners style hat was already in the truck and I'd loaded my beads on the float the day before. I tossed in my costume, attached my wrist band, and filled a cooler with beer for the ride (although drinking on the floats is officially discouraged, wink, wink).
Usually I don't fret long about outfits, but spent some time choosing the most comfortable pants and supportive shoes I could find. It is local law that you must wear your hat, costume, and mask at all times during the parade and there's nowhere to sit, so you want to be as comfortable as you can beneath this fun but impractical garb.
60≠6+0
Sometime after 11:00 o'clock I was packed up, but apparently still not thinking clearly. I decided we'd have time to go get breakfast and swing back home to pack up afterwards. I knew there'd be long lines all over town since this was the start of Mardi Gras weekend, but for some reason this didn't register in my thinking.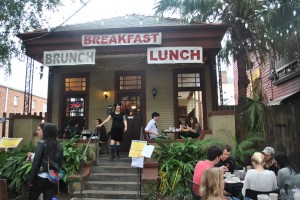 On a past visit, Aimee and I had discovered Surrey's, a nondescript little cottage on Magazine that I'd passed a hundred times and not noticed until Yelp! recommended it. Yelp! was right, for it has one of the best breakfasts in the city (Bananas Foster French Toast—take a moment to let that sink in) and Aimee felt certain Kyle & Kelly would love it, so we headed out well before noon.
And now for one of those truisms about New Orleans. Tourism and hospitality is by far the dominant industry here, and because of NOLA's reputation for food and hospitality you tend to get either the best or worst service you've ever encountered. While some places take pride in setting the standard for hospitality and treat you like a king or queen, other places know that the spigot of tourist dollars will just keep flowing so treat you like they're the kings and queens and can't be bothered by trifling peasants begging for crumbs. I'll let you guess which we encountered that morning.
Although I should have expected it, I cringed when the hostess said there was going to be an hour wait, but turned to my gang and explained that there was going to be a wait everywhere. "Yeah, there's going to be a wait everywhere else," the hostess echoed as if they couldn't hear me, looking annoyed that we were taking two seconds of our hour wait to decide. We had nowhere to be, so quickly agreed to hang out. Glancing at my watch, I noticed noon was quickly approaching. "Why don't Kyle and I go back and grab our stuff while you ladies wait."
"I wouldn't do that," the hostess said, putting a sassy hand on her hip. "I'll pass right over you if it's your turn."
I thanked her for her unsolicited advise, but explained that it would only take about twenty minutes, and I didn't want to risk showing up late downtown for my krewe. Even though hostesses often overestimate waits, an hour usually means at least thirty or forty minutes. "The ladies could order for us if we we're not back," I added. "I won't seat them if you're not here," she called as we walked away.
I was parked just across the road, and by the time we turned up a side street to St. Charles and emerged by Audubon Park and Loyola University Kyle's phone rang. It was Kelly. Our table was ready. It hadn't been 10 minutes! WTF?!?
We were halfway home so carried on, and the girls informed us the hostess refused to seat them though they said they'd order for us. Fine. Apparently the 60 minute wait was really only 6+0, so we'd just get in line again. A minute later, though, they texted back that the hostess waited until they walked away and then motioned them back, saying she could seat them now.
I get that dealing with the public is difficult, but sometimes servers just seem to be trying to piss you off. It wouldn't work today, though. We were all in a great mood and just laughed and shook our heads as Kyle and I arrived at the exact moment as our food. It was a great breakfast and a good story.
#1 CONCERN OF MARDI GRAS
Kyle, Kelly, and Aimee had purchased tickets to attend the Morpheus party, but being the good host I felt guilty setting them loose for six hours in the chaos of Mardi Gras, for I'd load up at 5:00 and wouldn't return until after 11:00. They are an easygoing lot, though, and  just thrilled to be there, so as we ate I pulled up a map on my phone and showed them how to get to the French Quarter and where to go, and then gave advice on where and when to return to catch Hermes and Krewe D'etat, which rolled before us. I also provided multiple options for using the restroom, reiterating that the #1 concern of Mardi Gras is where to pee.
Seriously.
Ask anyone who's ever been. Where to pee during Mardi Gras is the topic of year round late night conversations, blog posts and guide book chapters, a song I recently heard on WWOZ, and now a pee-finder app for your smart phone that will let you know homes and businesses that will allow you to pay to pee.
Seriously.
BIG DUMB WHITE SIDEKICK & BEAD RAIDER
Thanks to the huffy hostess's confusion of 6 minutes with 60 I left breakfast set to arrive downtown in a new condition for me: early! I even had time to collect some extra beads and drop them off at the float.
Since first moving here, my favorite writing spot has been Krewe du Brew on St. Charles. It has great coffee, the friendliest staff in the city, comfortable workspace, and hilarious chalk signs out front, such as the 'Rules for Coffee Fight Club' that went mini-viral once on my Facebook wall. The first few times I was there, though, I never met the owner, Eugene, who thought up the signs.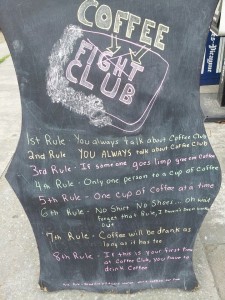 I happened to write a glowing review of the place, though, around the time he drew a sign announcing the Top Five things he'd do if not running a coffee shop, my favorite of which was: Grow and Afro and fight crime. I posted my review on his Facebook wall hoping he'd read it, adding: "BTW: I'm 6'4", 250lbs, and train jiu-jitsu, so can I be your big dumb white sidekick when you grow your afro?"
I never heard back and assumed he ignored it (most people do), but about a month later I walked in to find a man I'd never met working the counter and talking to some regulars. Looking up, his face lit up. "Hey!" he cried as if we were old friends, then pointed the customers my way. "When I grow my afro and quit to fight crime, this guy is going to be my big white sidekick." (He graciously left out 'dumb.') Classic!
This has since become my 'Cheers' version of a coffee shop, and a few weeks ago while nearly tempting Eugene into joining Chewbacchus, he'd told me I could park at the shop during the parades and use it as home base. A bathroom, parking, and indoor seat on St. Charles are the three lemons of the Mardi Gras slot machine, so if that wasn't grand enough, he offered to let me have all the beads they were catching and hanging on the fence when I mentioned I was trying to catch as much as I could to throw back during Morpheus.
Thus, on the way to Generations Hall, I pulled over. Eugene wasn't in so I jotted down my float position on a note and then Kyle, Kelly, and I began filling grocery bags like a frantic pirate raiding party. "Tisk, tisk," a lady said as she walked by shaking her head at us. "We have the owner's permission," I responded. Still, it felt like we were doing something naughty, which, we all agreed, made it kind of fun!
PARTYMEISTER GENERAL
After dropping my cooler and new loot off at the float we drove downtown to Generations Hall. The garage across the way was $40 and usually I'm reluctant to even feed $5 into a meter but there was too much on my plate today so I sucked it up. Still, it was only 1:30 when we lined up and I knew it was only a matter of time before I started getting grief for not wearing my costume. Sure enough, building staff began patrolling the line and repeatedly telling me I couldn't enter without my costume. They didn't seem concerned when I said it didn't fit, but when I held up my medium to the two guys working the door as the line finally moved,  they laughed at the doll clothes, bumped my fist, and waved me in.
Fortunately Kim had arrived and finally located an XL. When I emerged in costume my friends and the guys at the door cheered. Having just ate, we passed the buffet and took a table in the back room close to the stage to feast on a Bag of Donuts.
For those who aren't from NOLA or haven't followed the blog for long, Bag of Donuts is a local band known for good times and revving up the crowd. Per my friends Yoda Pat (Patrick Thompson) and Marquis de Metairie (Mark Foret) who grew up here and went to school with some of the guys, most of the band used to be in a serious touring metal cover band, Metal Rose, while Bag of Donuts rose to popularity in the frat party circuit getting so drunk on stage they often couldn't finish shows. When Metal Rose folded, though, some of the guys took over the Bag of Donuts franchise since the hard drinking original lineup had crashed and burned. These seasoned road veterans brought stability and superior musicianship to the table while keeping the party vibe alive. The result has become a local party institution.
They all dress in costume (Gene Simmons with makeup, the Joker, a masked hero, and some sort of Captain Caveman on drums!) and play every genre imaginable from classic rock to disco to hard rock to classic rap to modern R&B and hip-hop. If it excites a crowd, they cover it. They're all solid musicians and are the most diverse and engaging cover band I've ever seen. By nights end, I was ready to crown them Partymeister General of New Orleans.
TIME TO WARM UP THE DONUTS
As we took our seat, people were just starting to trickle in and the dance floor was empty, though the Donuts were trying to get people moving. Open bar didn't start until 3:00, so Kyle and Kelly bought a round of drinks though I declined—the free booze I was waiting for cost me hundreds of dollars, and it was going to be a long day, anyhow.
Last night K&K had already declared Mardi Gras one of the best nights of their lives, soaking it all up with wide-eyed wonder, but now returned with their drinks and sat quietly soaking it all in. Aimee, too, was still warming up after last night's rambling but I couldn't sit still, so stood and danced alone by my chair. I'd been building up to this a year and could no longer contain my excitement.
As they soaked it all in, they seemed content enough but I began to worry the party was going to be a flop. (For them. I was already in 7th heaven!) Still, I had faith in the Donuts and herded everyone to the stage for a picture.
THE NATIONAL ANTHEM OF OLD PARTYING WHITE PEOPLE
Tuesday night Kim had introduced me to a long-time rider from Boston, Don, who would be beside me on the float. Other riders standing nearby jokingly warned me to be careful—he's high-strung and can't stand still. That sounds familiar! I laughed and responded that either we'd get along great or so much combined kinetic energy would trigger an explosion. As I chair danced, I spied Don in back of the room with Kim and some others from our float, so went back where he embraced me enthusiastically. He already had Kim and company grooving, and his energy was infectious. It was going to be a good ride.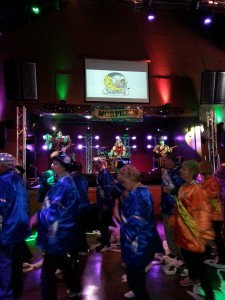 Meanwhile, the Donuts stuck to classic rock and disco in that first hour, but a combination of the open bar at 3:00 and a hard rocking Michael Jackson medley started loosening up the crowd. The forecast for our ride was perfect: clear and just slightly cool with no humidity, and Bobby, the lead singer, reiterated the good news, imploring the crowd up to 'get drunk, get on a float, and rule the streets of New Orleans.' They were riding with us and were clearly excited. "Let me hear it if you think Bag of Donuts should play the Morpheus party every year?" he shouted. Everyone roared, and the band kicked into "Play That Funky Music White Boy." The dance floor filled up with an undulating costumed krewe.
Leaning over to Kyle I whispered: "It's the old partying white people national anthem. Gets them all on their feet and standing at attention!" He cracked up and clasped my arm, but I wasn't excluding myself like some aging, aloof hipster. Aimee and I dove joyously into the throng!
TRAMPLED BY TOILET PAPER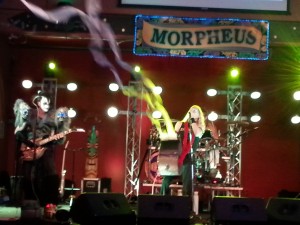 Several times during the show Bobby pulled out an industrial floor dryer he'd rigged with a dowel rod fitted with toilet paper. As the band roared behind him, he showered the crowd in white. I grabbed a piece and tied it around my head commando style. Don danced by following a snaking crowd and gave me a big thumbs up. "Love the ninja head band." He knew it was going to be a good ride, too!
With the party now officially rocking, the band started dropping in some rocking versions of Carnival classics such as "Carnival Time" and "Mardi Gras Mambo." Dancers began picking up pieces of toilet paper and waiving them in the air, forming into a second line snaking through the dance floor. Soon King Phil showed up to take the lead with a proper parasol as Kyle and Kelly looked on in amazement.
Your first second line is a sight to see, and I explained the phenomenon to K&K, trying to nudge them along but they were happy just to watch. As Aimee and I joined the procession, more persistent members pulled them into the line as they passed and I almost cracked up at the bewildered look on Kelly's face as she tentatively held a piece of trampled toilet paper aloft. Oh what a difference a few days would make!
TRANSCENDENT CLICHÉS BY MASTER MOTIVATORS (READY TO ROLL)
At our meeting Tuesday the BOD had announced the Make-A-Wish kids would be hanging out in the front room—they didn't want them to see the craziness in back—and I'd brought my voice recorder hoping to stop by and talk to a few of them before the ride. The train had left the station by now, though, and it was full steam to five o'clock.

Mixed in with these classic rock blasts and TP blitzkriegs, the Donuts were soon rocking modern hits that I didn't recognize but that had Kyle and Kelly hopping. My fears were unfounded. We were all now on our feet and having a blast. "Best time ever!" they reiterated, which would soon become the refrain for the weekend.
In a trick I've never seen, BamBam or Captain Caveman or whoever left his drum kit but kept his sticks and began laying down a looping beat on a percussion actived mixer. As he pounded this modern marvel while dancing around it like a tribal primitive, Gene Simmons and the Joker started handing off a Morpheus rap overtop the swirling loop. The place went nuts!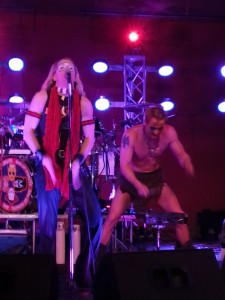 After a quick break to introduce the BOD and royal court, Bag of Donuts returned to get the krewe primed to rock the parade route. As time ran out, they suddenly unleashed a version of Queen's "We Will Rock You," that was so powerful you could feel the bass guitar and bass drum reverberate in your bones. The entire hall was shaking.
This is such a cliché song to bust out at every lame sporting events and creepy insurance convention going that normally I groan every time someone fires it up, but today it was perfectly apropos. In fact, the Donuts ripped off the best rendition I've ever heard, and I was ready to rock right out the door by the time they were finished. Although they went on to play an incredible hard rock medley before ending with an inspiring "Jack & Diane," it seemed slightly anti-climatic. This was the culmination of nearly two years dreaming and scheming, and I was ready to rock the crowds on St. Charles and Canal.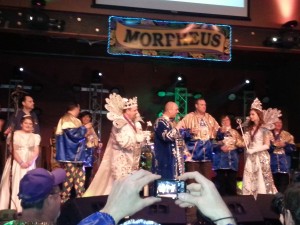 Still, I was a little sad that the party had to end. I've been called a music snob by friends before for my dismissal of local bar bands: "They're just a cover band," they'll mock back to me. But, as I stated earlier, Bag of Donuts are much more than 'just a cover band.' By the time they left the stage, my guests were in a state of elevated ecstasy and I was ready to rock the whole route. It was quite the warm-up act Partymeister Generals indeed!
As I walked outside and boarded the float, Don and I embraced again and then shared a Jello shot. As we toasted with a fresh round of beers, he got my attention and pointed. "There's Aimee." She'd circled back around to get one last picture before we rolled.
Our paths were diverging for a while but both roads were about to lead to epic nights!

***Thanks to Aimee, Kyle, & Kelly for contributing to the above photos.