THE WAY BACK MARDI GRAS MACHINE
By riding in Morpheus the Friday before Mardi Gras and walking with Chewbacchus the weekend prior I was able to compare and contrast the two approaches and fulfill one of the main goals of this blog: To experience and write about Mardi Gras as an insider and host rather than an observer and guest.
Although these two parades were certainly pinnacles, my Mardi Gras 2014 adventure was far from over. Moreover, it was enhanced by not only playing host in the larger sense of participating in parades, but in the more personal sense (as is traditional) of opening my home to three friends whom I've already introduced. Inviting Mardi Gras guests and playing host holds particular resonance for me as I look back to the hospitality extended to me as I first experienced this amazing festival which shocked me with its breadth and scope. Like so many others, I came in believing it was merely the world's biggest block party where flashing and drunkenness were practically perquisites. I was shocked to find this was the exception, not the rule, and so as I write about how it felt to now extend this hospitality and education to Carnival newbies, I feel the need to take a trip to the Way Back when I arrived in town wide eyed and undereducated.
LOOKING BACK & PAYING IT FORWARD
I first fell in love with New Orleans when I drove from Tallahassee for Jazz Fest 1998, returning the next year and having an even greater time though I wouldn't have thought that possible. Just after Jazz Fest 1999, though, I moved to Richmond, Virginia to attend the Occupational Therapy program at VCU and wouldn't have a break (or a dime) during Jazz Fest 2000. I was bummed out, but Karen Walsh, a friend who lived outside of New Orleans that I knew from Camp Easter Seals, had extended an open invitation to come stay during Mardi Gras. When I realized at the last minute I had a break during Mardi Gras (which can cost a lot of money though you can negotiate it while broke, unlike Jazz Fest) I called up my buddy Melvin, who back then was my partner in crime for every scheme I dreamed up. We hit the road with little cash but big ambitions.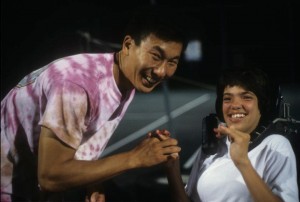 That first post Y2K Mardi Gras was extraordinarily late: March 7th—two days shy of its latest possible date. The weather was going to be perfect so they were expecting huge crowds to celebrate the fact that the technological world hadn't come crashing down on our heads a few months prior. I arrived ready to party, fueled by the same news footage from the same five blocks of Bourbon Street that serve as most of the nation's Mardi Gras education. Karen lived in Pearl River, which was an hour drive outside the city, but being a broke grad student I was grateful for a home base within striking distance.
Melvin and I had met at Camp Easter Seals-East where he'd worked for one summer and I'd worked for three, though we both stayed connected to this facility serving both adults and children with special needs through frequent volunteering. Karen, though southern LA born-and-bred host, was a special education teacher who for over twenty years had made the summer trip up to Virginia, working at the West camp long before the East camp opened. She was one of the most open and giving souls you'll ever meet, and I will forever remember the hospitality she extended that first year and relished the opportunity this year to finally pay it forward.
A MIND BLOWING REVELATION
Upon arrival we were surprised and thrilled to find Karen had a Mardi Gras welcome kit awaiting us that included beads and throw cups from previous years, local guides and current publications about Carnival, and beer koozies that hang around your neck (the same one I wore during Chewbacchus that spilled beer all over my fake breasts!) As we settled in, she seemed as excited as we were to greet us and help plan our adventure even though she had no intentions of accompanying us into the city.
As she began throwing out weird parade names I was instantly confused. There was obviously much more going on than just drunk sorority girls flashing for beads that I figured you had to buy—I had no idea they threw them to your for free by the ton! Of course, neither of us were the type to yell rude requests at young women or try and ply beads for flesh, but, hey, what happened in our vicinity happened in our vicinity. We felt certain this was an adult affair, though, so were shocked and envious when she cheerfully confided that she got three days off from school. They get the whole week in New Orleans proper, and understanding now how integrated this festival is into the community and how disruptive the parades, both sanctioned and spontaneous, can be it makes sense. Back then, though, it blew our minds!
THE SURREAL PHENOMENON OF THE MERCY FLASH
With Karen's guidance, we dove headfirst into the city where I fell as quickly and deeply in love with Mardi Gras as I had for Jazz Fest. I didn't have a clue what a krewe was or that these parades were different organizations marching on their own dime without any central authority coordinating the celebration, but happily reached out my hands for the medallions I still have today from Orpheus, Bacchus, Enydmion, and Thoth, even though I had no idea at the time of their signifiance. Both Melvin and I, though, quickly became annoyed at how forcefully adults would box out children for plastic beads (a phenomenon more common, I'd learn, but unfortunately not exclusive to the tourist crowds on Canal) so we spent most of our time helping kids out in our vicinity, many present with a shocking lack of parental supervision.
That first couple of days we did what most untethered tourists do and bounced between Bourbon, Canal, and Decatur Streets and witnessed a ton of flashing on Bourbon and Canal—more than I've ever seen since, though I have also spent little time in this area since. As I said, it just isn't in my gentlemanly nature to yell "Show me your tits," to random women on the street (or any women, for that matter), and my restraint (which anywhere else would be a prerequisite of basic sanity) resulted in one of the more surreal episdoes of my life. Being a social guy, when we'd find a spot to watch a parade I'd chat with whoever stood beside me—man, woman, or child. On two separate occasion, though—twice!—I was talking to a girl who suddenly stopped and said: "You know, you're the only guy I've met this weekend who hasn't asked to see my tits." They both then proceeded to give me a mercy flash. Only in New Orleans will a girl (who is not from New Orleans, mind you) flash you for having the common decency not to ask!
SLIDING SCALE OF DEBAUCHERY (FROM SUNDAY PICNIC TO SODOM & GOMORRAH)
If it weren't for Karen and Lauren, another camp worker from Louisiana whom Melvin and I had met during a volunteer weekend at Camp West, this may have remained my skewed image of Mardi Gras, too. That Sunday, though, Lauren, met up with us and took us Uptown where she began to truly show us what Mardi Gras was all about, continuing the narrative that Karen had started.
I was stunned the first time I saw the families gathered in the neutral ground of St. Charles with picnic blankets spread out and kids running around. Who knew Mardi Gras was a family affair?! This was where the locals hung out. What we'd witnessed was the tourists who flock to the city without a Karen or Lauren to guide them looking to misbehave. As I scanned the crowd lining the street I was fascinated by the festively decorated stepladders with box seats attached on top for the smallest children to sit. Suddenly it made sense why they threw toys and bead necklaces from the floats: for the kids! Through tradition, though, such gifts have become prized by all ages of parade goers which is cool–just don't trample a kid to catch something!!! The whole flashing economy in the French Quarter, on the other hand, is a relatively new and localized phenomenon. A couple of days of that was enough. This whole new side of things, though, reignited my interested. Little did I know that I was still only scratching the surface.
One thing Lauren explained is that the further you get Uptown, the more relaxed and family friendly it is. Once you pass Central City and then progress downtown, the party grows in intensity, though never to the uncontrolled hysteria that spills off Bourbon Street. Thus I crafted a metaphor that I still use today when people say that Mardi Gras is 'too wild' for them: St. Charles is a sliding scale of debauchery during Carnival, with the Uptown extreme resembling a Sunday picnic that ratchets up the nearer you get to Bourbon Street, which is Sodom & Gomorrah. (We witnessed things there that won't grace these pages!) Just pick your comfort level and plug in!
AN EIGHT-YEAR-OLD GIRL'S TEA PARTY FANTASY
By Fat Tuesday itself Melvin and I were pretty much partied out, but drove in early to catch Zulu (for which I still have the medallion) and Rex. (Zulu ended up being my favorite parade of the season, but it rolls at 8:00 a.m. so I've never seen it since!) By early evening, though, we were back at Karen's where we sat on the couch watching the King and Queen of Rex making a formal procession to meet the royalty of (I believe, based on what I know now) Comus as Karen tried in vain to explain the concept of secretive krewes and Mardi Gras Balls. If it weren't weird enough that they televised this stuff, this faux royal court looking straight out of the 17th century was more surreal than the 'mercy flash.' It looked like a eight-year-old girls' tea party fantasy as men in white tights and sequins strutted around in masks while women in enormous queenly white gowns latched onto their arms. This certainly wasn't my vision of Mardi Gras, and I watched the pomp and pageantry with my jaw hanging on the floor. There were clearly deep, intricate, and bizarre layers to this event that I'd believed to be simply the world's biggest block party.
JUST AS HAPPY TO HOST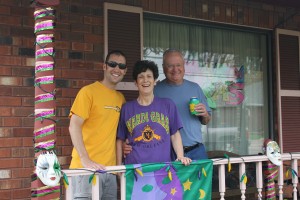 Although I attended many Jazz Fests and even a French Quarter Festival in the coming years, I wasn't hosted again for Mardi Gras until 2011 when a group of my Jacksonville friends came back with Marquis de Metairie to stay with his parents, 'Captain Billy' and Peggy, who were mentioned frequently in the early days of MYOMG.
That Friday in 2011 we arrived late at night, yet The Captain had waited up to greet us, saying he'd been cooking all day and that the refrigerator was full. The rest of the group politely declined the offer, though it had been a long time since we'd stopped for dinner, but I could see in his eyes and hear in his confession of cooking all day that he was dying for us to dig in. Besides, I'm not one to turn down free food, so when I said, "I'll eat, Captain!" we were instant friends.
Again, Captain Billy and Peggy had decorated extensively for our arrival and had collected relevant periodicals and guides and offered us a few souvenir throws from years past. The next morning as we prepared to charge into they fray, they eagerly helped plan our itinerary and informed us that they were hosting a crawfish boil for us and had arranged for us to view the Sunday parades at a local Elementary School renting out its gym. That Sunday at the gym would be the only time they'd venture out yet, like Karen, they seemed just as excited to host our adventure as we were to have it!
HURRICANES & HAND GRENADES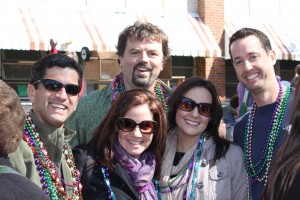 Marquis, of course, had grown up in New Orleans so was thrilled to return home and play guide. As I wrote about in the introductory WHY page, we hit all the major parades and caught a ton of bead (some of which I threw back to the crowds this year during Morpheus), attended the black tie Orpheus Ball, sipped Pat O'Brien's Hurricanes and Tropical Isle Hand Grenades until the ladies lost chunks of time stumbling down Bourbon Street and I found myself unable to stop shouting everything I tried to say in a normal voice, and generally had the quintessential Mardi Gras experience of an out-of-towner thanks again to the hospitality of a host that was not only gracious and giving, but seemed utterly thrilled to do so.
PAYING IT FORWARD, PART II
Thus, it was this vision and model of eager hospitality that I eagerly aspired to live up to when my Kyle, Kelly, and Aimee arrived the night before Morpheus. I'd begun preparing weeks before, shopping at Plush Appeal for a naughty bead to present each of them as well as selecting seven of the best masks they had for my guests to choose that weekend. I also purchased the Arthur Hardy Guide and picked up all the major entertainment periodicals. The house, of course, was decorated to the hilt and I planned on warming up some of my famous gumbo if they were hungry. (I'd also blown up and made the air mattress, and Kelly continues to be as amazed that I set folded towels at the foot of the bed as with anything!!!)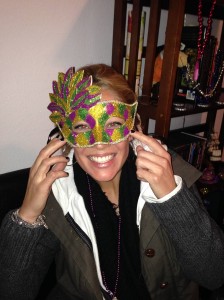 Aimee and Kyle were driving from Jacksonville, but Kelly was flying in from San Antonio so the plan was for me to pick her up from the airport. This would put us back home shortly before their arrival. Once they settled in we were going to try and catch the end of Muses. Granted, Muses started rolling Uptown around the time I left for the airport, but New Orleans parades always start late and move slow.
Unless you are delayed and promise as much to a thirteen-year-old girl. Then they fly by like gloriously bedecked drag racers!
KREWE DU BOO BOO REDUX
Every time I await a slow moving New Orleans parade, I can't help but think back to my post about when Aimee brought her 13-year-old daughter, Gabrielle, to visit for the Krewe of Boo Halloween Parade. For those who weren't following or don't remember and don't want to go back and read, basically I'd ordered food from Fiorelli's for our viewing party and they were criminally late getting our order out. (I'd ordered that morning yet they didn't start preparing it until I arrived to pick it up.) Still, I'd begun to learn the Cardinal rule of New Orleans, which is to chill and go with the flow.
Thus, rather than get angry, I had a drink and assured Aimee and Gabrielle that New Orleans parades always start late and move slow. Apparently except for Krewe of Boo. When we finally received our order and arrived at our French Quarter viewing spot a mere half hour after they were scheduled to start downriver in Marigny, the parade was already rushing by. Gabrielle was nearly in tears as she rushed into the crowd to catch the final third of the parade and I hung back trying to kick myself with my pirate boots!
THE EXCEPTION & THE RULE
Muses, on the other hand, had begun rolling at 7:00 yet I had plenty of time to pick up Kelly and return, wait another twenty minutes for Kyle and Aimee, swap greetings and travel stories, carry out my Creole Aloha, warm up the gumbo, eat, and pack a small cooler and backpack before driving downtown and searching for parking. It was around 10:00 as we walked several blocks to St. Charles and the first floats of Muses were passing.
Thus the rule holds true: New Orleans parades start late and move at a snail's pace. Unless you assure a thirteen-year-old girl of this truth. Then you're screwed!
SORDID & FESTIVE NEVER-ENDING BACCHANALIA
The satirical all-female Krewe of Muses has grown to be a—and perhaps the—local favorite parade, and the crowds were rabid as we approached. It was a good first parade to for my peeps to catch, and we had a good laugh at the bawdy floats as we tried to figure out the theme which turned out to be a fashion double entendre: Ready to Wear You Out (Off the Rack & Out of Control!) Although amused and enthralled by the elaborate rolling satire, Kyle and Kelly hung to the back as they acclimated to the weirdness—and to getting drive-by peppered with thematic kitsch by total strangers! When Kelly instinctively snatched an embroidered Muses plush seal flying through the air the puzzled look on her face was priceless: "What am I going to do with this?"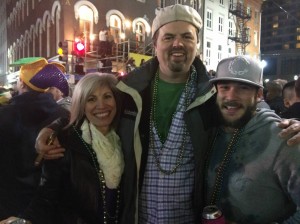 Aimee, though, was unfazed by the unique oddity of the city. This was her first Mardi Gras but she had visited multiple times where I'd shown her the (city's) Fully Monty, so she quickly pushed to the front, motioning Kelly to follow. Before long, they were loaded down with beads, cups, and flashing toys. Fast learners, indeed!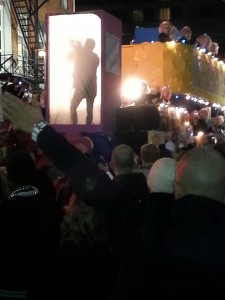 By the time the last float had passed, the ice was broken and everyone was fired up, so I led them to Bourbon Street for their obligatory introductory stroll. This stretch of 'anything goes' bars and t-shirt shops is not representative of the city and certainly not my favorite area, but any first-time visitor wants (and needs) to see it. When you live here, the one time you really enjoy Bourbon is when introducing flabbergasted greenhorns to this sordid and festive never-ending Bacchanalia!
QUID PRO QUO SHEER FORCE OF WILL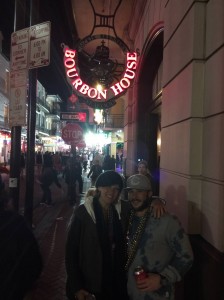 It was only Thursday night so things weren't close to their peak insanity, yet the party was already raging. Playing the good host, I had the three of them pose under the Bourbon House sign and then steered the ladies to the Barely Legal Club just for a laugh. As they walked wide-eyed soaking in the chaotic street party I shepherded them to their first Big Ass Beer . . . where they posed with the sign, as well!
We also had some fun posing with the 'Repent: The End is Near' evangelicals picketing in the street. They're all Catholic: Repenting is what Ash Wednesday is for!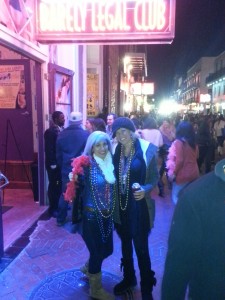 As we wandered on, bead throwers were already ensconced on their high-priced balconies, and I cringed when Aimee stopped to request a throw. She's certainly not the type to flash, but while they throw free beads by the ton on St. Charles, on Bourbon it's largely a quid pro quo transaction. When the guys would ask to see some skin, though, she would simply shake her head 'no' and make a demonstrative gesture demanding her prize. To my surprise it worked more often than not, and she collected an impressive array of specialty 'booby bead' through mere force of will.
When we reached Tropical Isle near the end of the commercial stretch, I suggested the four of us split two Hand Grenades, warning of their potency. As we took turns taking pit stops, we all had a laugh at the quarter operated game inside the men's urinal which would measure your urine output compared to other patrons and tell you how long it would take you to fill a swimming pool?! That was a first.
Finally we wandered to my favorite Bourbon Street bar, Lafitte's Blacksmith Shop. It's the second oldest bar in the French Quarter and is largely lit by candlelight (though I miss the pre-daiquiri machine days when there was no electricity at all). I think their Hurricanes are much better than Pat O'Brien's (which had thwarted our attempted visit with insanely long lines), but everyone was beat by this point so we ended up walking back to the truck with our cups still mostly full.
As we drove home, it was late and we were exhausted, but Kyle and Kelly were already declaring it one of the best times of their life and we had barely just begun. The next morning we slept in, missing the Greasing of the Poles, but went on to have an all-time memorable day with Morpheus as described in the last four posts.
I intend, of course, to move forward and document the rest of Mardi Gras, for so much happened in that long weekend that it's going to take me until Lent to post it all; however, I found myself unable to move forward without taking this time to express my gratitude and look back.
IN MEMORIUM: A MARDI GRAS JAZZ FUNERAL
Kyle and Kelly have thanked me a hundred times over for my effort an enthusiasm playing host, but again, I feel I was only carrying on a long and rich tradition into which I'd been previously initiated. I've thanked Captain Billy and Peggy many times for their graciousness in 2011 and would love to thank Karen for the generosity she showed me during my first Mardi Gras. I have never forgotten it, and to this day try to live up to her example. Unfortunately, she passed away several years ago of an aggressive cancer that allowed her only a few months upon learning of its presence.
During all those summers I worked with her in Virginia, and (I'm equally sure) during all those years working with special needs schoolchildren, Karen was always positive, giving, and inspiring presence. It sounds cliché, but everyone who knew her loved her. She was just that sort of strong and unflappably positive person who was a ton of fun but that you could always count on in a pinch. She'd never married, though, and upon learning she only had a few months left her longtime boyfriend proposed. I choked up when I heard about the wedding and cried when I got the heartbreaking news that quickly followed.
Sometime the next year I received a letter postmarked Pearl River. Puzzled, I opened it up unprepared for what was inside. Her mother had located the addresses of Karen's distant friends who'd reached in those final days and wrote to us all to thank us all and assure us she was happy in the end. Folded into the letter, though, was the most bittersweet photograph I've even seen. There stood Karen in her bridal dress with a glowing groom at her side. Her skin was shadowed and sallow, clinging thinly to her skull in a painfully obvious preview. Yet her ravaged face beamed with absolute radiant joy like I've rarely witnessed. It was the starkest juxtaposition of withering suffering and transcendent euphoria inhabiting a single space that I've ever witnessed, and I broke down sobbing like a child by those very public condo mailboxes, overwhelmed by this image that still haunts me today. Now that I live here I can't drive past Pearl River coming in and out of New  Orleans without thinking of her. Nor does a Mardi Gras pass without me taking a moment to reflect on that momentous visit.
This may seem a sobering end to such a whiskey soaked post, but I intend it only in love and celebration, for I know Karen would be thrilled to know I'm continuing to pay forward the gift that she gave me during my first Mardi Gras. It is a testament to her love and generosity that it lives on through me as well as through all the others whose lives she touched. Somewhere she's giggling as she watches our continued crazy antics, pleased that we're keeping the party rolling and making the most of the days we have. After all, the New Orleans Jazz Funeral is a celebration of life and an acknowledgment of the legacy left behind that makes life worth living. So before I move forward with all the amazing adventures I shared as first time host, I wanted to take this moment to reflect and dedicate this post to the person who first invited me down to check out this Mardi Gras business and see what the fuss is all about.
Lassez Les Bon Temps Rouler. (And Kiss the moose, dear Karen, kiss the moose.)
NEXT ARTICLE