PIRATE SURPLUS & GYPSY FRUGALITY
Since moving to New Orleans I have often had trouble sleeping soundly, but the night after my ride with Krewe of Morpheus I fell into sleep like a stone sinking to the deepest canyons of the Pacific. There I remained until late Saturday morning.
We'd planned on catching the two Uptown parades  that afternoon at my favorite coffee shop, Krewe du Brew, but that required crossing St. Charles before they closed the street off prior to the 11:00 a.m. parade My friends were as exhausted as I was, so by the time we all stirred, showered, and dressed it was past noon. We needed to be at House of Blues by 3:00 for a soundcheck party for the annual Better Than Ezra Mardi Gras show that night so decided to head to the French Quarter for the day.
The day before while I was away with Morpheus, Kyle and Kelly had shopped for fancy Mardi Gras masks, their interest piqued by the simple ones I'd bought them. Kyle is in law school in Jacksonville and had already missed Friday so was planning to drive back Sunday; thus he and Kelly would miss Mardi Gras day when masking is near mandatory. Still, some people choose to dress up for parades and parties throughout Carnival, so I shared my lagniappe pirate gear with Kyle (and some with Aimee on Fat Tuesday; yes, I have enough pirate surplus to dress at least three other people!) while Aimee assembled the costume she'd brought and Kelly reluctantly donned the skimpy sequined gypsy top she'd purchased in her initial Mardi Gras intoxication the day before. We all laughed and encouraged her, assuring her she didn't have to worry because wearing that she'd soon be covered in beads!
THE SLUGS & SLOTH SOCIAL AIDE & PLEASURE CLUB
By the time we parked up Esplanade and walked into the French Quarter, it was well into the afternoon and we were starved. We decided to try Coop's Place where Aimee was determined to eat before leaving town. As we reached Royal Street, though, a strange sight interrupted us. During Mardi Gras…hell, anytime in New Orleans…you're likely to be delayed by walking parades, second-lines, brass bands playing in the street, costumed bike groups, or a variety of other roving processions; however, I had never seen this.
I guffawed in exasperation as I declared to my companions that they had the honor of witnessing the laziest second-line in history. Instead of dancing behind the 'first line' brass band leading they way, most of the attendees were planted in pedi-cabs with their parasols open while bicyclists in yellow shirts pedaled them along. I'm sure some locals would be offended by this obvious tourist bastardization of a treasured local tradition. I could only grin and shake my head at how deeply sloth has invaded our culture. Brass bands are the joyously infectious Pied Pipers of New Orleans and instead of falling under the spell, this lot had called a cab!?
FIFTY SHADES OF STONED
After finding the line at Coop's out the door, we wound up at a white tile diner on Jackson Square, Stanley! (spinoff of the upscale Stella!). The entire French Quarter was packed, so we had to wait here as well. It was a gorgeous day, and as we sat I began regretting donning my heavy purple pirate coat. I was sweating profusely, and none of us left our masks on for very long in the budding heat.
After a lunch heavy on excellent fried oysters—a weakness for all of us—we perused Jackson Square soaking in the artists and street performers. At one point a couple stopped to ask Kyle and Kelly a question and they directed them to me. "I'm looking for a head shop," the guy said. There's a tobacco shop on Decatur called Mary Jane's Emporium, ahem, so I steered him that direction. As they walked away the girl noticed Kelly's stylish boots decorated with pyramidal studs. "Actually," the girl added, "we'd really like to find a BDSM and head shop combination. He's into weed; I'm into bondage." I laughed and shook my head. "You're on your own with that one." As they walked away we began to wonder aloud if such a store actually existed: Fifty Shades of Stoned!?
A ROCCKUS REUNION
Between our late start and wait for lunch, 3:00 crept upon us as we paused for a group photo in Jackson Square with the iconic St. Louis Cathedral looming behind us, so we headed to the House of Blues for a reunion with a few of the Krewe of Rocckus alumni who were in town.
Last February I kicked off My Year of Mardi Gras by attending Krewe of Rocckus, the event in its third year created by local rock band Better Than Ezra. Inspired by the success of rock cruises, they'd founded this event to introduce their fans to New Orleans and Mardi Gras based on the premise that the French Quarter and CBD are just as contained yet much more interesting than a cruise ship. Citing work on their new album, though, they'd suspended the event this year yet had invited all the previous attendees in town anyhow to a private show at soundcheck.
As we arrived at House of Blues, I was eager to catch up with this group of friends. Although we'd only spent a weekend together last year, everyone had stayed in touch via Facebook, meeting up for shows, chatting about the band, and generally sharing a love of music and life. When we arrived Michael and Jewel Kubacki were the only ones there. Although we've communicated a lot on Facebook, I was eager to catch up and see how their year had been, for they had arrived at KoR last year with different last names. In what was the most memorable moment of Krewe of Rocckus last year, Michael had proposed on the riverboat cruise as Kevin Griffin took the stage to sing an acoustic rendition of "I Just Knew."
ROCCKUS REVELERS ROCK!
As we swapped stories of our crazy adventures of the weekend thus far, the band's publicist came out to inform us they were having technical issues and were running behind. It was no problem. Other alumni had started showing up and we had plenty to catch up on, such as Kim Doughty Ganey who gave me a hug and thanked me for all the swag I'd tossed her way as she ran alongside my float the previous night. She was thrilled to have had an "inside hookup" and went on to say that she'd downloaded my novel, Jeremiah's Scrapbook, and really enjoyed it.
Jewel and Michael have also followed my adventures (as I have theirs—per their posts I think they've take a year-long honeymoon!) like many others in the group, and I took a moment to reflect on the amount of support I've gotten from this Rocckus crowd. In my early post I talked about how fun, friendly, and intelligent the group was. BTE is a smart band that doesn't take itself too seriously. Their music jumps effortlessly from corny humor or clever wordplay to stirring reflection or heartbreaking observation, and I reflected that I shouldn't be surprised that this mix of depth tempered by humor is reflected in their core fans. During this past year, though, as the online community has thrived I have received far more support than I could ever have expected from a group I met for only a weekend.
Krewe of Rocckus truly rocks, and I'm glad I took the plunge last year despite my reservations about expenses going into this adventure.
THEY ALL AX'D FOR BONERAMA
Just as this was their first Mardi Gras, Kyle, Kelly, and Aimee had never attended a Better Than Ezra show (though Aimee had watched last year's Joy Theatre show online), so I was excited to host this first-time experience, as well. At least they liked the band going in. Back in the mid-nineties my oldest brother, Jerry, had talked me into buying the band's first album, Deluxe, though I didn't give it a chance, dubbing it 'moody' after a couple of listens. (I find that a lot of my favorite bands and albums didn't appeal to me on first listen yet revealed their depth over time.) When he agreed to attend Jazz Fest 1999 with me, though, I agreed to go see Better Than Ezra after dragging him around to see bands he'd never heard of for two days. He was eager to see them and I was reluctant, but neither of us were prepared for what we experienced. They blew us both away with their energy, humor, spontaneity, and total command of the enormous crowd. I've seen then a good twenty times or more since, but that first show remains one of the top five concerts I've ever seen (edging out some legends of rock-n-roll) and BTE remains one of my top five all-time bands.
My experience is not unusual, and most people walk out the door fans even if they weren't when the walked in. Thus, I was excited to not only facilitate this experience for my peeps, but bring them along for this insider's peek before the actual show.
As we shuffled in, the band welcomed back all the familiar faces. There were only about twenty of us there, and as the band launched into a mini-set it was a rush feeling as though we'd commissioned the band for a private concert. Appropriately, they opened with the pulsing "King of New Orleans," an early hit brimming with local color and a touch of social commentary, as we all sang along.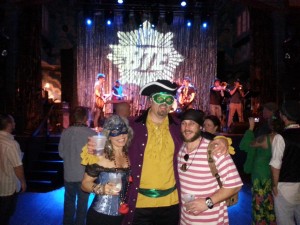 While driving downtown earlier I'd given Kyle and Kelly the tour of Uptown. As I pointed out the Audubon Zoo, I played "They All Asked For You," commenting how I can't drive by without getting that famous song stuck in my head. Although it doesn't mention Mardi Gras its bouncing, sly, celebratory rhythm fits nicely alongside "Mardi Gras Mambo" and "Carnival Time," so it's entered the Mardi Gras songbook over time. After a few more hits, the band suddenly kicked into a rocking version of this jazz/funk standard. Kyle looked at me, pumped his fist, and he and Kelly did a mini second-line on the dance floor. They'd come a long way since their reluctance to join the second-line the afternoon before with Morpheus!
The band was still working out kinks and details, so the songs were a little rough and they stopped often, but witnessing the insider banter was half the fun. A couple of horn players were joining them, necessitating the coordination, and mid-song Kevin decided to throw a verse at Mark Mullins of Bonerama. It was interesting watching how such collaborations gel during rehearsal.
A PIRATE IMPRESSION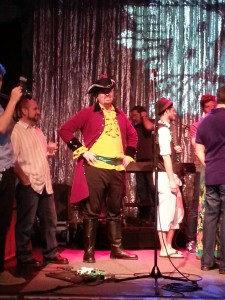 When the mini show ended, the band invited us all up for a picture, promising Krewe of Rocckus would in fact return in 2015. We crowded together for a pose and then Kevin requested a second shot with 'jazz hands.' Afterwards, a few people lingered on stage, but I turned to slip away when Kevin clapped me on the shoulder. "It's good to see you again, man," he said, shaking my hand.
Last year I had interviewed Kevin, the lead singer and guitarist, via phone for an Offbeat article about Krewe of Rocckus, but hadn't met him in person until dancing down the street during the event's second-line dressed like a hobo pirate. He'd turned around, laughed, and complimented my costume as someone snapped a photo, so I took the chance to mention I was the guy who'd spoken to him. It was an awkward introduction, so it felt nice being remembered a year later.
"Thank for having us," I replied, adding while holding out my arms: "I upgraded my pirate outfit this year." He nodded. "It's awesome, man." I tried not to look like a giddy fan girl, but I was grinning as I exited the stage.
THE RIDING DEAD
We filtered out of the House of Blues and met up with Jewel and Michael to walk two blocks over to Canal for the Endymion parade. This is the first of the three 'Super Krewes' that would roll over three consecutive nights, so named because they were the first open membership krewes (though politics have taken over. Trust me—I tried) that have mushroomed into memberships well north of 1000 allowing them to present long and elaborate parades and lure celebrity riders. They're also known for generous throws and are the biggest and most popularly attended parades, despite locals voting Muses and Krewe D'etat their favorites in Gambit Weekly after the fact.
Endymion, though, is the only major city parade that doesn't roll through Uptown, originating at City Park near the lake and rolling down the entire length of Canal to downtown where it only traverses only the downtown portion of St. Charles on its way to the Super Dome. Falling on the Saturday night when tourist density as its highest (for many people can't get off work for actual Fat Tuesday since the rest of the nation shamefully doesn't cancel work), it draws the thickets crowds, particularly on Canal Street by the French Quarter.
Because it's around the corner from House of Blues, Krewe of Rocckus 2013 had tried to view the parade at the turn from Canal onto St. Charles, though we had largely been crowded out. Once again, though, the proximity of the House of Blues had drawn us to this mobbed corner so we slowly made our way up Canal looking for a break in the crowd. There was none.
The crowds did thin a bit, but were still daunting and we kept wandering on, soon losing Jewel and Michael. (Though the always sociable Kyle made several more friends along the way!) .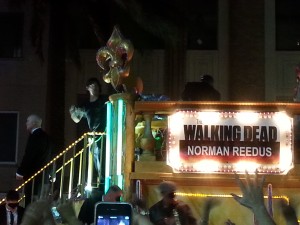 As always, the riders were throwing heavily and Kelly was racking up. All I wanted, though, was a single dated medallion bead but I only saw one person in the crowd who had one. In the past, Endymion had always been generous with logo throws, though the one I finally snagged this year was discarded on the ground where it had broken off its bead.
My disappointment was tempered, though, when Daryl from the Walking Dead road by on a float. If only he'd have been shooting beads into the crowd with his crossbow!
THIS PARADE JUST TOOK A TURN FOR THE DOUCHE
Although they weren't throwing many novelties, large beads were raining from the sky and soon Kyle learned first hand the dangers of Mardi Gras I have spoken of. He turned back just as someone threw a large wadded bead at him which caught him on the corner of the forehead. A large, red whelp quickly appeared.
"Welcome to Mardi Gras," I said as he showed it off. "You're official now."
Still, he found the bruise tolerable, but not the douche bag photo bombing all our pictures and shoving everyone—including kids—out of the way to catch beads. Kyle motioned us on: "Let's get away from the douche bag in the Ed Hardy shirt." This made me laugh because, being fashion impaired, I didn't even know what Ed Hardy was until I heard the YouTube comic parody by Garfunkel & Oats: "This Party Just Took A Turn for the Douche," which offers up the line: "I thought it was a perfect parrr-ty / Now it's just a Bunch of Ed Hardy." Coincidence or fashion correlation?!?
"This Party Took a Turn for the Douche" by Garfunkel and Oates ***EXPLICIT LYRICS***
HERE A DOUCHE, THERE A DOUCHE, EVERYWHERE A . . . .
Soon we lost interest in the parade…or, more correctly, the crowds…and wandered over to Mother's where I introduced the magic of debris, the glorious bits of roast beef that fall off in the juice overnight only to be scooped onto biscuits or po-boys, then stopped by to see my friends Robin Barnes at Windsor Court—a stop I make with all my guests. Kyle and Kelly had arranged to meet up here with two friends from San Antonio who'd packed on the spur of the moment and driven to town after seeing the pictures they were sending. Chip owns a couple of bars they frequent and Eloi is one of his bartenders, giving them the freedom to answer this siren call so suddenly.
After Aimee and I went up to decorate Robin with large pink beads to compliment her black dress we told Chip and Eloi our plan. Chip echoed my proclamation that BTE was great live, so the two of them joined us.
As we headed to House of Blues a friend from San Antonio texted to see if they wanted to hang out, so the four of them crowded together for a group picture in response. "Yeah, we're busy." When we finally arrived and stood in line Chip walked around the corner and soon returned with his arm around the lady he'd purchased tickets from. He was clearly going to make the most of this spontaneous little detour!
Inside the Rocckus crowd had already pushed up front and a layer of other fans had packed in behind them. Aimee and I squeezed on the floor near the back, but soon after the band took the stage retreated back to the bar to hang out with the others. This was my third Mardi Gras show and each year I'd encountered the Ed Hardy problem (in start contrast to the Rocckus awesomeness). Last year I'd been right up front with Rocckus when some guys behind us were starting pushing and causing trouble. Two years prior I'd been at this show independent of KoR's inaugural year and a couple of drunk guys had been pushing and purposely provoking to the point I—normally pretty chill—was contemplating body slamming the punk while going over the jiu jitsu chokes in my head. This was the third time I'd encountered this pushy aggression—and never at any of their other shows—but the band was playing off-the-chain so fortunately the place is small enough where we could still hear and see from the back bereft of the douche baggery.
LIKE THEY INSULTED HIS SISTER (AND HOW HE ALMOST FINISHED LAW SCHOOL)
The band was on fire and sounded great. It was the best Mardi Gras show I'd seen yet and one of their better shows in year. You could sense they were having fun and Michael Jerome in particular was beating on the drums like they'd just insulted his sister. When they played "They All Asked For You" for the second time that day we went crazy dancing, and the whole club erupted when local boy Eli Manning walked out near the end to introduce BTE's famous ode to autumn (otherwise in the south known as 'football season'): "This Time of Year."
"We'll forgive him tonight for that whole Ole Miss thing," Kevin said when introducing him. "We're all brothers in the SEC tonight."
With unexpected wit, Eli stepped up to the mic and said, "This is my favorite Better Than Ezra song. They wrote it about Saturday afternoons in Oxford, Mississippi." Bazinga!
After they closed with their hit, "In the Blood," we were gathered to scheme about what to do before everyone but Aimee and I departed the next afternoon. "But I really wanted to see Cowboy Mouth while I was in town," Chip suddenly declared out of the blue. "I love Cowboy Mouth," Kelly piped in.
Dude!
I was already impressed that Chip liked Better Than Ezra, but a lot fewer people outside of NOLA have hear of Cowboy Mouth, a close second to BTE.  Last Lundi Gras they had played the Rex party (where I posted about running into friend of a friend Danny Cattan) and they were playing again this year. When I informed Chip and Eloi that we were planning to see them Monday for free he instantly declared he and Eloi were staying.
"I want to stay and see Cowboy Mouth," Kelly said, turning to Kyle with pouty eyes. You could practically see the angel and devil on his shoulders. I laughed and slapped him on the shoulder. "This is the moment you'll look back to when you tell people you almost finished law school!"
UNEXPECTED EARNED INCOME (THAT JUST HAPPENED)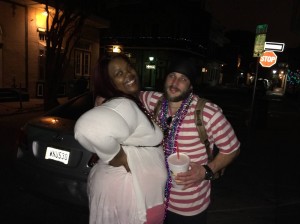 As we parted ways with Chip and Eloi I thought our evening was over, but as we wandered up Barrack's Street Aimee ducked into a bar for a pit stop. As we waited on the deserted street three girls rushed by us on their way to Bourbon Street as though they were afraid they'd missed the party. "Can we have some beads?" one of the girls asked. "We just drove all the way from Ohio."
"Sure." Kyle and Kelly handed a pair to the first two girls. The third girl, though, who was extremely hefty, stopped Kyle when he went to put a bead around her neck: "Wait, I want to earn it!"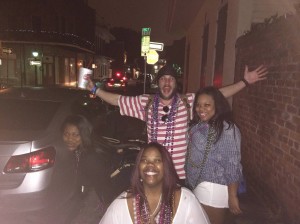 I was standing behind her but still saw more flesh jiggle than I wanted to as she shot up her top and shimmied back and forth before Kyle could object. His eyes opened in surprise as he laughed while beside him Kelly stood stunned. "That just happened," she said without blinking.
Aimee walked back out just as all three girls dropped trowel and urinated on the sidewalk between parked cars. I wanted to warn them that cops tended to be pretty rough on public urinators, especially during Mardi Gras, but much like Lott fleeing Sodom & Gomorrah I was afraid to look back.
Tourists.