NOW THAT'S N'AWLINS
If I had been dragging Saturday after my huge day riding in Morpheus, Sunday morning I was absolutely spent. We'd been going non-stop since my guests had arrived on Thursday. Heck, my Mardi Gras had actually begun two weekends prior when my brother visited for Krewe du Vieux followed the next weekend by my crazy walk with Intergalactic Krewe of Chewbacchus. I'd been running on pure adrenalin and college levels of alcohol but it was now catching up with me.
Along with the fatigue of revving in the red too long, my legs were swollen and aching after standing all day on that tiny float (though my crappy diet that weekend hardly helped). Fortunately, we had a relaxed day planned. My friend Maggie McKeown, whose bookstore sadly closed in January, had invited us to watch the Mid-City and Thoth parades. Her neighbors host a block party every year and she wanted to share this view of Mardi Gras deep Uptown off the main thoroughfare of St. Charles. Though I'd seen parades from many vantage points, I'd not been amongst a group of tight-knit neighbors who have gathered for twenty years. Now that's N'Awlins!
ONE CITY, ONE BIG FAMILY
Kyle was still clinging to illusions of leaving that afternoon for Monday classes so we couldn't get caught on the wrong side of Magazine Street when the parades passed by Maggie's house, for she lived just on the other side of the route. By the time we got rolling, though, the parades had already started so we couldn't have crossed if we wanted. Still, as I wove through the neighborhoods this side of Magazine I was shocked by how thickly cars were parked. We retreated all the way back to St. Charles, crossed, and nearly drove back to Claiborne before street parking thinned. This isn't French Quarter or downtown. These are residential neighborhoods, yet we ended up parking 19 blocks away—nearly two miles! Multiply those blocks by the dozens of blocks stretching along the route through downtown which were likely as thick with parking and you get an idea of how much of the city turns out for these parades. This was no small minority. A large chunk of the city turns out for the bigger parades.
I have said before: there is no other celebration in the nation that brings a city together like Mardi Gras. Yes, more people celebrate Christmas and Thanksgiving but they do so in the privacy of their homes with close family. Fourth of July tends to be a large public celebration, but gathering are typically centered around fireworks to a centralized area. During Mardi Gras, though, folks hit the streets from Uptown to the CBD to French Quarter and Treme all the way through Bywater and the Marigny. It's a giant cultural buffet where one city gathers like one big family. This is a beautiful thing.
Unless your legs are swollen and aching and you have to walk 19 blocks!
A HIVE OF SWARMING TAX REVENUE
Satiated from a weekend of over-indulgence, we'd skipped breakfast, but now my body panged for food—wholesome, light, fresh food as opposed to the tasty but fattening local fare on which we'd been feasting. The parades had already started, but I figured we weren't in danger of running low on beads so lead my friends to
, the tiny Italian café around the corner from where I'd lived upon first moving to town. The place has a small menu consisting mainly of soups, salads, and Paninis (some of the best I've ever had), but is truly Italian that rather than relying on complex preparation it focuses on simple combinations of fresh, quality ingredients. My body emitted a sigh as I munched on fresh greens and a Panini that, though built on starchy white bread, was filled with fresh goodness.
After much-needed sustenance we continued our long Trek where we quickly stumbled on a sight that made me chuckle. Although the city receives a bounty of tax revenue during Mardi Gras from the massive influx of tourists as well as parade permits from all the krewes, it is also well-known that they make a ton of money from increased vigor in enforcing parking violations. Most of the year they focus on the CBD and French Quarter, but when the parades draw locals from all over the city to park in Uptown residential neighborhoods the city widens its net, a favorite offense being parking too close to the curb. (Although a violation is normally considered parking within 20' of a curb, The Captain told us in 2011 that he'd gotten a ticket for being within 50', which is a huge distance! How many drivers carry around tape measures for when they park?!)
I'd passed up several questionable spots knowing enforcement was tight, thus leading to our 19 block hike, yet for some reason had the image in my head of solo meter-maids (and meter-misters?!) working in solitude, so I stopped in my tracks when we passed a mini-van packed like a clown car full of enforcement officers with their ticketing machines on their laps as they ate lunch. The sliding door was open and they were parked near a curb (within 20') ready to swarm out like locust and disperse through the neighborhood.
The gusto of this enforcement that made me chuckle, and I wondered how many similar hives were positioned throughout the city ready to dispel their worker bees to spread out searching for pollen to fill the city's honey pot. Their supervisor was standing outside making a call, and when I pulled out my camera to snap a picture he gave me a dirty look and slammed the door. Denied!
Aimee grabbed my arm and dragged me away, worried that I was going to get myself in trouble. She speculated he was worried I was trying to photograph his resting subordinates to 'expose' government worker sloth, and I responded with doubts that a meter-mister had the authority to arrest me; but he'd successfully blocked my photo so I followed along willingly, checking the cars we passed for orange slips on the windshield to gauge how many unlucky saps had been caught in the dragnet while wondering where all this money would go. Gauging for the giant potholes we were dancing around, surely not road improvement!
POWER TO BRING OUT THE ECCENTRICITY IN THE MASSES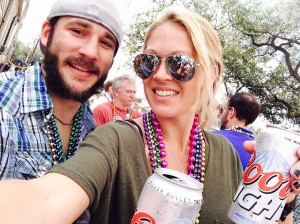 As we finally reached Magazine Street Krewe of Mid-City was halfway past so we ducked between floats and set up our chairs on the other side. I scanned the crowd—only a couple of people deep—but didn't see Maggie. It was definitely a thinner gathering than on St. Charles and seemed to be composed mostly of people from surrounding neighborhoods as opposed to locals from throughout the city.  The feel was completely different. Magazine Street is narrow and exposed to the early afternoon sun as opposed to St. Charles with its broad neutral ground and four lanes shaded by a canopy of Live Oaks. This open, relaxed, sunny atmosphere lent this portion of the route a Sunday picnic feel. After the craziness of the past few days, though, a casual domestic gathering was just what the doctor ordered!!!
Kyle and Kelly jaunted across the road to a small grocery to buy a six-pack, but I declined, needing a day to dry out. When they returned I took off in search of Maggie, trying her house first. When I knocked she answered in a bright purple t-shirt with purple, green, and gold socks from the Krewe of Tuck's parade. This was a stark contrast to the typically modest dress of this eloquently spoken book-worm, and I had to chuckle, lauding the power of Mardi Gras to bring out the eccentricity in the masses. This crazy outfit, though, added a complimentary new layer to her quirky book enthusiast personality and would stick in my mind, inspiring a character for a new writing project.
$20 IS $20
As Maggie took me around and introduced me to her neighbors, she pointed out the buffet they'd spread out in the middle of Valence Street, inviting me to partake of the festive spread. I was full, but the burgers sizzling on the grill did smell wonderful. I couldn't resist nabbing a piece of king cake, though, and must have looked shocked when it melted in my mouth like sandpaper. Maggie grimaced. "Someone recycled that from another party." Major Mardi Gras faux pas!
As we stood there chatting about my adventures and the cruise she'd just taken with friends (she was not impressed), Maggie grinned and hugged me again. "It's so good to see you." I smiled and returned the hug. Maggie was one of the first people to make me feel welcome in New Orleans in another example of NOLA hospitality that I won't forget.
She was soon called to do a neighborhood group picture, and as I returned to my friends I noticed the house on the corner had a Morpheus flag so I stopped to chat with the owners. "You're the blogger guy," one of them declared. It was good to know someone is paying attention! We chatted for a minute about the ride and how we couldn't wait until next year—a sentiment echoed by my riding buddy, Don, who was already posting a countdown on the group's Facebook page. The calendar in New Orleans (and of out-of-towners caught in its orbit) truly does revolve around your Mardi Gras ride.
As I waved goodbye, I suppressed a chuckle at the owner's flamboyant pink t-shirt that read: "I'm Not Gay, but $20 is $20." Apparently I'm not the only one who found this humorous, for later that weekend Kyle followed some obvious statement with, "I'm just saying: $20 is $20!"
WAR WOUNDS & MARDI GRAS SHRAPNEL

By the time I rejoined my group Thoth was rolling. Thoth has always been one of my favorite parades, but it definitely this far Uptown in the early afternoon sunlight. Still, one of the thinks I respect about this parade is that they have a special route that goes by over a dozen facilities for shut-ins including the children's hospital and multiple nursing homes, giving them their one taste of Carnival. Cheers, Thoth!
Between the more relaxed vibe and reaching out bead satiation point were quite lackadaisical as it passed. Kelly soon paid for not paying closer attention, though, taking a pearl necklace across her forehead. Whereas the night before Kyle had been hit by a wadded up bead raising one large whelp, Kelly was hit by an unfurled string leaving a trail of three smaller whelps. Now you know why the city forced Zulu to quit throwing its hand painted coconuts!
We congratulated her joining Kyle in being officially initiated and earning her war wounds. This Mardi Gars is dangerous business!
SCORE! (THE DEVIL PERSUADES KYLE & POSESSES ME)
As the afternoon floated by Kyle finally reconciled to rationalization that he wouldn't miss much by driving back Monday evening as long as he arrived in time for class Tuesday morning. The devil had out talked the angel, and the girlfriend grinned while the aunt shook her head. I just stood back and did my best Pontius Pilot imitation. I'm only the facilitator here!
Now set on staying, Kyle and Kelly wanted to head out to hear some music—uninterested in seeing Bacchus, the second of three Super Krewes, later that afternoon—but I needed a nap and a shower before I could function as halfway human. As we stood to leave, though, we paused to catch throws from one last float. And then one last float after that. And then one last float after that. The scarcity of departing had renewed our interest and we ended up fixated in place until the final float rolled by!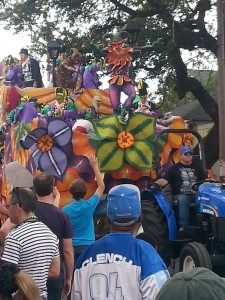 I was glad we stayed, too, because I scored one of my best Mardi Gras catches ever! I've stated before how I revile people who push their way into crowds trying to nab a throw, yet I made an exception when a rider leaned over waving a Radiators CD. He started to hand it to a man standing alongside the float, but I screamed like a teenager and charged, waving my hands. The masked rider stopped, turned, and reached towards me instead. The original intended recipient tried to follow, but I snatched it before he could clasp his hand on it.
I did a victory dance as I turned to my friends, requesting a picture: "Best. Catch. Ever." Still stoked, I texted the picture captioned with this same sentiment to Yoda Pat and Marquis de Metirie—both Radiators fans. It was shameless behavior, but hopefully it will justify somewhat by assuring you that while many throws hang on the wall, sit on a shelf, or get dumped in a box or the trash, that CD immediately entered heavy rotation where it remains. It was even more awesome than I'd hoped. Score!!!
TECHNO CORPORATE CRAPOCRACY (YOU GOTTA RECOGNIZE!)
Back home I laid down for a nap and would have contented to stay in—I'm sure with little protest from Aimee—but since Kyle was blowing off real obligations I couldn't wuss out. A second shower and change of clothes, though, temporarily revived me and we soon headed to Frenchmen Street where things were hopping for a Sunday night.
We first stopped in the Spotted Cat where a twenties style jazz band with girlish female crooner was playing, and encountered a similar band later when we had dinner at Three Muses, a creative tapas bar that stands in contrast to the rest of Frenchmen. Although different from the throwback string band style of nationally popular Old Crow Medicine Show and Mumford & Songs, there seems to be a parallel between this New Orleans jazz trend and national old timey string band trend as a new generation of musicians digs deep into the past seeking authenticity amongst the techno corporate crapocracy that rules the radio and i-tunes.
I enjoy most eras of jazz—and skillful band music of any genre, for that matter—and these bands draw enthusiastic crowds, but the ladies didn't seem as enthralled as Kyle and I so we left the Spotted Cat after a few songs.  As we waited for a table at Three Muses, though, the pick-up brass band of revolving membership that I'd documented early on this blog in a posted titled A Typical Wednesday In New Orleans was playing to a crowd so large it choked off an entire intersection. Kyle was just as enthralled as I'd had been last spring by this spontaneous street celebration, and declared he could buy a beer from the store and stand there all night!
As we hung at the back dancing while these industrious teens played for tips a few cars tried to push through. I had no pity, though, for a driver who didn't have enough sense to avoid Frenchmen Street at night during Mardi Gras. Officially the road was open, but in reality the people rule the streets during Mardi Gras, especially along the most concentrated and relevant collection of music clubs in the entire city. Choose a different route!In the words of Better than Ezra: "Son, you better recognize!"
Frenchmen Street All Stars March 2013
THEY ALL ASKED FOR YOU…AND THEN DID A 180!
As we finished dinner, Chip and Eloi texted from just around the corner of Frenchmen at BMC. We walked over to meet them and as they chatted by the bar, I propped my legs up and tried to rally while I listened to the band. It was around 10 o'clock and I soon admitted defeat, turning the young couple over to their friends for the night. They were fine managing on their own and said they'd take a taxi home, but I suspected they'd end up crashing with their peeps.
Sure enough, they showed up around 10 a.m. the next morning, still buzzing from their late night adventures as they filled us in. In an odd twist to Mardi Gras greed, though, their night had ended when they'd ask the clerk at Chip's hotel to call a cab. He said it would be at least an hour, so when they went to wait in Chip's room he informed them it would be a $25 per person visitation fee!
Say what?!?
Having paid for the privilege of an elevator ride they just stayed the night, and by the time the taxi dropped them off that next morning Kyle had already started living it up again. If he were missing class, he was going to make the most of it! I turned to Kelly, who looked a little more chastened by the night's adventures: "I guess you're driving tonight." She just sighed and nodded.
By now Kyle was talking about how he could 'totally live here' and started asking about jobs and housing. He'd caught the fever that strikes us all when we first fall in love with New Orleans. This is a great city, but it's skill at throwing a party tends to mask the many flaws that can make staying her long-term a challenge, as I've learned through the ups and down of My Year of Mardi Gras! The fantasy is always less problematic than the reality in any vacation destination, however, where there are always local people dealing with everyday problems while you soak up the sun escaping the everyday! Kyle had a few more hours before reality set back in, though, and we were all buoyed by his enthusiasm.
We planned to hit Krewe du Brew for breakfast while I finished a blog post (I needed to do something productive before Fat Tuesday!), and then go see the Cowboy Mouth Lundi Gras show at the Riverwalk. He and Kelly were going to leave straight from, so Kyle started loading the car, tuning the radio to WWOZ as he worked. "They All Asked For You" came on, and he instantly started dancing in the street until a passing driver stopped to join him for a moment. Friday afternoon he'd been dragged reluctantly into a second-line during the Morpheus party; now he was dancing with strangers in the street. It was a complete 180 in three short day.
He had the fever, indeed.