ALL GOOD NOT-QUITE-BELL-CURVES MUST COME TO AN END
I'm tempted to describe the final weeks of My Year of Mardi Gras as a steep bell curve of excitement, but that wouldn't be accurate. There were multiple peaks on this wild rollercoaster ride, not a steady ascent. One of my primary missions in moving here was to 'imbed' in at least one Mardi Gras krewe and I wound up both walking with an alternative krewe and riding with a traditional krewe, allowing me to compare and contrast. As expected, these were by far the highlights of my year here, although the entire  Mardi Gras 2014 season has been a blast.
Carnival actually began January 6th, and the prep and planning stretched far beyond that, leading to a slow build of anticipation. Then there were three weekends of parading starting with Krewe du Vieux which I was able to share with my Treme addicted brother. Even though my ride with Morpheus that Friday and walk with Chewbacchus the Saturday before were the culmination of my ambition, I still had guests in town so enjoyed all the aspects of Mardi Gras to it's fullest. However, by the time we met up with Chip and Eloy for brunch at Krewe du Brew Monday afternoon where I was finishing a blog post before heading to the Cowboy Mouth Lundi Gras show at the Riverwalk, it was clear we were about to descend the final peak.
Not helping matters, the beautiful weather of the weekend had given way to a chilly Lundi Gras (Fat Monday) on the one Monday you actually care about the weather. So after warming up on coffee and pressed croissant sandwiches, we all piled into Eloy's truck and bundled up in blankets as we looked for parking downtown.
DANNY CATTAN ABIDES
Despite the weather, the downtown was packed so we wound up having to wind our way to the top of the Canal Place parking garage on the border of the French Quarter and the CBD. This put us right between the two celebrations on the river that day. Rex's party, where Cowboy Mouth was playing, was just upriver by the Riverwalk Mall while Zulu was downriver at Woldenberg Park, the riverfront portion of the French Quarter. As we stepped out of the truck we caught a gorgeous view from up high of the latter celebration, and I felt a pang of regret that my blogging had made us too late to catch Kermit Ruffins. Instead, we were heading straight to the other gathering, but not to see an old wealthy businessman show up in tights and a wig to give a speech (i.e. Rex King of Carnival). We were there to see one of the nation's great live bands play to a home crowd on their favorite holiday.
I'd attended this same event last Lundi Gras to see the same band in similar bad weather (though it had been raining and cold), and was alone until I ran into a few Rocckus friends who'd stayed in town. While going up to get a drink, though, I ran into an old friend of my good friend, Marquis de Metairie, whom I'd first met when Marquis bumped into him working the daiquiri tent at Jazz Fest the year before. It was during that exchange that my blogging handle, WV Gumbo, was born, so running into him again just as My Year of Mardi Gras began seemed a good omen. (You can read the whole story HERE.)
This year I was ready and went straight to the daiquiri tend asking for Danny Cattan. Sure enough, he was there and said he'd the day before he'd just stumbled over the card I'd given him advertising my blog. We chatted for a minute and planned to meet for a drink some time, though I have a feeling that I won't see him again until our Lundi Gras reunion next year. Still, I feel certain he'll be there, and somehow I take comfort in that.
The Dude abides.
WHEN THREE ISN'T THE MAGIC NUMBER
When I rejoined my friends they were huddled close to the stage, strategically positioned to block the wind whipping off the Mississippi. Everyone's faces still glowed warm with anticipation despite the chill, and Kyle and Kelly didn't seem to ever want to leave though they'd have to when the show was over.
Cowboy Mouth is a high energy Cajun rock quartet centered on animated drummer Fred LeBlanc who puts his drum kit front and center on the stage and beats it relentlessly while extolling the crowd to let go of their worries and experience the religious catharsis of rock-n-roll like some drum abusing Pentecostal preacher. The band has been around a while, though, and their classic mid-90s line-up was more collaborative with everyone singing and writing. Since then they've gone through several bass players and rhythm guitarists, thus altering their sound. Although still a great band, they lost some depth and diversity as they now focus mainly on Fred with lead guitarist and co-founder John Thomas Griffith continuing to sing a few of his songs. The other contributors have moved on and their replacements largely stay in the background. Imagine my surprise, then, when the band walked out on stage a trio, sans their lead guitarist!
"Oh, crap," I thought, "JTG has quit the band, too!"
OLD COWBOY, NEW MOUTH
As if reading my mind, Fred acknowledged that they were playing as a trio that afternoon, but assured us JTG was merely under the weather. I let out a sigh of relief as they then tore into the driving "Light It On Fire." By the amount of energy that instantly filled the air I knew they'd be all right.
The music certainly lost something without the dual guitar attack, but Fred was at his manic best, lifting the crowd in celebrating life, faith, and "the greatest city on earth," bringing extra gusto to make up for loss of his sidekick. I had seen rhythm guitarist Matt Jones several times before in this new line-up, also with relative newcomer Cassandra Faulconer, and before they seemed to still be seeking their sound. They weren't the Mouth of old with the folksy wit of Paul Sanchez, yet they hadn't fully gelled into a new unit with a distinct sound, either. Suddenly thrust out on his own, though, Jones did a fine job carrying the load, and even down a soldier it was clear this latest iteration had finally gelled and found their sound after several years on the road together. (Here's to hoping they stay together!)
As the band roared through originals mixed with rocking versions of Mardi Gras classics, I turned around to see Kyle, Kelly, and Aimee all smiling widely and bobbing up and down. We shared some amalgam of high-fives and a group hug as they thanked me for the hundredth time for hosting them for Mardi Gras. In truth, it wouldn't have been near as much fun without people to share it with.
As the show wound down, Fred had us all squat during Cowboy Mouth's eternal closing number, "Jenny Says," so we could jump on cue with hands raise to the sky, screaming and letting go of whatever was bothering us. He had effectively worked the crowd into a joyous frenzy and when the band left the stage it was too soon. As has been traditional since Katrina, he returned for a solo acoustic encore of "The Avenue." Upon release, this attempt to process the pain and confusion of 'the storm' was a stubborn refusal to surrender at a time when the city's future was in doubt. Time has turned into has a triumphant ode to determination:
And the parades will roll again.

I'll see my family and my friends.

Because this cannot be the end

Of the Avenue
THE PO-PO PULLS OVER A PORTALET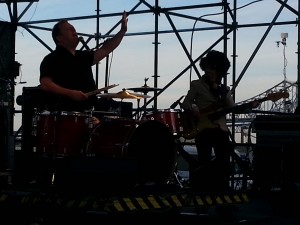 Cowboy Mouth may have helped us forget all our worries, but as soon as the show was over reality set in. Still glowing but now quiet, we headed back to the garage so everyone but Aimee and I could return to the non-Carnivalian blah-ishphere. As we shuffled out I suggested we stop by the portalets but they ignored my advice.
Sigh. You never pass up a chance to pee at Mardi Gras.
Everyone else wanted to wait to use a proper restroom inside Canal Place, but the mall was closed upon our return. We ducked pat barriers, got yelled at by security, snuck up elevators, and roamed deserted corridors like mischievous marauders in an old Monkees movie, yet, alas, every discovered door was locked to us.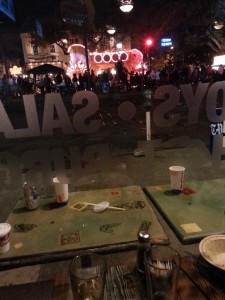 Basic logistics and getting around takes forever during Mardi Gras, so it was already getting dark by the time we piled in the truck with pinched bladders. I'd had Kyle and Kelly park just above the parade route in Central City so they wouldn't get trapped by the parades, but we'd have to do a wide arc just to travel a few miles to outflank the route. Thus, we headed the opposite their car through the French Quarter and turned up Esplanade. In a stroke of good fortune, a string of poralets sat empty in the neutral ground, and when I suggested Eloy pull over, this time he listened!
This area was deserted because everyone was on the other side of the French Quarter awaiting the arrival of Proteus and then Orpheus, the last of the three Super Krewes. When seeking a krewe to join, I'd written to Orpheus explaining my writing ambitions and had received a very terse dismissal in response. To let them know what I thought, I had worn a blinking Morpheus night-cap to show off during their parade in solidarity with the krewe that had been cool as opposed to the one that responded coolly. I didn't care if they didn't throw me a damn thing—I was going to put the M in Orpheus in my one man protest!
During that frigid concert the warm cap had blessedly served as a toboggan, but I'd forget I had on blinking head-gear until I'd glimpse it's blue flashing lights reflecting off random objects around me. As I stepped into the tiny enclosed portalet—once again forgetting about my flashing hat—it was pitch back. The door swung shut and the enclosure instantly lit up with flashing blue lights. For an instant my heart raced with the same panic as when I see flashing blue in the rearview. The Po-Po was pulling over my portalet?!
And I hadn't even had that much to drink!!!
TAKING TOKENS OVER BASTIONS OF BUNK
It took a while to weave our way to the car, but we finally could delay the departure no longer and had to say our goodbyes. I was still parked at Krewe du Brew, but it was well past dinnertime so as we walked back Aimee and I wandered into St. Charles Tavern, a 24 hour dive that has pretty good Cajun food for the price. Although on the opposite side of the neutral ground, it is right on the parade route so we were surprised to find it half empty, allowing us to nab a seat by the window.
I certainly felt better than I had the previous evening when I'd fled Frenchmen Street to leave Kyle and Kelly to their own devices, but the Mardi Gras marathon was still taking its toll, so it was heaven to sink into that warm window nest with a steaming shrimp po-boy (and a taste of Aimee's red beans) to watch as Proteus elegantly floated past.
One of the original three krewes, Proteus quit parading when the city declared that all organizations using city streets and resources must integrate, as did the two other elders, Momus and Comus. Unlike these latter two bastions of bunk, Proteus relented to popular demand and integrated so they could parade into the future rather than stay perpetually parked in the piss poor prejudice of the past. Granted, people are quick to point at that many old-line krewes have only allowed enough token membership to comply with the law, but baby steps forward are still preferable to remaining childishly (and hatefully) backwards.
WINNER, WINNER, CHICKEN DINNER!
Proteus continued to pull their carts with mules long after other krewes turned to combustion, and allegedly still uses the original float chassis built in the 19th Century.  (It's common to hear old timers long for the return of the mules!) They are known for lush floats but stingy throws, so we were perfectly situated in our little roost.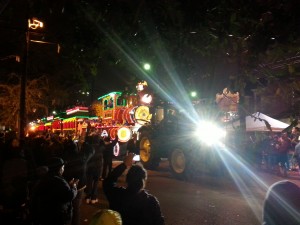 When the outliers of Orpheus appeared we reluctantly paid our bill and headed to the coffee shop. I had been so excited when the owner had invited me to hang out there during parades—parking and a place to pee is the Mardi Gras golden ticket—but I had been so busy that I didn't take advantage until the last parade before Fat Tuesday!
Orpheus is a huge parade that takes several hours to pass, so on such a cold night a warm retreat was a blessing.  As we found a spot to stand, Aimee was instantly buried in beads again, while my defiant Morpheus hat kept me mostly ignored—or perhaps it was just the 'big guy' thing. No worries. I was content to watch with my hands warmly tucked in my jacket!
The crowd was sociable that night, and I soon met the wife of a local poet as well as two young girls from Orlando that were visiting their grandparents for their first Mardi Gras, so I started reaching for throws to give them. Eventually the riders warmed up to me and I caught my usual bead fever, but then Aimee caught a strand I will never top. As she ran along a float, a rider handed her the coolest and most intricate bead I've ever seen: a medallion attached to multiple woven beads fringed with a tail made with strands of smaller beads, causing it to resemble Native American ceremonial garb! I've never seen a bead like that, and even if it's new this year I didn't see anyone around us with anything like it. Winner, winner, chicken dinner!
F$%*ED TUESDAY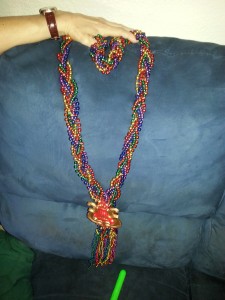 When we finally went back into Krewe du Brew to collect our things sometime after 11pm, the owner's wife shook her head, saying she's lived her forever and never caught near so much. Aimee certainly has the gift. For me, the greatest gift would simply be quiet night's sleep, though I already knew I couldn't sleep in. Mardi Gras day starts early, and I was supposed to be in Jackson Square by 10am to join a walking parade. (This is late by most standards. Men dressed as skeletons wake up residents in the Treme neighborhood at dawn and Zulu starts rolling in Central City at 8am!) There was only one problem. A rainstorm the size of Texas was heading our way. The Friday of Morpheus we'd been blessed with the nicest day of the year, but our good fortune had quickly deteriorated and suddenly we were faced with the prospect of the coldest and wettest Mardi Gras on record.
Ugh!