WISER THAN WET
After a joyous and unforgettable climax to a momentous and often tumultuous journey, My Year of Mardi Gras ended with a whimper. Granted, I still live in New Orleans and this 'year' lasted nearly thirteen months as my journey began with my arrival in town on February 7th for Mardi Gras 2013 on the 12th while Fat Tuesday fell a month later this year on March 4th; however, in a narrative sense my self-selected year-ish time clock wound down on a cold, rainy, muted Tuesday.
Carnival Season 2014 had seen some of the most dramatic temperature swings in New Orleans history, and the excellent weather of the preceding weekend had turned chilly on Lundi Gras. Then that night a heavy, frigid rain began to fall. The rain had stopped when I awoke Mardi Gras morning, but the ground was damp and the sky heavy with gray clouds threatening the next deluge.
I only had one guest left in town by now, and we were planning to walk with the KOE, an online organization that used to parade as Krewe of Elvis before simplifying their name to an acronym to encourage costuming of all types. One of their founders had stumbled onto the blog and invited me to join them in Jackson Square at 10am to follow the Treme Brass Band on their annual march through the French Quarter. Getting dressed in our elaborate pirate costumes and packing for the day, though, took longer than expected (as we also had to plan for schizophrenic swings in the weather), and when we stepped outside the uninviting skies tried to warn us away by unleashing a sudden drizzle.
Despite the gloom, we rushed downtown. I'm usually a cheapskate when it comes to parking, but we were running late so I pulled into the lot beside Jax Brewery—depressingly empty for Mardi Gras morning—and made peace with the steep admission. We still arrived at Jackson Square a few minutes late, but nothing leaves on time in New Orleans so I wasn't too worried. Nevertheless, we saw no one gathered. If they'd already left they couldn't have gotten far, yet I couldn't hear the Treme Brass Band in the distance. I assumed they had cancelled due to the weather, but later learned the band hadn't shown so they'd departed in silence on a damp and dreary march with limited numbers. When I later told my contact we'd went for a drink instead, she assured me I'd made the wiser decision!
FROM REVENGE TO DOMINATION
Aimee was hell-bent on eating at Coop's Place while in town, but I had foolishly made oatmeal earlier thinking we'd need the energy while parading; thus, lunch became our focus as we killed the rest of the morning wandering the French Market trying to work up an appetite. A surprising number of merchants had chosen to work on this sacred holiday and Aimee rewarded them by parting with some cash.
The crowd in the French Quarter was sparse as the skies continued to spit intermittent rain, and as we walked around we passed a few unenthusiastic costumers lugging contraptions as they left the usually raucous morning walking parade on Frenchmen Street. It was a melancholy sight at best.
Although not yet starved, we soon made our way to Coop's as our only other option was sitting in a bar and drinking ourselves silly while watching the St. Charles parades on TV. I've mentioned Coop's Place before as having the best cheap traditional Cajun food in the French Quarter—and among the best in New Orleans; however, it is a dive in the truest sense, and I'd rather not know their health department grade. I've heard that health inspectors recommend you check the restroom and however dirty that is, multiply it times four to determine what the kitchen is like. Judging from the cramped, damp, poorly attended crappers at Coop's, all I can say is 'That that which doesn't kill you makes you stronger!' (And I'm definitely stronger after episode I had after bringing my brother, Jerry, there during his Krewe du Vieux visit!)
But the food is so cheap and good it's worth wearing the blinders, so we took our place in the small lunch line where I ran into Chewbacchus Overlords Brett Powers and Ryan Ballard outside Molly's at the Market next door. They were in warm costumes and well into their cups as I thanked them again for the awesome time I had marching in their krewe. In turn, they informed us that due to the party-killing weather they had hired a brass band so the krewe could gather at the Den of Muses. "We might be the only party in town!" Ballard declared. I was impressed with his ability to engineer a party on the spot—and three sheets to the wind—as quickly as he'd put together his sci-fi krewe that got voted Best Alternative Krewe by multiple outlets and received national media coverage. The nerds have moved on from revenge to domination!
ADHD IN A BOX
As we waited, we noticed there was a large table just inside the door that had sat empty for some time. When we asked the gruff host about it he said he was holding out for a large party. We turned to the couple from Australia behind us traveling with a friend and the five of us combined forces as Mr. Friendly grumbled three times over that they would not split our check.
As we claimed the coveted table and chatted, the wife revealed she was actually from the U.S. and had lived in New Orleans for several years. She then looked at us, assumed a haughty expression, and said, "You are obviously tourists." Actually, I said, I'm originally from West Virginia but moved here a year ago from Florida.
"You know you're not from here," she said, looking me sternly in the eye.
I know, I replied. I'm only saying I live here now.
"Yeah, but you know that doesn't make you from here. You'll never be from here. You're a tourist."
Our friendly conversation had suddenly turned awkward. I don't propose to be anything I'm not, but there is a weird protectionism that is common—though, of course, not universal—in New Orleans. Some people who grew up here are overly concerned with distinguishing themselves from those who did not, which in turn leads long-time transplants to form imaginary thresholds for which they become 'local' and thus are allowed to look down upon those who have not yet passed their imaginary bar. It's a silly game, but one I've been drawn into on countless occasion. As always, I emphasized that I'm simply here now and God only knows where the future will find me. A second Year of Mardi Gras?! (Heck, everything in New Orleans takes at least twice as long!) Or some new adventure?! You can try to put me in a box, but don't be disappointed to find that I won't stay put.
COME FOR THE FOOD, NOT THE MANNERS OR HYGIENE
On a lighter note, when I got up to visit the sketchy restrooms I ran into Doug from my Morpheus float who is always a pleasure. He and his wife had decided to stay through the entire holiday, and I lingered at the bar as we swapped adventures. Suddenly, someone shoved me forcefully forward. I swung around thinking someone was about to start a bar fight, but saw the doorman stop, turn, and haughtily hiss: "You were standing in the way."
A simple 'excuse me' would suffice. Asshole.
On my way back from the restroom, I stopped to let a waiter pass through the narrow aisle, an as I went to step forward the doorman brushed passed again, shoving me out of his way. There was now murder in my eyes as he looked again: "You just like to stand wherever's in the way."
I was letting one of your staff  pass, asshole.
His contempt seemed to originate from that local/not-local divide, and I'd bet money he didn't grow up here yet had passed some imaginary line in his mind years ago that justified his contempt for anyone he immediately judged as an outsider. There is a contradictory love/hate relationship with the visitors that keep the NOLA economy afloat while driving locals insane, and in some people's mind it allows them to assume all outsiders are discourteous and thus treat them with discourtesy. Working Mardi Gras day sux, I'm sure, but this guy's attitude was way beyond excusable. Fortunately our lunch hadn't killed us and we left before I encountered Mr. Friendly again and failed to return the favor.
HOLEY SHEET, CHARLIE BROWN!
After lunch we headed back to the truck and drove to Frenchmen Street to hear music. Remarkably, we found a spot just down the road, and I pulled off a parallel parking job so expert Aimee had me pause for pictures! Unfortunately, that would the most exciting occurrence on this muted Mardi Gras.
After popping in and out of a few clubs we eventually settled into Blue Nile where young funk band Gravy kept the party pumping and our spirits up. As always, elaborate costumes were on display but being a huge Peanuts fan, I had to stop and take pictures with a group from California and Nevada that had come dressed as the gang.
The best of the bunch was a girl dressed in a full-body Woodstock costume, and as we chatted I confessed my misguided attempt to dress up like Charlie Brown from the Great Pumpkin last Halloween. For those who don't remember, The Crescent City Cruisers were sponsoring a ghost themed ride so I took a white sheet, cut it full of holes, put a bunch of Rolling Rocks in a trick-or-treat bag (may bag full of rocks!), and drove down St. Charles to meet them in Armstrong park with a holey sheet over my head.
Holey sheet indeed!
As I passed by Central City, a heavy minority area, a black man pulled up behind me in an old Cadillac and began honking his horn and flipping me off. For a moment I couldn't figure out why he was so angry, and then it dawned on me that I had, like an idiot, put a white sheet over my head and was biking through one of the most violent neighborhoods in the United States at night!
Doh!
A NONDESCRIPT CODA TO A MOST EVENTFUL YEAR
Woodstock thought the story was hilarious and rushed to share it with the rest of her group. We were instant friends and spent the rest of the afternoon hanging at their table as she and Aimee cut a rug. I can lead a little while dancing but was quite jealous of Woodstock's masculine control on the dance floor. The girl knew how to lead her woman!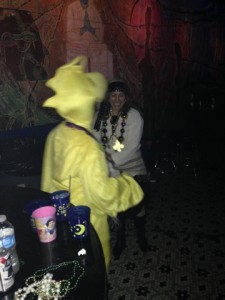 When the band wound down, we drove over to the Den of Muses, but I was broke from a year's worth of unfunded adventures, and they were charging $20 a person at the door. It was a little steep to hear a brass band in a warehouse with a tin roof that reverberated with rain that was now pouring like an open faucet from the sky. I felt a twinge of guilt—like I needed to something worthy or memorable on actual Fat Tuesday to wind down my adventure, yet deep down I was content from the two parades I'd joined as well as my chance to host Kyle, Kelly, and Aimee. After weeks of partying I was exhausted, satiated, and confident I'd made the most of my Carnival Season. No use making myself miserable trying to create a sunny day when the universe had other plans.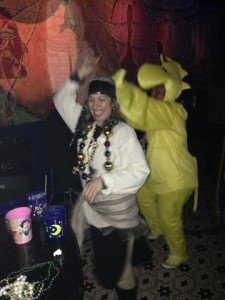 Thus, as lame as it sounds, Aimee and I headed back home to fire up Netflix and eat leftover gumbo—a nondescript coda to one of the most eventful years of my life.
IT'S MIDNIGHT & I'M NOT FAMOUS YET
As I turned out the lights that night, the reality of My Year of Mardi Gras coming to a close washed over me. Jimmy Buffett has as song titled "It's Midnight and I'm Not Famous Yet." Suddenly I could relate. I'd achieved my goal of 'infiltrating' Mardi Gras, but as the final midnight passed neither the blog nor the books I'd published were bringing in anything more than pocket change. Contacts I'd tried to forge with magazines and publishers had all fizzled out after some initial promise. I had succeeded on a personal level and was grateful for the journey, but it wasn't close to becoming a sustainable ride.
Up until that final midnight I'd mostly block 'What's next?' from my mind, but Lent would be (as intended, I suppose!) a period of intense spiritual soul-searching. Should I double down and stay to see if I could gain more momentum in a second year? Or should I give thanks that I'd been able to keep my chips in the game for so long and fold a losing hand?
Although wracked with uncertainty, I'd begun to consider some measures to counteract the negative effects of a Year of Mardi Gras, both physically and financially. Big changes were on the horizon starting Ash Wednesday, and though they were self-imposed, my mind hadn't yet grasped the implications of the transformation I was about to undertake.
NEXT ARTICLE