FROM ZOSO TO SO-SO
Weekend 1 of Jazz Fest 2014 was a rather muted one. There were many big names but few big performances—at least that clicked with my tastes. While volunteering at the Access Station for guests with disabilities I chatted with rap, hip-hop, and bounce fans that were excited about Public Enemy, Big Freedia, and Charlie Wilson of the Gap Band, but Robert Plant (the singer of Led Zeppelin, mom!) and Eric Clapton were the only names that enticed my rock, blues, jazz, and alternative sensibilities…though I would have loved to have seen Branford Marsalis headline the Jazz Tent if he weren't scheduled opposite Plant. Fortunately, the former Zeppelin front man more than lived up to expectations if not delivering an all-time Jazz Fest performance. Clapton, however, was good but nowhere close to the legend his reputation 'Promises.'
THE BEST OF FEST, WEEK 1:
Planting New Roots
Three years ago I saw Robert Plant with his Band of Joy at Wanee Fest in Live Oak, Florida. This folkish roots outfit spun charmingly soft and nuanced versions of hard-rocking Led Zeppelin classics, and as Plant purred through a mix of stripped down classics and new discoveries I figured his power was gone and he was merely deftly adapting to his current abilities.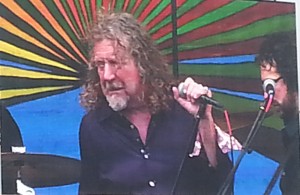 With his new band, The Sensational Space Shifters, he proved me wrong Saturday night. Although he softened many rocking Zeppelin classics as he is prone to do solo, such as being accompanied on the crunching "Black Dog" by an African gourd instrument, he surprisingly let it rip on edgy versions of "What Is And What Should Never Be" and the crescendo to "Babe I'm Gonna Leave You." In fact, the latter was both the show opener and highlight, as Plant's voice was in perfect pitch as he floated through the melancholy opening promise to break his love's heart before wailing in full force as the song bursts into the electrified glory of determination.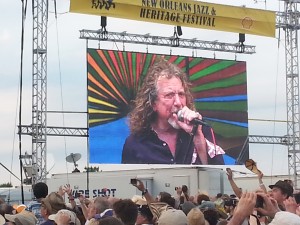 If you see Plant these days, you have to expect a lot of experimentation with classic Zeppelin, and some renditions worked better than others. A re-imagined but rocking "Rock-n-Roll" was a fine encore, though the intentionally bizarre version of "Black Dog" was not near as affecting as his cooing version with Allison Kraus. A stripped-down, stuttering rendition of oft-covered Howling Wolf blues classic "Spoonful" was also intellectually engaging but viscerally lacking. Still, Plant was in good spirits, explaining that Fest organizer Quint Davis had called up and said he had to come. "But we don't have any other gigs in America," he pleaded, to which Davis replied: "Come anyhow." Thus, he explained, the band traveled five thousand, six hundred and so and so miles (Plant obviously has Google Maps!) to perform for us only to fly back X thousand miles the next day.
Referencing his frequent trips to town, Plant professed a love for New Orleans and the Delta region, and paid tribute to the old Mississippi blues number that inspired "Whole Lotta Love" as an intro to this evergreen crowd pleaser.
It was nice to hear Plant belt out songs with power again, even if trippy experimentations didn't always capture the true spirit of Led Zeppelin's timeless anthems. The Band of Joy was more consistent from start to finish and seemed to do slightly better at capturing the spirit of the originals in their reinterpretations, though this is merely splitting hairs regarding a legend who continues to tinker and reinvent himself, for Plant by far delivered the performance of the weekend.
Galactic Evolution
Other highlights included Galactic's Sunday set, which I was hesitant to attend as it was at the opposite end of the fairgrounds just prior to Clapton's set. It ended up being worth the trek and subsequent struggle through the crowd back to my spot at the big stage, for the band delivered as always. Although Galactic will never replace legendary original vocalist Theryl DeClouet who resided over my favorite period of their early classic funk sound, Maggie Koerner has brought a new energy to the group. Koerner is the best front-person they've had since 'The Houseman' had to retire for health reason. Every other visiting vocalist has sounded just like that—a visitor—but Koerner has stepped in naturally and has settled in to sound like one of the boys.
Galactic's sound has evolved over two decades to incorporate more hip-hop and rap into their jam funk sound, and Koerner's powerful voice and youthful exuberance bring out the best in these newer numbers. This hip-hop bent has broadened the band's audience, though I still think the band sounds best when they mine those early funk instrumentals, excepting maybe a few modern classics such as "Hey Na Na" and "Heart of Steel" which they rolled out in all their glory for an audience that wasn't entirely receptive.
The band delivered as always, but the crowd awaiting preppy Harvard pop star headliners Vampire Weekend was oddly unmoved. Perhaps the fellas should've tied sweaters around their necks and smoked clove cigarettes.
Honey Island Swamp Band Bring The Sweet Bayou Americana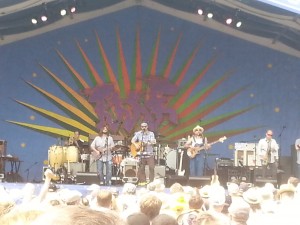 I first saw Honey Island Swamp Band at Jazz Fest 2012 and was an instant fan of their mix of blues, funk, folk, and classic rock they dub 'Bayou Americana.' I've since featured this talented local quintet multiple times on the blog, and their shows never disappoint. On a lackluster opening Friday, they were the standout of the day. Everyone in the band is a master of their instrument able to sustain extended jams, but what makes HISB perhaps the best of the next generation in bands coming out of New Orleans is the excellent songwriting and distinctive, gritty vocals of Chris Mulé and Aaron Wilkinson who complement and balance one another perfectly as they trade-off singing their compositions–Mulé leaning more to humorous and folksy bayou tales while Wilkinson strives more towards being reflective, sentimental, and universal. Although infectious songs like "Chocolate Cake" and "300 Pounds of Columbian Gold" are crowd favorites, there are no throwaway tracks during their set because of the stellar songwriting and execution by all five musicians.
GLIMPSES OF GLORY
Osborne, Neville, & Allman…Oh My!
Anders Osborne started his set on fire as always, but I was trapped in a sweaty sea of Phish-heads so gave up after three songs and went to see the solid Royal Southern Brotherhood, a collaboration of second generation Nevilles and Allmans. The combo was solid, but it will take another couple of shows for me to get their groove.
Keb' Mo' Better Blues
Later that afternoon on my way back to catch Robert Plant after stealing a glimpse of Phish's set, I caught three songs by Keb' Mo' on a small stage nearby. I once bought a CD by this popular modern blues artist and was unimpressed; it sounded like easy listening inspirational blues rather than gritty, down-and-dirty reality. Thus I was surprised to be stopped in my tracks by the rich, subversive, and engaging sound spilling from the Fais Do Do Stage.
I must have bought the wrong CD!
After a few excellent steel acoustic blues I was won over for good with the clever "I Like The Old Me Better," where he laments, "I'd sleep all day, party all night, do whatever I wanted whenever I liked. You made me a brand new man, but I like the old me better." It was a far cry from the goody-two-shoes impression I harbored, and I was disappointed I couldn't catch the whole set.
HO-HUM HERE I COME: PHONING FROM NEW ORLEANS
Clapton: Slow Hand Brings A Slow Band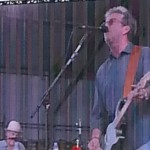 People are always amazed that as many concerts and festivals I've attended I've never seen Eric Clapton, but though I obviously enjoy and respect his music I'm not as smitten with him as so much of the world is. More importantly, I've had countless people tell me he's unspectacular in concert. Apparently this reputation is well-known, for before his Jazz Fest debut the Times-Picayune (often parodied as the SomeTimes-Picayune since ceasing daily publication) printed a piece pondering which Clapton would show up—the hard soloing, inspired musician who mines his deep catalogue for hidden gems or the guy who does an uninspired rundown of hits.
It turns out neither guy showed.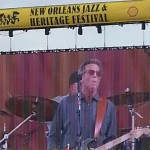 Clapton played an odd setlist peppered with some minor hits ("Pretending," "How Long Has This Been Going On") mixed in with strange and obscure covers. There were no Cream classics nor any huge hits solo hits like "Tears In Heaven," "Promises," "Wonderful Tonight," or "I Shot the Sherriff."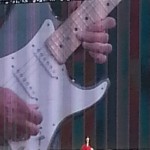 He started out on the electric before doing an extended unplugged session that ended with his mellow rendition of "Layla." "Nobdy Knows You When You're Down & Out" was a highlight of the night, but E.C. kept it too mellow too long and the crowd soon began to grumble. The lady beside me even lay down for a while, telling her husband: "It's his fault."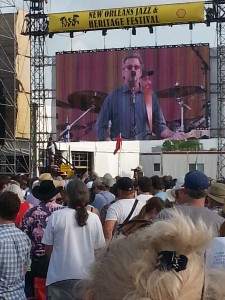 The famously reticent Clapton was apparently chatty by his standards, which merely means he said a few words two or three times. It struck me as odd, however, when he told the crowed that he'd played New Orleans before but "apparently" never played Jazz Fest. Forgetting you played Duluth is one thing, but most artists consider a Jazz Fest invitation an honor and deliver a performance worthy of the platform! On the other hand, Clapton's decades long struggle with drug and alcohol addiction is well-documented so perhaps we shouldn't be surprised he needs to be informed by his staff where he has and hasn't played before. All would be forgiven if he lived up to the moment, but instead he treated it like another ho-hum payday.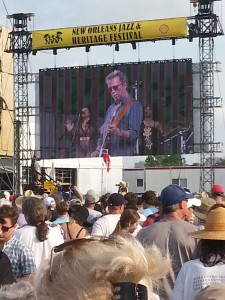 At the close of the set he finally injected some energy and treated the crowd to the A&R athem "Cocaine," but then left the stage early, returning for a brief encore of an obscure Joe Cocker tune, "High Time We Went," which felt more like a curt dismissal than a fond farewell. The crowd stood puzzled as he exited the stage again nearly ten minutes early. (As opposed to the previous two headliners, Santana & Phish, who played well beyond the 7:00 ending time.)
Don't get me wrong. The show was solid and enjoyably; it was hardly memorable, though. It would have been a satisfying performance for an early afternoon nostalgia act, but for a headliner and purported legend it was a bit underwhelming. Perhaps he should come back next weekend when Bruce Springsteen makes his third appearance since Katrina and learn how a true legend owns the spotlight, for based on history there is no doubt in my mind that Bruce will own the fairgrounds.
Sorta Big Phish In A Big Pond
Before Plant went on Saturday night, I pushed back in the crowd to catch a bit of Phish's three (plus) hour set and give them one more chance. The boys from Vermont must have been 'bringing it' by their standards, for the thick crowd was dancing in joyous frenzy. Yet this was the third time I've seen them in three different decades, and I'm finally comfortable declaring that I just don't get the hype. Phish is good, but I don't hear greatness in their individual solos or collective groove.
Phish fans—pining for Jerry Garcia, I suppose—declare Trey Anastasio a guitar god, but I don't see it. Metal guitarists play with blinding speed. Blues guitarists play with wrenching emotion. Pop guitarists play with creative wit. The best guitarists, such as Derek Trucks who I raved about at Wanee Fest recently, combine all three approaches. With Anastasio, it's three strikes and he's out, for he plays a whole lot of indistinguishable and poorly spaced notes at a medium-fast tempo with emotionless precision. Perhaps I'm missing something, but Lord knows I've tried more than once to find it. I'll never understand how they command the big stage while the lead singer of Led Zeppelin, one of the most popular bands in rock history rivaled only by The Beatles and The Rolling Stones, plays second fiddle on the other side of the fairgrounds.
Irma Thomas Takes a Detour
Irma Thomas, the Soul Queen of New Orleans, is usually one of the most reliable performers in town and I thought going on stage before Clapton would bring out her best. Instead, she took a detour out of his playbook and offered up a mellow and obscure set, admitting that she was straying from her normal routine. I'm all for artistic expression and freedom, but sometimes performers miss and Irma seemed to squander a golden opportunity to raise the roof and win new fans. Man, "Heart of Steel," the tune she recorded with Galactic that made her sound two generations younger, would have killed!
North Mississippi Falling Stars
My friend and blues nut/blogger Mike Spain was in town that Sunday, and we were both eager to see North Mississippi Allstars who had blown us both away in the past at unrelated shows, yet both of us agreed that they put on a lackluster performance in the set prior to Irma's. Maybe Clapton just cursed the whole damn stage?!
INDECISION MAY OR MAY NOT BE MY WEAKNESS
Santana & The Avett Brothers: Latin Legend Vs. Ascending Hillbillies
On Friday's opening night I was torn between catching Santana or the Avett Brothers, as I've never seen either. The former is a legend that I respect but have never followed. The other is a young act surging in popularity based on the buzz from their lives shows. Because Santana went on a little earlier, I decided to double dip.
Considering Santana is playing the four thousand-seat St. Augustine Amphitheater a few days later, I was surprised at the tens of thousands of people who packed in to see him Friday evening. I only stayed for three songs, but with his extended jamming that lasted well over twenty minutes. His guitar sounded really good (better than Clapton), but I wasn't swept away enough to stay. I did happily get to hear "Black Magic Woman" before departing, but the vocalist didn't possess near the nuance or mystery of the original singer. And although Santana's guitar is the draw, it was his magnificent rhythm section that tempted me linger.
On the other side of the fairgrounds, the Avett Brothers were enthralling an equally ecstatic crowd. Hailing from North Carolina, the Avetts are mining that same traditional folk and pre-blues string music tradition that is all the rage these days, though they're a bit less twangy than the like of Old Crow Medicine Show. Fronted by the two brothers Avett, one on acoustic guitar and one on banjo, the combo mixed in lively originals (that fans around me were mouthing emotively) with hip spins on unhip down-home standards like "Amazing Grace" and "Thank God I'm a Country Boy." It's not exactly what you expect to hear from a popular band, yet these familiar tunes were highlights for me.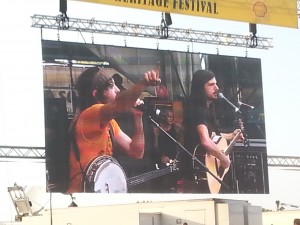 The Avetts delivered a solid set and I can see their appeal, but their sound didn't grab me as instantly as Old Crow Medicine Show or others of the ilk. I've been told I'd be an instant fan if I ever saw the group live, but that wasn't so. Still, they're clearly talented and engaging. I'd gladly give them another try, as I would Santana, to see if they grow to me.
OH ANA, WHERE ART THOU?
Although I saw a lot of headliners, I also spent a good deal of time wandering the tents and small stages seeking undiscovered jewels such as European blues master Ana Popovic whom I stumbled upon last year. Like the weekend in general, I saw some solid stuff but nothing that will rank up there amongst the timeless memories I've of Jazz Fests past. If nothing else, I'm counting on Bruce to save the day raise Jazz Fest 2014 into the stratosphere of cherished memory.