THE THUD BEFORE THE STORM:
The String Cheese Incident…or Minor Happening
After a muted first weekend, the Thursday that opens weekend two of the New Orleans Jazz & Heritage Festival was perhaps the lamest day of Jazz Fest I've ever attended. I was puzzled when The String Cheese Incident was chosen to headline the main stage, especially considering Robert Plant and John Fogerty—leaders of two of the most wildly popular bands in popular music history—were relegated to the secondary 'Gentilly' Stage (no free advertising here!) Apparently my sentiment was shared, for String Cheese drew a crowd more appropriate to Fais Do Do stage. I've never seen the big stage so deserted that late in the afternoon! Across the fairgrounds Lyle Lovett drew an equal and perhaps bigger crowd at Gentilly. Considering it wasn't his looks that snagged Julia Roberts I thought the show may have potential. I like intelligent, progressive Country in the vein of Dwight Yoakum but Lyle just wasn't doing it for me. A solid set by the always dependable Marcia Ball and Galactic drum wizard Stanton Moore's jazz trio where he put on a rhythm clinic weren't enough to save the day so I left early, glad that I'd volunteered that morning on a rare day when Jazz Fest wasn't worth the cost of the ticket.
After four inconsistent days I was a little worried, but I knew I could count on Cowboy Mouth to interject some soul and energy early Friday afternoon before Bruce Springsteen saved all Saturday. Local rockers Cowboy Mouth has often been mentioned on this blog for lifting my spirits just at the right moment, and Bruce never phones it in anyhow, but has had a love affair with New Orleans and Jazz Fest that began with his 2006 post-Katrina show that locals still speak of in reverent tones for how he lifted the entire city on his spiritual shoulders and helped carry it through its darkest hour.
THE BEST OF FEST
Bruce Springsteen Cuts Loose Like A Deuce & Brings Thunder to the Road
For decades I said I didn't really 'get' Bruce Springsteen. He was aw-ight but I didn't understand why he was held in such high regard. People kept encouraging me to see him live, though, promising it would change my mind. About a decade ago I finally caved and that first concert was such an epiphany I felt like an idiot for not getting the brilliance of his art earlier (though the exception of my awe at his album, The Rising, the most complex and multi-faceted work of popular art to come out of 911, an event that inspired a lot of knee-jerk responses and crass, shallow drivel). Springsteen's best works are epic poems bordering on short stories set to orchestration, and when he plays them live he holds the audience sway like Billy Graham trying to save 100,000 souls through rock-n-roll.
I've seen a lot of performances in my life and Bruce is easily one of the top five ever. Few can own a big stage like he can, shrinking a receding crowd of 100,000 fans into an intimate tent revival where he resembles a charismatic country preacher who knows every parishioner by name. I've never heard of anyone complaining of him giving less than his best during a show, and he always looks like he's having the time of his life. At Jazz Fest he was running up and down the walkway stretching through the crowd from stage to sound booth, perching on amps and high-fiving fans. At one point he stopped about 12 yards from where I was buried in the crowd, accepted a beer from a fan, and chugged it as the crowd went wild.
His set list was heavy on hits such as "Hungry Heart," "Born to Run," and "Dancing In the Dark," though he continues to mine the songs from his Pete Seeger session with relish, playing more from that album than any other. What else is there to say? Either you've seen Bruce and get it or you haven't and Shakespeare himself couldn't describe the vibe.
Reborn On the Bayou: John Fogerty Clear(water)ly Experiences a Revival
New Orleans young legend-in-the-making, Trombone Shorty, is one of the rising stars of modern music, forging hard rock, jazz, funk, and hip-hop into a new genre (I'm dubbing it Hard Funk-hop) while single-handedly making the trombone badass as opposed to the butt of every band joke and the bottom of the band nerd totem pole. Last year, in the ultimate honor, he inherited the role of closing out the main stage on the final Sunday of Jazz Fest from longtime 'Uptown Rulers'—The Neville Brothers. It was amazing to witness the crown being passed and he more than lived up to the honor, delivering perhaps the best performance of the entire festival.
Thus, I was eager to see his return performance this year but was annoyed that legendary Creedence Clearwater Revival singer/songwriter/guitarist John Fogerty—whom I've never seen—was playing the Gentilly Stage at the same time. Afraid that Fogerty may be a washed up nostalgia act I was set to roll with Shorty when Fogerty took the stage with Springsteen Saturday night, collaborating with The Boss on spirited renditions of "Green River" and "Proud Mary." Fogerty looked deceptively young, sounded great, and bounced the stage with youthful enthusiasm. This was no fading elder statesman but rather a legend still going strong. I knew I couldn't miss his set the next day and he didn't disappoint.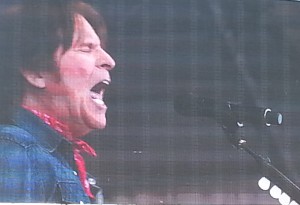 Some acts stay on the road too long, eventually sounding spent and jagged. Others become nostalgia acts, playing a rote set list every night full of slick recreations of the radio version of their greatest hits, rendering themselves highly skilled cover bands or human juke boxes (the two Van Zant bands from Jacksonville, Lynyrd Skynyrd and .38 Special are prime examples). Then there are people who continue to grow, evolve, and experiment late into their career such as Springsteen or McCartney. I was thrilled to learn Fogerty is in this latter camp.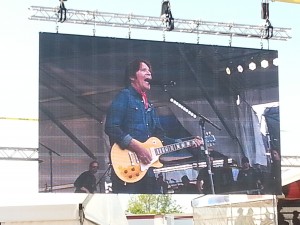 He appropriately opened with the rocking "Born on the Bayou" and followed with a string of Creedence classics rendered with renewed life and energy, most interestingly an upbeat, driving version of the mid-tempo ballad "Lodi." Having won over the crowd, he then strayed into solo material such as the pumping "Hot Rod Heart," and threw in some apropos covers, such as Hank Williams's "Jambalaya" before proving he could still jam with a version of "Ramble Tamble" that approached ten minutes.
Fogerty appeared Reborn on the Bayou after decades fighting over the right to the songs he wrote and performed. This made it hard to slip away, but I wanted to catch the end of Shorty's set to put an exclamation point on my Jazz Fest since his closing set last year had been such a perfect coda. At about twenty till I packed up thinking: "The only two songs that could keep me here are 'Down On the Corner' and (solo hit) 'Centerfield,' my two favorites of his. As if reading my mind, he then launched into those songs in that order, playing the latter on a guitar shaped like a baseball bat!
Trombone Shorty Casts A Tall Shadow
Having heard the encore I was hoping for, I left during the final two numbers (I'd seen two with Bruce on Saturday to make up for it!) and raced across the fairgrounds, arriving in time to catch Trombone Shorty do his phenomenal pop-funk anthem "Do To You." He had the entire crowd undulating in joyous surrender during this ten minute jam, imploring them to chant, hop, and crouch to the ground before springing to life. He had total command like a budding rock star.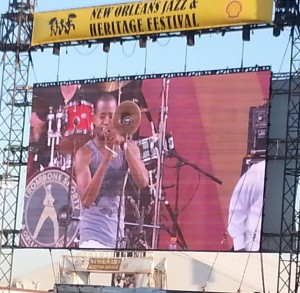 He then came out for a kicking instrumental encore, playing well past seven and providing me twenty minutes of Jazz Fest perfection to carry home with me. Shorty is not only a master singer, entertainer, songwriter, and trombone/trumpet player, but an amazing bandleader. He's assembled one of the hardest rocking groups in New Orleans past, present, or future anchored by one of the best drummers I've ever seen—a young Taylor Hawkins (Foo Fighters) in both style and appearance. This is true musical innovation of breadth and scope, as opposed to the minimalist Arcade Fire who took the stage before him.
MISSTEPS & DISAPPOINTMENTS
Arcade Mis-Fire
I've heard great things about Canadian indie rockers Arcade Fire so I never considered skipping them for the reunion of local voodoo-pop jam band extraordinaire, The Radiators. It was my only misstep in an otherwise glorious day.
I love innovative and fresh sounds, but often don't agree with the trendy pick for hip, smart and innovative. Thus, I wanted to like Arcade Fire, and they played their asses off within their capabilities and predilections, but they struck me as more style than substance, filled with simple chords banged out repeatedly for stunted, choppy, and simplistic solos played on the vibraphone. Often the bass player would ride the root note for whole songs (meaning if it's a G chord repeatedly hitting only a low G). Simplistic bass players tend to swing the root and fifth note of the chord, but Arcade Fire's minimalist pop couldn't be bothered with such extravagance. In turn, the drummer played a stripped down, partially electrified kit and seemed to hit the same simple pattern for every song.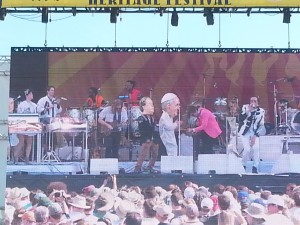 I don't want to be too harsh. Again, they sounded okay, just repetitive and were definitely not virtuosic instrumentalists. I just didn't get all the fuss that has made them the new indie darling. This isn't getting older, 'get off my lawn' sentiment. Trombone Shorty is young but innovative and blazing a whole knew genre. His sound is fresh & brilliant, backed by a band of amazingly skilled musicians who have absorbed the music of the past to serve as their road map to the future. Depeche Arcade or Tears for Fear of Fire, as I jokingly dubbed them, was a new take on old minimalist pop with pretensions to art. It's not new, but rather a veneer of trendy innovation over the same old tired chest of tricks. If I were younger I might be more taken by them  just as I loved Tears for Fears as an early teen…and just like Tears for Fears wouldn't likely impress me if they emerged today. This isn't being closed to new sounds but rather having a deeper understanding of what makes music endure. Pretentious minimalism limits itself by very definition, for how can you have depth when purposefully sparse? The universe is largely a vast void, and the most lasting art is that which can fill the empty spaced with meaning rather than pay tribute to the emptiness.
Of course, I might have been kinder in my assessment if the lady beside me (older than I) hadn't primed me for cynicism. While she (a makeup artist by trade—go figure) went bananas over this flashy circus show (they were definitely visually interesting, seeming almost more performance artists than musicians), before the show she had overheard me rave about the Springsteen show and quipped that she didn't like Bruce because he 'just did pop songs.' I had never heard Arcade Fire before, so wasn't able to make a true comparison; however it was quickly clear that if you plopped these guys in an open jam with the insanely tight and accomplished E Street Band…or Shorty's band for that matter… they wouldn't have a clue how to keep up when pushed beyond their rehearsed shtick. Besides, it's hipster drivel to say Springsteen just does pop songs. (See above epic poetry comments!) So all apologies to all my friends who love Arcade Fire. They weren't to my taste, and it didn't help having an aging hipster handicap my perception with her pretension.
BEST DISCOVERY OF FEST
JOHNNYSWIMming Against the Mainstream
One of the joys of Jazz Fest is discovering new bands, yet Arcade Fire, String Cheese Incident, and others failed to deliver. The Avett Brothers showed potential the weekend before, as did The Alabama Shakes headlining the Gentilly Stage on Friday. The group is lead by powerful, bluesy, and gritty singer and guitarist Brittany Howard, who delivers a powerful modern twist on tough and rugged blues powered rock (particularly noteworthy and welcome of a female singer/songwriter). Again, they showed potential but didn't steal my heart. Surprisingly, it was the oddly named and unheard of JOHNNYSWIM that captivated me from the start.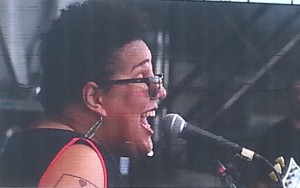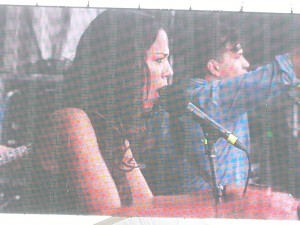 A husband and wife duo that shares singing and songwriting, JOHNNYSWIM split their time between Nashville and L.A. and their sound shows it. The closest I can come to categorizing them is country inflected pop-folk ala Mary Chapin Carpenter (an all time favorite of mine), yet this duo blends blues, gospel, and world music into that mix to come up with a unique and instantly captivating sound.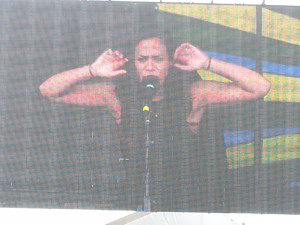 As all good bands, in my opinion, they start on a foundation of excellent songwriting such as the stellar title track to their new album, "Diamonds." Explaining that it was written in response to a friend (of the 'with friends like that' variety) who said if they were going to pursue this style of music he hoped they'd have fun spending their entire career singing to twenty people in a coffee shop. Playing to tens of thousands at Jazz Fest was clearly a satisfying triumph, and they told the crowd "Diamonds" could be a 'kiss off' song if you needed it to be that, or an 'I can do this despite what people say' song if you need it to be that. As my writing ambitions drag along I could use a little of both and the tune hit the perfect note!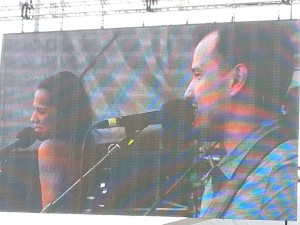 Both singers had fantastic voices that harmonized beautifully, yet they varied their vocal approach, at other times doing call and response or holding melodic conversations. Mixed in with their clever and instantly accessible melodic compositions, they also understood the power of lyrical repetition. It's such a simple yet effective trick to draw in a new audience rather than waiting for them to eventually come to you that I'm surprised more songwriters don't employ this approach.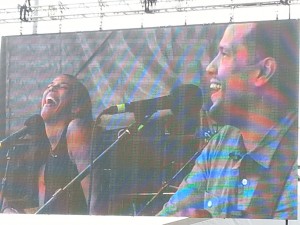 In a fitting tribute, for good measure they threw in a modern sounding version of "Jackson," the duet by country royal couple Johnny & June Carter Cash. JOHNNYSWIM's sound is different, but the spirit of inspiration and collaboration is there and I'm sure June and Johnny were looking down from above with approving nods. Everyone I talked to who caught the set was blown away, so I encourage you to check them out. If they're not coming to a town near you, you can stream their music from their website:
HOMEGROWN HAPPENSTANCE
Mia Borders On A Breakthrough
Jazz Fest not only offers a chance to catch national acts you may not otherwise be exposed to, but provides a forum to catch local acts who you may otherwise miss, for there is a ton of talent in this town and bar hopping to catch every name that catches your notice can be costly to wallet and waist line.
Singer/songwriter Mia Borders, though, is a name I hear often. During a break from my volunteer shift on Friday I was able to hear a bit of her set on the main stage in that oft-overlooked 11 a.m. slot. Much like the muscular attitude of Alabama Shakes, Borders growled out powerful originals backed by one of the best funk outfits I heard either weekend. Her bass player, in particular, was getting downright filthy laying down the funky bottom (no riding the root note here!). It's great to hear the girls finally able to rock with the big boys, and I was sad that I only got to hear a snippet. I will come back for seconds, though!
Hurray for Hurray for the Riff Raff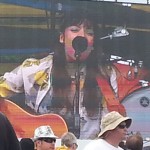 Hurrah for the Riff Raff is a group formed by transplant singer/songwriter Alynda Lee Segarra that describes its sound as 'Southern Gothic Americana.' Segarra's brand of folk-pop definitely leaned more on the country and traditional ballad side than JOHNNYSWIM, but she certainly lived up to the hype she's been garnering. Though her sound is softer, her words are tough as nails. I've often wondered why more female artists don't rail against the blues and rock tradition of songs romanticizing gunning down or otherwise violently dispatching of ex-lovers, as (until the Dixie Chicks turned the tables on Earle) the victim is almost always a woman. ("Hey Joe," "Buenas Noches From A Lonely Room," and "Run For Your Life" to name a few.) In these wistful aural snuff-films men are portrayed as being as much the victim as the women whose lives they sacrifice to egocentric pathos, but Segarra has apparently had enough. Perhaps the highlight of Hurray for the Riff Raff's performance was a retort to this tradition in a song titled "The Body Electric":
Said you're gonna shoot me down, put my body in the river
Shoot me down, PUT MY BODY IN THE RIVER
While the whole world sings, sing it like a song
The whole world sings like there's nothing going wrong

He shot her down, he put her body in the river
He covered her up but I WENT TO GET HER
And I said, "My girl, what happened to you now?"
I said, "My girl, we gotta stop it somehow"

Oh, and tell me what's a man with a rifle in his hand
Gonna do for a world that's so sick and sad?
Tell me what's a man with a rifle in his hand
Gonna do for a world that's so gone mad?
She brings it home in the end by asking this man with a gun in his hand what he'll think when it's daughter's turn, challenging all the men in the audience who 'sing like there's nothing going wrong' to ask themselves the same question:
Oh, and tell me what's a man with a rifle in his hand
Gonna do for a world that's just dying slow?
Tell me what's a man with a rifle in his hand
Gonna do for his daughter when it's her turn to go?
Segarra is a lovely wisp of a girl with a soft voice, but she can sure pack a punch!
TBC…
That wraps my take on the music of Jazz Fest 2014, but the past two weeks were filled with stories both wonderful and bizarre, plus I got to see the fairgrounds from a whole new perspective behind the scenes as a volunteer, so we'll look at some of the other side of Jazz Fest 2014 before I put the festival to bed for another year.