THE NOLA NEW YEAR
I have written many time about how Mardi Gras is a year round event. Even though 2014's Carnival Season ended with Ash Wednesday on March 5th, minds immediately turned to 2015's festivities. In fact, only a handful of days into Lent my ever enthusiastic float mate, Don, posted the first of his now regular countdown updates on Morpheus's Facebook wall: Only 342 days until we ride! Mardi Gras—not New Years or Christmas—is the epicenter of the New Orleans calendar, drawing all other days and events into its orbit.
In the opening pages of this blog I asserted:
Mardi Gras isn't a few weeks of planning followed by a big blowout.  It's a year of preparation and perspiration that unfolds over several weeks like a military campaign hell-bent on spreading heaven throughout the darkest months of the year.
This thesis was confirmed last summer during my visit to Mardi Gras World—a tourist attraction that provides the public a behind-the-scenes view of how Mardi Gras is built. During my tour I learned most krewes hand the facility's conceptual artists their theme for next year's parade on Ash Wednesday—or sometimes before. Even in the more informal and DIY Chewbacchus my sub-krewe of K.R.A.P. was bouncing around plans for a Jabba the Hut's Barge float next year before the final parades had rolled. (Since I'd yet to embark on My Low Carb Lent to shed my 'transplant twenty-five,' I offered to play Jabba but co-leader Rachel Unger shot back that she had me in mind for Princess Leia in the steel bikini…extra motivation to keep up the diet!)
MOR-PHEUS CHANGES ON THE HORIZON
True to this year-round approach, Morpheus reconvened at Plush Appeal on April 8th for our first meeting of the 2015 season. Since we were barely a month removed from Mardi Gras I couldn't imagine there would be much to share, but I couldn't have been more mistaken. As members of the Board of Directors took turns sharing updates a fully formed picture of next year's parade already began to form.
On the bright side, this year we are using a new float builder who will allow us to hold gatherings in the warehouse where we can view the floats in progress rather than having them unceremoniously unveiled on loading day along a littered and deserted street downtown. This development was touted as a positive step toward providing more opportunities for socialization amongst the group, which we learned is expected to continue to grow next year with even bigger floats and increased ridership.
The crowd let out a collective cheer when we learned that the bucket hats would be ditched in favor of the blinking Morpheus night caps that half the riders wore this year, anyhow. (Those bucket hats were so despited they inspired a petition for next year the day of the float!) To match our blinking hats, we learned there are also efforts underway to add lighting to our costumes.
On the downside, we learned the BOD is looking for a new band to play the pre-party in order to 'keep things fresh.' Bag of Donuts revving up Morpheus before our ride was one of the highlights of my Mardi Gras and I was disappointed to hear they wouldn't be back.
Once we made it through the summary of this impressive amount of early planning, the meeting ended with the introduction of next year's king & queen and a collective bow by our hard working Board of Directors.
Barely a month removed and next year's ride was already well on its way to reality.
SLAYING JUSTIN BIEBER FANS
My next contact with Krewe of Morpheus would come in late May when we gathered on a gorgeous Saturday night for a bar crawl down Bourbon Street. My friend Aimee—who I'm hoping will ride next year—joined me as we headed to Pat O'Brien's to kick things off. We soon found a table with a couple of locals wearing the official t-shirt, Mark and Reid, and ended up chatting with them most of the night. None of my float-mates were present and the krewe is so diverse with natural groups forming along float lines that I still feel like I'm meeting people only in small chunks.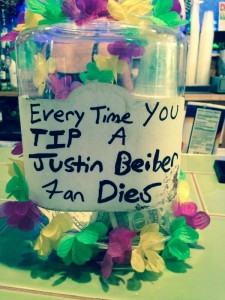 Soon we were following a small brass band to the first of four stops, and when I learned the drink special was a triple shot I ordered a (carb-free) scotch and soda and tried to stretch it through as many stops as I could. I hadn't drank at all through Lent and had had very little since Easter—a glass of wine here and there and a martini or two—so my tolerance was down. At least that was the excuse I used when Aimee schooled me on the air hockey table upstairs at Tropical Isle!
Despite my crushing defeat I was in good spirits. It felt good to cut loose a little after two months of austere living, and in such a playful mood I couldn't posting for a photo with the tip jar that declared: "Every time you tip a Justin Bieber fan dies." Judging from the wad of cash in there, teenage girls best be on high alert!
THE TRANSCENDENT POWER OF OYSTERS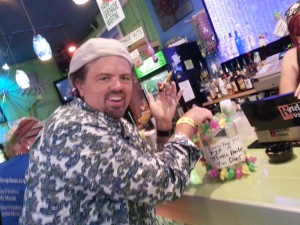 With a different stop every hour we hit several balcony bars along Bourbon that most present—me included—would never otherwise frequent unless goaded by an out-of-town guest. Still, it was a lovely night for balcony watching as a moderately sized crowd stumbled by. With Jazz Fest past things are slowly winding down towards the summer lull, so there was only a dull roar below rather than the full scale drunken riot of weeks prior.
Still, the carnival below could only hold our attention so long. Aimee couldn't resist the allure of the shops we spied from our perch at our second stop and snuck away to go souvenir shopping. Later, we snuck away during the second-line to our third stop so we could get oysters. Food was included in the price of the crawl so we hadn't eaten dinner, but we didn't learn until arriving that food would only be available at the private room where we were ending our procession at 10:00pm. I definitely was out of shape for drinking on an empty stomach!
Remakably, you can still get decent and decently priced oysters on Bourbon, and we had a blast jawing with the tourists around us. The visitors who sidle up to the raw beer seem a bit more sophisticated than the puke-on-your-shoes variety stuffed into the countless crappy and overpriced pizza joints nearby, and the shucker in better spirits than your average disgruntled and tourist-weary Bourbon Street service worker.
MARDI GRAS GRAVITY & THE CENTER OF THE UNIVERSE
We rejoined the krewe in plenty of time to make the final stop. Though my buzz had dissipated as quickly as it came on,  the bar only took cash, which I'd foolishly parted with at our last stop. So an uburpt end to my night of indulgence was good for my diet, but the buffet of breaded chicken wings, meat pies, shrimp pasta, and spring rolls was not. Still, the oysters only went so far so I joined the starved crowd that descended on the buffet like locust.
After doing my best to pick breading off wings and pick shrimp out of pasta (though the meat pies I just gulped down—they were too good to ignore!) I bid my farewells. I'd had a blast, though I was a little disappointed that no one from my float had made it. Many of our riders are from out of town, though, and come Mardi Gras 2015 I may be amongst their ranks as I continue to ask myself that classic punk rock question: "Should I stay or should I go?"
In the meantime, it was nice to live through the post-Mardi Gras lull and observe first-hand how a single floating date on the calendar draws the other 364 into its orbit…at least in New Orleans.