A RIVER BY ANY OTHER NAME (OR BRANCH)
Identifying a river seems to be an obvious endeavor, but choosing which trickle of rainwater is the true source can be as tricky as determining which grain of sand begins a beach. Thus, it wasn't until 1832 that the source of the Mighty Mississippi was established when a local Native American led Henry Schoolcraft—a geologist and U.S. diplomat on an Indian peacekeeping mission who decided to take a side trip after failing to find the source with previous expeditions—to the portage flowing from a lake that Schoolcraft named Itasca. As with any such claim, controversy quickly ensued and other ambitious explorers tried to refute his claim.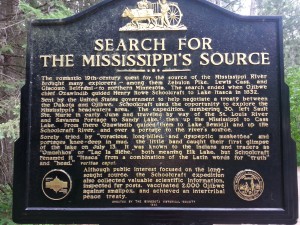 Modern scientists even question whether the northern branch of the great confluence should be considered the 'true river,' for the Missouri River, branching to the west, dwarfs the length of the entire recognized Mississippi while the Ohio River—branching to the east—contributes by far the greatest volume of water. Yet while debate may continue in scientific communities, Schoolcraft triumphed with historians, mapmakers, and vacationers seeking to stride the humble origins of the nation's greatest river.
SEEKING TRUE HEAD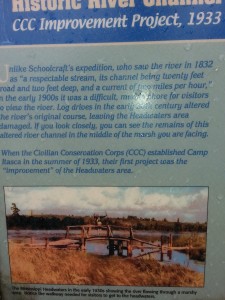 Schoolcraft created the name Itasca by combining the Latin words veritas (true) and caput (head), though he might as well have called it Lake Disappointment! Early writers and naturalists, eager to witness the birth of the Mighty Mississippi, decried this marshy, log and debris jammed outlet as an unworthy beginning for the nation's legendary artery.
Although the modern aesthetic would tend towards preseveration, depression era work corpsmen decided to 'improve' the already popular tourist attraction. After removing debris, they dug out to the outlet to improve the flow and create an appealing ripple of water between fifteen stepping-stones that tourists from around the world have arrived to traverse ever since. (At least they say fifteen, but that's likely the average stride for there seemed to be far more stones than that, though historical high water may have simply camouflaged these stones amongst those permanently underwater.)
As a modern explorer armed with GPS (at least theoretically, for I have T-Mobile service which means I had none), Monday morning I drove four hours north from Minneapolis to the tiny trickle that over a 2,500 mile winding journey would grow to a mile wide as it carries the fruit of American labor and culture (as well as its industrial and residential runoff) south to New Orleans on its way to the Gulf of Mexico and oceans beyond.
TEN-TOE BAPTISM & BRIDGE OVER (SOON TO BE) TROUBLING WATER
The forecast called for rain and frigid temperatures, but my friend Jesse and I arrived in time to catch the last of the sun and almost-warm weather. As we pitched out tents in the park's appealingly wooded and secluded campground I was intent on avoiding another soggy night so I judged the wind direction and then suspended a tarp in the trees at an angle to shed the rain and protect the vulnerable side of my tent. My sudden burst of outdoorsmen ingenuity took several drafts to perfect, so we lost an hour and a half of good weather before hopping on bikes and setting off along the road towards the park's primary attraction (for the bike trail was closed for repair, reopening the morning we were scheduled to leave!)
Itasca State Park—Minnesota's oldest—sprawls iver 49 square hilly miles dotted by over 100 lakes. Despite growing up in West Virginia I've become quite a lowlander the past two decades and huffed and puffed as I tried to keep pace. My efforts, though, were rewarded by glimpses through the thick pine canopy of the lovely lake whose long, narrow channel with two branching 'racks' to the northwest inspired the native name which translated: 'elk.'
After a twenty-minute ride we crossed the Mississippi on a bridge just yards from its source, stopping to marvel at the tiny stream which would grow to be a mile wide yet presently could be crossed without even gaining a first down! I couldn't resist posing while crushing the stream with my fingers.
Around the bend, we parked our bikes outside a gift shop and tiny cafeteria to peruse a sprawling collection of educational placards explaining the ecology of the river and search for its source. Then a short jaunt down a gravel path led us to a breathtaking view of the contrived trickle as the lake in all its splendor stretched to the horizon beyond it. A wooden post stood to the left of the babbling head explaining the significance of this site. This simple post has become the most photographed spot in the park and a right of passage for generations of vacationing families.
At the Visitor's Center the next afternoon I'd view countless photographs of such families striding the famed stepping-stones with dry feet, but heavy rains had caused flooding all over Minnesota (flooding which would ultimate travel south at approximately the same pace as I!) so water now gushed overtop the rocks as parents cried for their children to not slip and fall.
Jesse chose to stay on dry land, but I'd traveled 3 days and 1,500 miles to get there (a thousand miles less than the river which twists and turns constantly, a fact I'd become keenly aware of on the return journey), so I took off my shoes and climbed Spiderman-style across the slippery rocks. Despite the lingering spring chill and northern latitude the water was surprisingly pleasant and refreshing. As I posed for a triumphant photo on the opposite side Jesse walked a few yards up streamed and crossed on a bridge I hadn't noticed. Somehow it seemed to lessen my feat.
Doh!
Jesse seemed to enjoy his role as accompanying photojournalist, so my ten-toed Baptism was thoroughly documented by the time we left to follow the clear, pebble lined stream back along its grassy shores. Along the way we passed a father and his two kids walking upstream within the flow. "Are you going all the way to Louisiana?" I asked.
DULUTH'S BRIEF MOMENT IN THE SUN (OR BEREFT OF IT)
As we biked back we stopped by the hostel where a bed in a group room costs a mere $20 a night. It was empty, but the lady vacuuming the floor paused to give us a tour, seeming to appreciate the distraction as she explained this was the original park office. In my traveling youth I stayed at a couple of sketchy hostels, but this clean and cozy lodge was much nicer than any I'd ever seen, and Jesse agreed. We joked that if our tents got soaked we'd be back.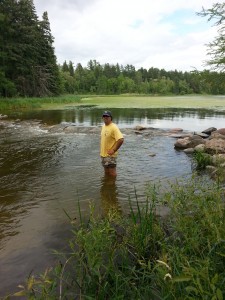 Back at the campsite I quickly lit a fire, feeling vindicated by how quickly my dryer lint started a blaze. We lounged around enjoy the warmth as I cooked a few shrimp on a stick as appetizer. When the coals were just write I seasoned black beans and quinoa on the camp stove and prepared marinated chicken over the open flames. By the time dinner was served, Jesse had gone from teasing my overstocked truck to declaring me the 'Emeril of Camping.' Just as my gourmet wilderness feast was finishing, though, the rains began and we ate hurriedly in ponchos before spending the rest of the evening lounging in the great room of the lodge that rested on the opposite shore from the river.
It was a chilly night in the north woods, and the next night as temperatures fell into the low 40s as I lay awake shivering from 3a.m. until sunrise (my night in Duluth enjoying only a short tenure as the coldest summer night I ever spent), but I stayed dry both nights thanks to my wind-directed tarp; thus, I took a new pride in my skills as an outdoorsman even if I regretted leaving behind a heavy comforter at the last-minute.
A QUESTION MARK MAKES AN EXCLAMATION POINT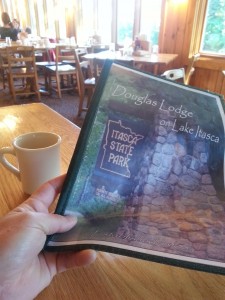 The day in between frigid nights of camping we followed the river north from the park, as will be detailed as part of next park. Due to a steady, cold drizzle, though, our outdoor aspirations crumbled and we spent much of the day holed up in a lakefront restaurant watching U.S.'s World Cup elimination.
The next day Jesse was up early for he had to be back in Minneapolis to pick up his kids. His activity woke me shortly after the air began to warm and I'd finally fallen asleep, so I got up and packed, desperately wishing for hot coffee as my fingers turned numb and ached.
After a gloriously hot shower, I abandoned my low-carb diet for a breakfast of wild rice pancakes—wild rice in all forms is the local specialty—in the lodge's dining room where I enjoyed the rustic setting more than the meal. It was pleasant—just not as delicious as I'd imagined. (I later texted Jesse that they reminded me of the Guthrie Theater—interesting and enriching, but not necessarily delicious/beautiful!)
As I drove out of the park there was still a slight chill in the air, but the sun was finally out. Although I was initially heading north, I felt a thrill at finally beginning my journey south. By the end of the day, though, I'd begin to comprehend just how long and winding my road ahead would be; it had been a four-hour drive straight from Minneapolis, but following the river's question mark course back (granted, with frequent stops) would take all day and deep into the night. What began as a pleasant drive through rugged northern woods ended in frustrated, bleary-eyed exhaustion!