ALL-AMERICAN TOWNS & THE NOT-YET-MIGHTY MISSISSIPPI
The shores of the Mississippi River straightened out south of Brainerd, and as I approached a string of pleasant small towns hugging its banks I realized I wasn't going to reach Iowa before dark—not even close. As the sun dipped towards the western horizon I felt the stress of my own expectations; tomorrow would mark a full week in Minnesota, the first of ten states bordering the river. I'd built some flexibility into my trip but not enough to spend two months meandering back to New Orleans!
Despite my stress, I wanted to see as much as humanly possible so around 4 o'clock pulled into the small waterfront park at Little Falls—the next significant small town after Brainerd—to stretch my legs and snap a few pictures of the dam built upon its namesake. It seems ever town in Minnesota maintains such a pastoral park curled up against the river, and in the glistening later afternoon sunlight teens idly lounged about on summer break while cubicle bound professionals paused on their way home for a moment in the sun. Unfortunately, I didn't have long to linger, wanting to get as close to the border as possible before nightfall.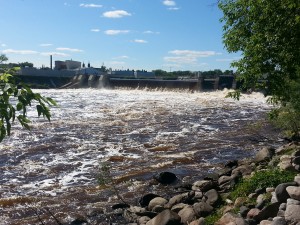 I only made it an hour and two towns closer, however, (skipping industrial St. Cloud) before stopping again. Mike and Kelly Chase, friends from my Krewe of Rocckus adventure that kicked off this blog, had invited me to swing by their river town of Monticello, and I couldn't bear to turn down such a gracious offer. Besides, I was stressing myself out and could use the break, so veered off Route 10 into another lovely all-American hometown along a river that wasn't yet mighty, yet was no longer the meager trickle that passed through the northern wilds.
A ROCCKUS REUNION
Mike, who was working from home, greeted me like an old friend and offered a beer. (I'd already strayed from my diet a bit on the trip, and beer is the thing I've missed most!)  As we settled into his sloping, comfortably manicured back yard I was struck by how much richer and darker the greens are this far north opposed to the pastel palms down south. He and Kelly had just returned from the Brainerd area, and as we swapped travel tales I asked if I'd interrupted his work. He laughed and said he dialed it back in summer to take advantage of such perfect days while they last. A man after my own heart!
Kelly arrived home just as I was leaving, and we chatted a bit longer in the driveway, promising to meet up again in February if Better Than Ezra resumes Krewe of Rocckus this year.
The detour cost me another couple of hours, but I felt renewed by the rest and hospitality. I'd only left Jesse behind that morning, but was already feeling the solitude of the road. The pause also pushed me past rush hour so I glided through the Twin Cities, setting my sights on Red Wing just to the south. That would still leave me two hours and a hundred miles from Iowa, but I harbored a peculiar curiosity about this town based on an obscure song by a local legend.
TWIN BROTHERS OF THE NORTH CENTRAL
First, though, I decided if I weren't going make it past Minnesota, I at least wanted to broach its border. To the north of the Twin Cities the  Wisconsin border is marked by the St. Croix River, which spills into the Mississippi at Hastings just south of St. Paul. Here the Mississippi becomes the dividing line between states and remains such until just north of Baton Rouge a thousand miles south. The St. Croix is the first major tributary of the Mississippi, and its arrival presented my first chance to cross out-of-state.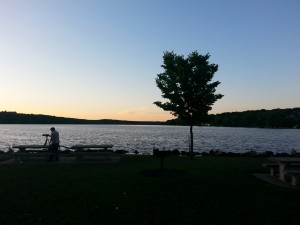 It was dusk as I paused upon Point Douglas which extends out into the merging streams.  Here I pleasantly observed that the flat waters still lent themselves more to recreation than commerce, their confluence forming a wide basin whose shores were lined with sailboats that were surely bobbing upon the water earlier that afternoon. Fishermen still speckled the shore and couples walked dogs beside the serene waters forming a lovely snapshot of a river before it morphs into an industrial spillway and aquatic superhighway. By the end of the next day's drive I'd cease to see sailboats and river resorts.
After soaking in the sunset, I crossed the bridge into Prescott, Wisconsin. It was like crossing into a different world. Earlier, as I described falling in love with Minneapolis, I mentioned how my best friend who moved back to Wisconsin had helped me nurture an appreciation of Milwaukee. Both Minnesota and Wisconsin, I have discovered, feature a mid-major city that punches above its weight class in regards to culture and identity, and both are packed full of quaint and inviting small towns that surprise you around every bend.
Yet crossing from Hastings to Prescott made me realize how completely different these north-central twins are.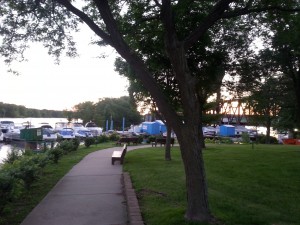 Rather than the uniform brick and stone town squares of Minnesota with their well-groomed lawns, Prescott's rustic appeal lay in a random blossoming of structures that still managed to create a sense of chaotic uniformity. Built on a hillside, bars were the dominant business as opposed to cafes and antique shops in Minnesota. Even the buildings themselves lacked internal uniformity, many having a stone base with wood or fiberglass siding on the floors above. Yet, as with most of the Minnesota river towns, absent were the cookie-cutter facades of tacky national chains. After the pleasant uniformity of Minnesota, the haphazard construction of Wisconsin was refreshing.
It suddenly struck me that these two states were like brothers. Minnesota was the responsible, well-read older brother who dressed in outdoorsy clothes from a trendy outfitter. He was cultured, exercised regularly, cooked healthy and gourmet, and hiked on the weekends. Minnesota was always a gracious and attentive host, offering stimulating conversation while sipping wine in a trimmed and orderly backyard.
His little brother, Wisconsin, would welcome you as eagerly but wasn't worried about hospitality: There's beer in the refrigerator so help yourself. He too was intelligent and cultured, but likely had a worn copy of On the Road in his back pocket as opposed to a leather-bound collection of The Complete Shakespeare. He was also active, and though not obese he wasn't quite trim either. His faded flannels came from Wal-Mart, which he hates, but he can't go wasting beer money at expensive outdoors stores. He hiked, biked, and skied not to stay in shape but because he couldn't sit still. When not in the woods, he was probably at a local dive eating brats and pounding whatever craft brew was on happy hour, regaling friends with stories and making acquaintance with all the tourists passing through.
Both brothers are fun and interesting so you don't judge their differing lifestyles, but rather embrace the contrast.
I CAME FOR THE BOOTLEG, NOT THE BOOTS
As the last traces of daylight faded I wove over and around the serene bluffs that lined with Mississippi's shore in Wisconsin, the hills frequently opening up to spectacular views of the river. As opposed the heavily settled Minnesota side, I hardly passed through another town in the 25 mile drive to Red Wing. When I finally crossed back over the river, it was after 10:30. I hadn't slept the previous night as I shivered in a tent, so my eyes stung and I was irritable as I searched my phone for a cheap room. It felt like a lifetime since I'd left Lake Itasca.
I soon arrived at a cheap motor lodge where the computer had crashed and it took a good twenty minutes just to check in while I tried not to bite the clerk's head off. Moving on, though, wasn't an option because I wanted to take a look around in the morning. Despite the must-see declarations in the Great River Road literature, I wasn't interested in Red Wing Boots or the pottery also bearing the town's name. Strangely, though, the guides didn't mention the Bob Dylan song that had lured me to stop and look around.
Early in his career before going electric Dylan had recorded a couple of versions of a song based on stories he had heard as a child about the juvenile detention facility for boys in Red Wing. Growing up in West Virginia Prunytown was our state facility, and I'd heard similar stories meant to scare errant young men straight—no one wanted to go to Prunytown.
Apparently Dylan heard similar tales while growing up in Hibbing, Minnesota outside of Duluth, for "The Walls of Red Wing" is a brutal melodrama about harsh life at the reform school. The song, however, never made it on The Freewheelin' Bob Dylan, and though he re-recorded it during The Times They Are a Changin' sessions, it was passed over again and forgotten. A bootleg copy eventually emerged and was passed around amongst hardcore collectors until an official version was finally released on Bootlegs Volume 1-3 in 1991.
I once drove an hour out of my way just to say I was "standing on a corner in Winslow, Arizona" and detoured through Allentown to see where "they're shutting all the factories down." How could I skip stopping to see the haunted and foreboding Walls of Red Wing?!