SLUTTY MINNESOTA
My drive through rural Wisconsin was bookended by La Crosse and Prairie du Chien, two towns that were nice enough but not as intriguing as those of southern Minnesota. I crossed into Iowa at Marquette, which was nothing more than a couple of motels and a casino with a giant buffet (per the billboard) tucked beneath a steep bluff, but just a couple of miles to the south McGregor turned out to be a comely one street town ending in a T-intersection at a large stone church.
This picturesque and abrupt termination made McGregor memorable, but there wasn't a coffee shop or cafe to distract passers through. This trend would hold throughout much of Iowa. The towns were neat and pleasant, but they were quite chaste compared to those of slutty Minnesota, trying to seduce naïve strangers with its lurid craft boutiques and frilly cafes.
In fact, McGregor was so indifferent to outsiders that this crucial intersection—the only one in town—didn't bother embellishing route numbers with anything as gaudy as hints about what town…state park…local attraction…or NATIONAL SCENIC BYWAY… may be found by following a particular route. Your choices were 76 or County X56. Locals would know.
I figured the county route was too obscure to be The Great River Road, so I turned right and soon came to an even more confusing intersection in the middle of nowhere that correlated poorly withthe tattered road atlas from 1997 I'd found under the seat (because who buys paper maps anymore?! Though perhaps travelers with T-Mobile should!). I guessed that left equalled south, but when this route showed no promise I returned to town and tried the county route.
The good news was that this seemed to be the river road (though there were no tart of a sign declaring it such.) The bad news was that I wouldn't catch a glimpse of the river, let alone a campground, during the entire plodding detour.
A SUNDAY DRIVE ON A WEDNESDAY NIGHT
I'd planned on stopping along the river while it was still daylight to avoid the stress of the previous evening, but as I passed from dramatic river bluffs into remote lowlands grown over with indistinct scrub pine I became more concerned about my falling gas meter than a place to sleep and cursed myself for not stopping in Prairie du Chien.
Nightmare visions of hitching a ride to a gas station from a deranged corn farmer with a grudge filled my head as I rounded every forgettable bend. Just as I flat-lined I rolled into Guttenberg where I promptly got lost in a residential neighborhood and flagged down a couple on bikes. As I prayed my last fumed held out they assured me I was close and instructed me to plow past several 'Road Closed' signs.
Guttenberg was larger than McGregor, but was also pleasant and wholly residential. With no reason to linger, I gassed up and continued south, skipping the main highway again in hopes of finding a campground on the next stretch of rural river road. Instead, I entered an endless succession of rolling cornfields. I'd officially entered the heartland.
Even though I was paralleling the river, I'd only catch occasional glimpses as I climbed a succession of rolling hills whose crest provided a glimpse at the valley below with its patchwork of corn fields. Occasionally I'd pass through a town with a post office and two churches where the intersections would predictably be poorly marked, but even with daylight lingering past 9 o'clock on these late June days I was running out of hope and began considering pitching my tent in a cornfield.
Don't get me wrong, though. Iowa wasn't ugly. Further west the cornfields flatten out into endless monotony, but along the river the farmland undulates and ripples as the road twists and turns along the river, providing a new panorama with every hilltop. The towns were clean and orderly. The people were friendly. The food they were producing was vital to our national survival. A drive through such wholesome heartland would make for the perfect Sunday afternoon drive, only it was dusk on a weeknight and I was on a multistate road trip. The fault was in the timing, not the locale. I didn't want bucolic scenes of America's breadbasket, I just wanted a damn tree to pitch a tent under!
AT LEAST TED BUNDY WAS CHARMING!
After another hour or so I abruptly arrived in Dubuque, a town whose name I oddly knew how to pronounce without hesitation yet couldn't for the life of me think of where or why I'd heard it?!? Dubuque was also clean and orderly, yet it felt like the kind of place you'd go once a month for feed and flour, not stop for a coffee and romantic contemplation of the course of a great river.
Fortunately, my rumpled map showed a state park a half hour to the south with camping, so I hopped on the main highway and drove through Bellevue to the state park bearing it's name, for just past the town the rolling hills gave way to another succession of steep bluffs and the state park was spread out across several of these prominences.
Of course, the signs didn't make this clear, nor did they point out which one had camping, so I wasted another twenty minutes climbing up to a picnic area and back. When I finally found the small camping area atop a bluff two miles further down the road daylight had almost faded. The sites, though were small but grassy and well-kempt, and as I rushed to pitch my tent and get a fire going a young park ranger stopped by to gently fuss at me for not paying at the self-service station. She was a cute Iowa farm girl, looking awkward in her green ranger's pants, so I tried to charmingly describe my trip and my desperate race against nightfall as she returned with an envelope, but she kept a safe and weary distance. Single guy on the road alone obviously equals serial killer.
Like I said, I don't think they get a lot of visitors in these parts!
A BASEMENT; A CANOE; PERSPECTIVE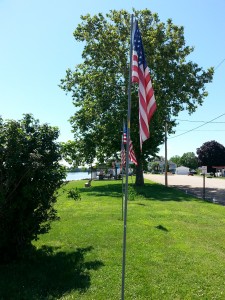 The next morning I awoke feeling a stir of excitement. It was the Fourth of July and I was heading to Hannibal, Missouri, the town mythologized by America's most mythologized writer: Mark Twain. I hastily packed my tent and walked up to the bathhouse to brush my teeth where, oddly, speakers were pumping in a national weather service warning of rising waters from the Mississippi below.
As I drove south of Bellevue the river frequently came back into view after the previous evening's scenic drought, but the reason for the weather service warning was instantly apparent. The flooding that had already begun upon my arrival in Minneapolis had been following me south and was now growing from a nuisance into a serious threat to personal property.
Just south of town I stopped in an unnamed neighborhood to snap some photos of the river, spying a column of flags flapping along the shore. Beside this patriotic tribute, though, stood a house with its entire basement underwater. A little later I passed a man taking a canoe off top his truck. After a double-take I realized he wasn't going fishing, but rather his house was on a small patch of high ground surrounded by water and he was likely paddling out to check on it.  I'd been annoyed by the rain when trying to camp and bike in Minnesota, but now realized that people were having more ruined than an afternoon's plans.
ARMPIT OF THE GREAT RIVER ROAD
As I continued south I was tiring of Iowa so decided to cross into Illinois if just for a change of scenery. This would be yet another routing mistake.
Illinois possesses all the excitement of Iowa without the clean towns, mowed lawns, or friendly people. The Hawkeye State was a little starched, but Sunday drive worthy, whereas Western Illinois was the rural equivalent of the south side of Chicago. The highways were overgrown and littered; the towns were thrown together, neglected, and depressing; the parks and scenic overlooks were going to seed, deserted, and plagued by unreadable signs and faded placards. Every state is responsible for maintaining their part of The Great River Road, and the portions I stumbled upon were well maintained in every state except Illinois, which gave me the eerie sense that I'd stumbled on the set of The Walking Dead. Supposedly (per the River Road website) the town of Galena, which I'd passed while in Iowa the previous evening, is a quaint B&B destination, but even if I hadn't been trying to save money by camping I can't imagine paying B&B prices to spend the night in this Bates Motel landscape.
After an hour in purgatory I crossed into Davenport, Iowa, which was more of a small-sized city than a large town. After Illinois, though it's solid and sturdy brick buildings stretching up from the waterfront looked warm and welcoming. If I weren't in such a hurry I'd have gladly stopped and expressed my newfound appreciation, for Iowa may not be the coolest cat, but when you meet his train wreck of a brother next door you realize he's doing an admirable job holding it together in such monotonous and utilitarian country.
ESCAPE FROM KEOKUK (THE KINDNESS OF A STRANGER)
South of Davenport there was little to see except for flooded cornfields (If I had a broker…and cell phone coverage…I'd have told him to buy Doritos futures!), but as I reached Keokuk just across from the Missouri border, a flashing sign announced that Highway 61 South was closed. My faded atlas didn't show another crossing within an hour's drive so, bewildered, I pulled into a gas station despite still having a quarter of a tank and begged strangers for guidance.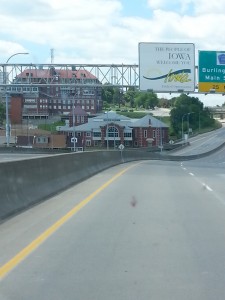 As I said before, Iowa is full of friendly people (I have several good friends from here), and when I asked a kid of about nineteen pumping gas into a miniature motorcycle if he knew what was going on with the roads, he launched into a lengthy and detailed description of how to get to a nearby county bridge over the Des Moines river using phrases like, "If the road turns to gravel you've gone too far," and, "You'll want to turn left after you pass a bunch of mobile homes on the hill to the right." Noticing how doe-eyed I appeared, he asked for paper and I pulled a pad from the glove box. God bless him, I then waited patiently for ten minutes as he struggled to write a few sentences in choppy handwriting. When finished he said, "Follow me!" as he hopped on his bike and drove me to the first intersection, pointing towards my next turn. As he disappeared in the opposite direction I felt a tad bit skeptical putting my fate in the hands of a stranger with such dubious literacy skills, but sure enough I saw the gravel road ahead as I turned right and then recognized the mobile homes alerting me to my left turn.
Soon I emerged on Highway 27, which had apparently been expanded into a major four-lane since 1997.  From here I cruised into Missouri and gave up on rural river routes, choosing a direct path to Hannibal. Once a healthy distance from Iowa and Illinois—where I never got coverage the entire time—I resumed cell and data coverage and began Googling area campgrounds. After two days of data darkness I was worried everything would be booked with the Fourth of July falling on a Friday, and was turned away from a nearby state park and several private RV resorts. The Mark Twain Cavern & Campground, however, had one tent spot left just two miles south of town. I told the lady I'd be there in 20 minutes.
The detour had cost me an hour, but I'd still arrive by 4:30, plenty of time to relax and cook a hearty holiday dinner on my Coleman stove before heading into town for the festivities that night. Finally: A day without a stressful drive into nightfall!