A SECOND CHANCE FOR A NATIONAL DISGRACE
Cairo, Illinois has always seemed mythic to me. Founded on the peninsula where the Mississippi and Ohio Rivers join, it marks the most important intersection of the nation's original superhighway, connecting the interior of the original states to the Gulf of Mexico and world beyond. I most envision Cairo, though, as the gateway to the abolitionist north that Huckleberry Finn and his runaway companion, Jim, tragically drifted past in a heavy fog. Yet while the Mississippi's intersection with the Missouri gave birth to mighty St. Louis, Cairo is a small town of little note outside of Mississippi River literature.
For good reason.
From the moment I crossed back into Illinois I was confronted by more decay and neglect. I hoped Cairo would be an appealing little hamlet like those of southern Minnesota, embracing its historical significance, but this rundown town on the state's southern tip was hardly worth a second glance. I continued on the Great River Road to the confluence, but the wayside was overgrown, littered with trash, and abandoned like all the others; the placard was faded and barely readable. It took a minute to get my bearings since there were no markers to make sense of the landscape, only a dilapidated concrete landing that looked like an abandoned military bunker. I assumed it was meant to provide a view (or something for bored local delinquents to spray paint), but it offered little vantage.
The Great River Road may have poor maps and signage, yet every other state along the route takes pride in maintaining their portion. The Illinois section, however, is an execrable disgrace.  The odds of a state official ever reading this are slim, but if they do I hope they're deeply ashamed. Perhaps their economy is struggling, but the answer is surely not to scare off tourists like their state is a dark alley where a homeless guy is fondling himself.
VOMIT YELLOW COATING
Upon crossing into Kentucky the landscape immediately grew more lush and enveloping. The Bluegrass State only borders the Mississippi River for a few dozen uneventful miles, but as the road wound through hills overgrown with tangles of wild blackberries and hovering oaks it reminded me that the Country Roads of home weren't too far beyond the eastern horizon.
Before I made it through a dozen Ralph Stanley banjo tunes in honor of the setting I was in Tennessee where the landscape opened up and felt more agricultural. I passed through a few nondescript towns along the way (Wal-Mart/McDonalds/Walgreens, rinse, & repeat), making for a pleasant but soon monotonous drive. Early in my journey I couldn't make it thirty miles without stopping; now I was covering hundreds of miles without interrupting a reverie.
Strangely, though Minnesota is famous for its mosquitoes, I drove through so many insect swarms in these two states that I had to stop and clean my windshield, unable to see through the muck. I stepped out to find the hood of my truck was nearly hidden beneath a disgusting vomit yellow coating. In all my years of traveling I've never seen a vehicle so defiled.
THE MISSISSIPPI TAKES A RADICAL DETOUR
A straight shot to Memphis (on Tennessee's southern border with Mississippi) takes four hours from St. Louis and I'd left at 2:00; however, my regrettable detour through Cairo had cost me precious daylight. I had reservations to camp the next two nights in a state park thirty miles north of Memphis so decided against crossing to interstate in Missouri and Arkansas since I'd have to cross at Memphis and backtrack. I'd set up, get a good night's rest, and arrive in the morning with fresh eyes.
After a couple of hours I was torn from my reverie by a beautiful view of the Mississippi. I didn't think the river cut into Tennessee, I thought, then shot straight up.
It doesn't. I was passing into Missouri on the last crossing before Memphis, which was still hours away. Somehow I'd driven a good fifty miles west without realizing it. So much for pitching my tent before dark!
After yelling a few choice curse words at the mighty waterway I decided to make the most of it. I had to pass through Memphis now anyhow and since I'd wanted to see Beale Street my entire adult life, why wait another night?!
A QUICK CASE OF THE MEMPHIS BLUES
If Beale Street could talk / If Beale Street could talk

Married men would have to take up their beds and walk

Except one or two / Who never drink booze

And the blind man on the corner who sings the Beale Street Blues
The lights of Memphis reflected off the river as I crossed the bridge from Arkansas.
Memphis had done an excellent job cleaning up its downtown and waterfront despite its rugged reputation (similar to Mississippi River brethren New Orleans & St. Louis), and the green shoreline shimmered beneath the moonlight as I climbed the hillside to downtown.
Because it was Monday night I parked right on Beale Street two blocks from where three cop cars stood sentry behind a blockade marking the entrance to the two block pedestrian music district. Although the barrier impeded these cruisers from springing forward into action the symbolic message was clear: We know where our bread is buttered so don't worry about the city's crime spilling over into our breadbasket. Despite the police presence, though, shadier elements were hovering in the nearby shadows.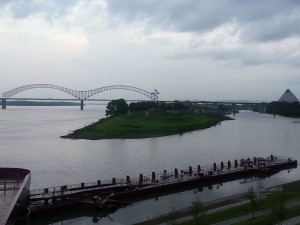 The moment I stepped out of my truck to lock up the camping gear and coolers in the bed I was approached by a panhandler. Despite a tendency to ignore such peddling, I made an exception hoping it would discourage him from breaking into my loaded vehicle! As soon as he stepped away a hooker stepped up, telling me in no uncertain terms how she'd like to welcome me to Memphis. I looked down at her eight-month pregnant belly and instantly caught a case of the Memphis blues.
CHASING THE PAST, TRACING THE FUTURE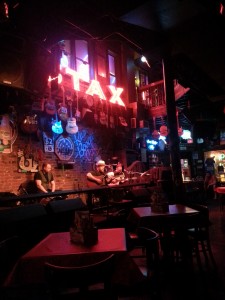 After declining to buy my pregnant lady friend a drink I walked down Beale Street soaking up the pulsing rhythms spilling from doorways flung open to the sultry summer night. The Monday night crowd was thin but the musicians were playing their hearts out, confident the crowds would return in a night or two to party through the weekend along this little slice of NOLA north.
Both the delighted and the detractors compare Beale Street to Bourbon, though in reality Beale is closer to Frenchmen; both are two block stretches of music clubs that have sprung up in the past decade or two (with a few restaurants sprinkled in), paying homage to musical traditions that stretch back a century. Whereas Beale Street is less seedy and obnoxious than Bourbon Street, it is more staged and less organic than Frenchmen, which sprung up incidentally like Beale Street did in its golden age.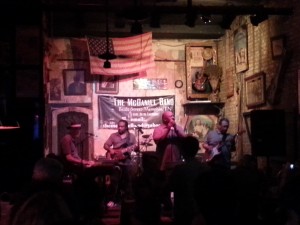 While the location is the same, these aren't the classic clubs that gave birth to the blues as workers from the Mississippi cotton fields migrated north to the closest city to spin their after hours soul-searching into a better way of life. Eventually the migration continued north to St. Louis and then Chicago where the blues went electric, but Memphis was the initial hub (via Clarksdale) where rural Mississippi tunesmiths gathered to showcase their new picking style, never guessing it would change music and culture around the world.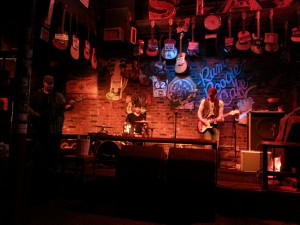 It is unfortunate that Beale Street's significance wasn't recognized earlier and preserved, but while some scoff at the modern Beale you can't reverse progress. Fortunately, the new clubs are well executed, ranging from the glitz of B.B. King's Club (and you can't get more authentic than Blues Boy King) to the rustic eclectic nostalgia of Rum Boogie Café with its two stages. It would have been nice to visit the same clubs W.C. Handy ('father of the blues') saw, but that ship has sailed. Fortunately, the music is still alive and the temples built to honor it mostly respect the heritage. Besides, we often forget that we are fascinated by historic old places because they were once the hot new places. It's nice to pay tribute to history, but let us remember that we're making a history of our own.
WALKING IN MEMPHIS
As I hopped from club to club soaking in the sound of dreamers who'd come hoping to be the next generation we look back upon I immediately connected with the magic of this mystical musical city that brought us Elvis and Johnny Cash and Otis Redding and B.B. King and Howling Wolf and Carl Perkins and Sam & Dave and many more (as I'd learn the next day.)
For a night, though, I was happy just to wander the streets with the words of a great Memphis song ringing in my head by a young musician with writer's block who'd come seeking inspiration…and instantly found it.
Put on my blue suede shoes and I boarded the plane

Touched down in the land of the delta blues

In the middle of the pouring rain

W.C. Handy won't you look down over me

Yeah, I got a first class ticket

But I'm as blue as a boy can be

Then I was walking in Memphis

I was walking with my feet ten feet off of Beale

I was walking in Memphis

But do I really feel the way I feel?