A TEMPERMENTAL TEMPTRESS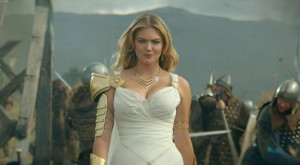 My last post explored the Top Ten Things I've Missed Since Leaving New Orleans, concluding with a promise to follow up with Ten Things I Don't Miss At All. As I compiled this second list, however, it quickly became apparent that it would be best delivered in two parts. I know that sounds bad, but it's not that I enjoy complaining but rather that it's much simpler to gush about the good times; the complications involve nuance and caveat that require more thoughtful deliberation.
Just as Mick Jagger and Keith Richards wouldn't be Rolling Stones without their wild and reckless tendencies, New Orleans wouldn't be New Orleans without its untamed nature; however, NOLA doesn't have so-called 'white people' problems (Starbucks messed up my double soy decaf sugar-free vanilla latte) or 'First World' problems (my boss flubbed the TPS reports and made me late for Taylor Swift) but deep-seeded struggles involving race, culture, decaying infrastructure, and environmental fragility.  Therefore, I don't want to be flippant and make it sound like everything would be fine if everyone would just stop drinking sazeracs at lunch and dancing in the streets.
I also decided to process this in chunks because it was emotionally taxing. I moved to New Orleans full of hope and optimism but found the transition tougher than expected. Initially I felt guilty writing about my struggles, but was surprised to find that people who lived or had lived in New Orleans responded most enthusiastically to these confessions. If you've spent significant time there you realize that the city is like a brash and beautiful woman who is as temperamental as she is tempting: she'll make you fall head over heels only to immediately begin testing your love. Nevertheless, I don't regret the move and want to recall my adventure in a mostly a positive light. That being said, New Orleans is inspiring and infuriating in equal measure, so here's Part 1 of my glimpse at the other side:
10) POTHOLE FOXHOLES
Comparing NOLA potholes to foxholes is no exaggeration. Several streets in my Uptown/Carrollton neighborhood had craters that spanned both lanes, were longer than my truck, and a couple of feet deep. This is particularly dangerous when they're obscured from view during frequent and sudden torrential downpours. NOLA is one of the few cities where it makes sense to own a 4WD truck (until it's time to park.) Then there's the post-Katrina Ninth Ward, which makes Uptown look like pristine open highway.
Complaining about road conditions is a favorite local pastime, and a few months before I moved an area media outlet even started a "Pimp My Pothole" contest to shame the city into action. It didn't work.  (Though it says something that you can fill the road with paraphernalia and drivers will drive around it while the city ignores it.)
I worked summers in college filling potholes for the WV State Road, so I dreamed up a fantasy for promoting the blog where (if I had the money) I'd buy a truck full of asphalt and travel around like some road repairing Johnny Appleseed. This fantasy always ended with me getting arrested for tampering with public property, for that is totally New Orleans: too inept to fix the problem but swift to thwart perceived intrusions on the malaise! (More on that later.)
9) THE UNSMART GRID
The layout of the roads in New Orleans is even more frustrating than their condition, though this largely can't be helped. New Orleans is an old city that organically expanded by incorporating the plantations or 'faubourgs' that radiated from the French Quarter like spokes. Having been founded at an odd angle on a river bend (i.e. The Crescent City), NOLA has a unique and peculiar geographic orientation that is largely (though not always) triangular. To get a sense of the street grid, visualize a Salvador Dali rendition of a Trivial Pursuit piece after it's been dissected and reassembled by Dr. Frankenstein. Even after a year I was often disoriented when two turns led me back from whence I came. This was particularly challenging when I was doing home health visits, for either Google Maps can't even figure out this mess or my GPS was trying to murder me, for I was constantly told in a calm, robotic voice to turn right off the top of a bridge or drive straight into a concrete highway barrier that inexplicably cut off a main artery.
It is only five miles from Carrollton (the western edge of the city) to the French Quarter, and all the dense neighborhoods therein would fit into one sprawling Jacksonville gated community. Jax is the largest city in the nation by acreage, and the local joke is that no matter where you're heading (even to the kitchen for a beer) it will be twenty miles and thirty minutes away. In New Orleans, I quickly realized every destination was two miles and yet still thirty minutes away.
Like I said, some of this in unavoidable and part of the city's history and charm. But some of it is just typical local lack of planning. Through-ways are suddenly cut off by poorly placed barriers, the main arteries suddenly shift to another road several blocks away without warning or signage, and some one-way streets suddenly switch direction only to switch back to the original direction four or five blocks later. Seriously. WTF?!?
8) DIRT & DIN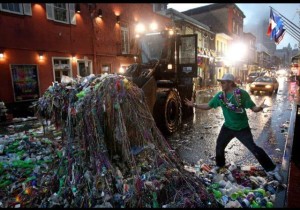 Because it was built on a swamp, New Orleans has always struggled with dirt and disease. Fortunately, Yellow Jack no longer makes its annual summer visits but that veneer of dirt is still omnipresent. It's weird, because it's a beautiful city and I don't know if I'd want a sanitized New Orleans, but there was more dirt and pollution in the air than anywhere I've ever lived. Even in the house, the furniture gets covered with a thick layer of gray every couple of days, like living in a West Virginia mining town where black dust rains down daily. I'm not enough of a clean freak for it to consciously bother me too much, but I could feel myself relax a little when I escaped to cleaner pastures. In fact, this is so prevalent that while I volunteering with a native during Jazz Fest last year, she admitted she was disgusted visiting her grandparents in 'clean' Tampa. "The roads are all clean, and orderly, and planted with flowers," she said with wrinkled nose and no trace of irony.
The noise, though, was a very conscious irritant. Because summer heat was a concern and most buildings were constructed before the invention of A/C insulation wasn't a concern. On the other hand, space was a premium so these non-insulated homes were built close together. In the first room I rented near Freret Street it sounded like I was sharing a bedroom with my neighbors. I could hear everything, and they weren't the most attractive couple so those were mental images I could have lived without. Then I moved to the French Quarter, which was actually relatively quiet at night because the walls were thick and my room backed up to the Convent.  But two or three times a night something loud enough to penetrate those walls roll through, scaring the crap out of me, and when outside my room the Quarter was, as you can guess, always rocking. I knew this going in, but had to regularly bike to City Park for some tranquility.
Even in my third home in a sleepy Uptown neighborhood, if the neighbors decided to have friends over late to hang on the patio it sounded like they were sipping drinks and laughing at the foot of my bed. New Orleans is a city of music and parties, and that's awesome when you're feeling spry and lively. Not so much when you need to recuperate.
7) ALL THIS WATER & NOTHING TO SEA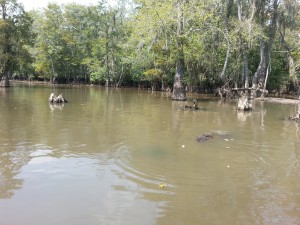 I may have a Creole soul, but my heart belongs to the ocean. New Orleans was built on a swamp so there's water everywhere and its very existence hinges on its proximity to the sea, but it still felt a long way from open water. Even though there were beaches nearby in Biloxi or Pascagoula, I don't 'feel' the coast until crossing into Florida at Pensacola.
New Orleans is the most visually alluring city in the U.S. and I never tire of gazing at its architectural brilliance. But, for my tastes, Mother Nature hardly did her best work deep in the delta. Yes, there is a certain beauty in the bayous, but it is a harsh and foreboding aesthetic. There is a reason the fugitive French Acadians who weren't welcomed anywhere else south of Nova Scotia stopped when they reached this swampland (eventually becoming 'Cajuns'): No one else wanted it.
I'm sure this will be greeted by some with incredulity, for I know people who believe that exploring these molasses streams on an airboat armed with rod or rifle is damn near paradise. It's just not my version of it. When I drive back to the green rolling mountains of West Virginia and Virginia my demeanor changes and my soul cries, "I'm home." Paradoxically, when I return to the saline shores and swaying sawgrass marshes of North Florida I sigh and again think, "I'm home." But though I always feel a thrill at the sight of the New Orleans skyline, I never lose myself in the surrounding swamps.
6) CAJUN CLAUSTROPHOPIA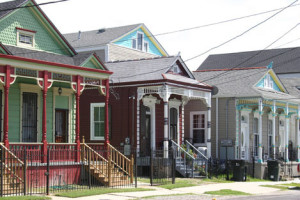 Again, this is a matter of preference and temperament. New Orleans is a very European city, which means it is close quartered and cramped. I grew up in rural West Virginia yet have gradually migrated to increasingly urban locales. I may have hit my ceiling in New Orleans.
New Orleans is small in both population and acreage, but it is densely settled and built to the smaller dimensions of days gone by. Granted, high ceilings were a must to trap the summer heat, but overall I always felt 'enclosed.' I loved basking in history and culture all so compactly presented, but felt the need to escape town at least once of month, experiencing a sense of relief like slipping off that Easter outfit you were so proud to squeeze into. I always felt a rush upon returning to the energy and proxmimity, but I always needed that break as well.
Well, that wasn't too bad, but the biggies are yet to come!
To be continued…
NEXT ARTICLE