THE CALM AFTER THE STORM
I awoke around 4 a.m. the morning after Morpheus with a throbbing headache and downed some aspirin and a quart of coconut water. A few hours later I stirred again feeling exponentially better, but still far from well. It was my first serious over-indulgence since last Mardi Gras, and though a pretty good stretch I still cursed at myself. It was Valentine's Day and I was in New Orleans. I didn't have time to nurse a hangover.
At the nearby Ruby Slipper we were warned of an hour wait at it neared 11:00. As noon approached, the hostess informed me there were still 22 parties ahead of us, so we wandered a few blocks to Canal for an overpriced but tasty and desperately needed lunch at Palace Café, a Brennan family restaurant.
Aimee was also feeling a bit drained after a full Friday, so with little vigor we perused the shops on Royal and Decatur before catching a bit of Iris (an all female krewe that handed me one of the best medallions of the season) and Tucks (an irreverent krewe throwing toilet paper, giant 'Blow Me' whistles, sunglasses with flaps, beer barrel beer koozies, and other silly novelties bearing their name). It was a lovely afternoon and I enjoyed reversing roles to spectator, but by late afternoon we retired to the hotel to nap and read in the tropical courtyard, venturing out only for a quiet Valentine's dinner at Cochon Butcher and a handful of Endymion floats—the first Super Krewe of the weekend—before calling it an early night
FROM PERRY MASON TO PALMOLIVE & PANCAKES
Sunday morning I awoke reenergized, so we finally made our way Uptown to Slim Goodies. As I eagerly awaited my Creole Slammer (hash browns and eggs smothered in etouffee) and Aimee her pancakes (one pumpkin, one banana), I asked if Gideon was working. Soon a jolly, portly yet quietly dignified man appeared to exuberantly greet me.
A walking library who has read seemingly everything in print, Gideon is another book club friend, and his story is a fascinating one I would love to tell in detail someday. Basically, though, he had been a successful New Orleans attorney, and he still exudes that dignified comportment of a prototypical aging southern lawyer. During Katrina, however, his office flooded, and like many he found himself dazed and traumatized as he struggled to rebuild his life. One day, he once confided, he found he simply couldn't return. Literally. He physically couldn't make himself walk through the door to his office. So he never did again.
Past middle age and suddenly unemployed and drifting, one day he saw a 'Help Wanted' sign in the window of Slim Goodies. The bewildered owner gently informed him all she had was a dishwasher position, but Gideon assured her if she gave him a chance he'd be the best dishwasher she ever hired. Cheerful and determined, he set about proving it, working his way up to line cook where he contributed the etouffee recipe that makes the Creole Slammer so delectable, and eventually taking over as manager.
From Perry Mason to dishwashing manager of a greasy Uptown diner. This type of quirky and unexpected second act is typical of what makes New Orleans a constant surprise.
A SECOND QUIRKY SECOND ACT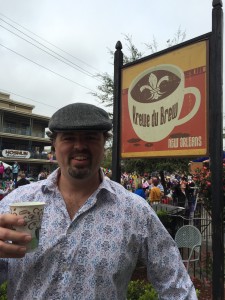 From my favorite breakfast dive we headed to my favorite coffee shop, Krewe du Brew, to watch the day's parades. While living in town I'd spent countless hours writing in this stately St. Charles mansion-turned-java joint, befriending owners Eugene and Adrian who were living their own quirky second act. Eugene had been an IT tech geek but somehow talked his wife Adrian, alumni director at Dillard University, into opening a coffee shop. Three years later and they are still going strong and soon to be featured on CNN.
As Aimee and I ordered King Cake lattes, I gave Eugene the Morpheus medallion I'd saved when he hadn't appeared last night while continuing my efforts to talk this Star Wars fanatic into handing over the reigns of the shop for a night next year so he could march in Chewbacchus. For Adrian, I'd reserved my last embroidered black cat. I wrote earlier of how nice it is when someone truly appreciates a throw, and Adrian's eyes lit up as she perched the cat on her shoulder where I spotted her stroking it throughout the day. It was nice to know it had found a happy home!
UNREQUITED SHOE FETISHES & TEENAGE ATTENTION SPANS
The day's first parade, Okeanos, was a lackluster affair, so after a few floats I wandered a mile Uptown where Chewbacchus friends were gathering, leaving Aimee curled up with book and latte. As I arrived, this hardcore cosplaying (cosplay=nerd slang for costume play) crowd was still getting dressed. After a quick hello to Chrissy, Galactic's road manager who I'd seen a few weeks prior in Jacksonville, and Carson, who had popped up the night before, I asked Danielle where she'd been after messaging last night that she was waiting on Canal. After explaining that inebriated friends had dragged her away under protest, the conversation turned to Muses. A hand-decorated shoe from this sarcastic female krewe is one of the prize catches of Carnival, but after eleven year of witty signs and elaborate costumes (and this girl can cosplay!), Danielle had again been passed over. Since Muses rolls the night before Morpheus, I joked we should throw hand decorated house slippers and advertise: "Didn't get a shoe? Come get a slipper!" as I handed her my last Morpheus medallion. Who needs a shoe when you can have a token from the God of Dreams?!
I soon had to rush back, though, to concentrate on Krewe of Mid-City. Though this was another stingy, lackluster procession my PT friend, Kim, with whom I'd flip-flopped supervisory roles after moving back, had a son marching ROTC in the parade and I'd promised to take photographs.  She was thrilled to have someone in town, though said she understood if I couldn't get a good view. Oh ye of little faith!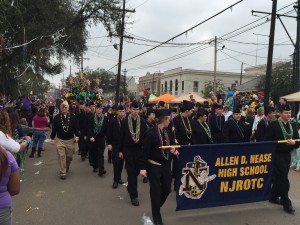 She'd also mentioned it to Zach, but in typical teenage fashion he'd apparently paid little attention, for when I rushed out onto St. Charles Avenue yelling and waving like a maniac he looked utterly shocked. Suddenly his eyes lit up: "OMG, it's you," as though he had never entertained the possibility of knowing someone. As he faded out of sight with a wave, I texted the photos along with a few others to set the scene. Kim responded with delight, shocked that I'd been able to walk right up to him "It felt just like I was there." I didn't bother responding that it's hard to truly appreciate the pulse and energy of Mardi Gras without actually attending.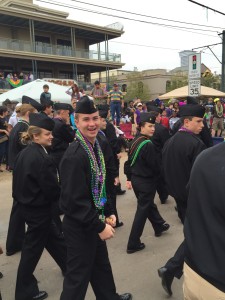 I would have liked to have caught them a Krewe of Mid-City souvenir, though, but did I mention the stingy throwers?!
GRACIOUS GESTURES & PERFECT PERCHES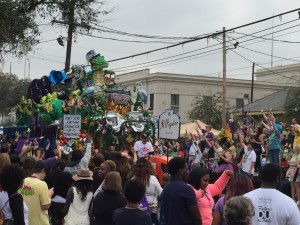 Thoth, one of my favorite parades, was up next. Before finding Morpheus I'd made my strongest push to join Thoth. Not only do they seem to have a blast and be generous throwers, but they are the only krewe that rolls by the nursing homes and Children's Hospital tucked away near Audubon Park. It is a gracious gesture. (Thus, I was glad upon joining Morpheus to learn of their similarly gracious Make-A-Wish float.)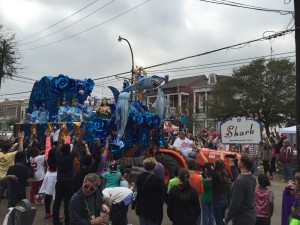 Thoth is every bit as big and generous as the three 'Super Krewes,' and the floats were spectacular as always. Over the next few hours (a long parade further lengthened by a breakdown) we made friends with a local couple (making friends with folks at a parade you'll never seen again is a seldom mentioned but vital Mardi Gras tradition!) as we caught beads at a frenzied pace, pausing to take a few choice throws in to Eugene and Adrian. When Thoth finally faded I headed back up the road to a Chewbacchus house party, but by then Aimee and I were starving so we headed to the St. Charles Tavern to await Bacchus.
I had passed this Central City dive countless times before dropping in after a late night in the French Quarter (being open 24 hours was it's main attribute per Yelp! reviews.) Their red beans, though, turned out to be pretty good (if often lukewarm) and came with a giant filet of perhaps the most moist, buttery catfish I have ever eaten. Last year, we had returned here to escape the cold and watch Proteus. We'd caught plenty of beads, and Proteus is known more for its floats than throws, so our cozy window vestibule perch was a highlight of 2014.
LONE PIRATE ON THE PROWL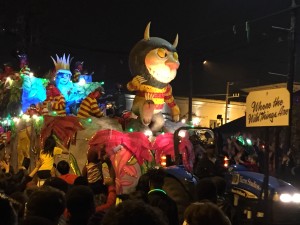 Bacchus, with its bright lights and cheery God of Grapes, is—in my opinion—the best visual feast of Mardi Gras . The oldest of the three Super Krewes, they are also generous throwers, so with satisfied bellies we returned after about a third of the parade passed to rejoin our new friends and marvel at the whirl of light and color up close. It had been nearly twelve hours since we'd left the hotel, though, so the beauty of Bacchus only held sway so long.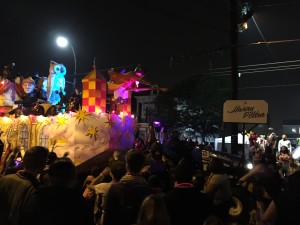 As we made the half hour trek back to the hotel (there had been no parking anywhere upon returning from Slim's) I hopped on Facebook to recruit a software developer and NSA employee with spy satellites access to build a Mardi Gras parking app since someone had already beat me to the punch for places to pee!
Back in the room, were able to watch Bacchus finish rolling into the convention center across the road. This third unique perspective of the evening was a subtle thrill, but it was also a bittersweet ending; I was staying through Fat Tuesday and flying out that night, but Aimee was leaving in the morning. I'd arrived in town for Mardi Gras 2013 a stranger and wandered the streets alone. Although I intended to rendezvous with friends I'd made since, tomorrow I would once again be that lone pirate on the prowl.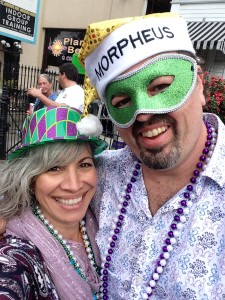 NEXT ARTICLE