MOTEL IN MEMPHIS
Where you there when the man from Atlanta was murdered in Memphis?

Did you see him laying at the Lorraine Motel?

Did you hear them say that the CIA is witness

To the murder of a man at motel in Memphis

Motel in Memphis, Motel in Memphis

Run and tell somebody there's blood on the riverside

Oh, muddy water / Roll into Memphis

If you were there you would swear it was more than a man who died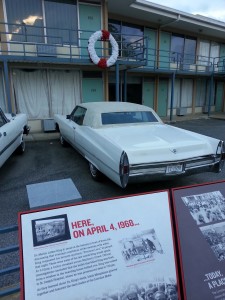 The wispy summer sky was turning a dark purple and a gentle breeze was blowing off the Mississippi as I strolled east through a decaying stretch of downtown. My soul was still buoyant from its dip in the fountains of Memphis music history but was slowing waxing with a melancholy tide. I was nearing the American Civil Rights Museum at the Lorraine Motel where on April 4, 1968 a great man was gunned down for the crime of demanding human dignity. Although it was after hours I felt compelled to pay my respects, particularly after hearing the recorded testimonials at Stax Records—whose artists often stayed at the Lorraine—of the stark and immediate repercussions of this hateful day.
The song "Motel In Memphis" by Old Crow Medicine Show was on endless loop in my head as I approached, the Stax Museum having provided affirmation of the song's claim "it was more than a man who died." As I write these words several weeks after my visit, racial tension is spilling over in Ferguson, Missouri outside of St. Louis where I had just left.
Regardless of what we learn about the incident at the core of this turmoil, such frustration doesn't boil over without antecedent. Yet where is a Martin Luther King, Jr. to channel violent backlash into peaceful and effective protest? Nearly fifty years later his shoes have yet to be filled—his dream of a post-racial America still not fully realized. A black man is no more likely than a white man to use drugs, but is ten times more likely to go to jail for it, and we jail more citizens (not per capita–literally more) than China with its repressive government and population topping a billion. Our for-profit prison system has become the new Jim Crow.
More than a man, indeed.
PRIDE (IN THE NAME OF LOVE)
Early morning, April 4

A shot rings out in the Memphis sky

Free at last, they took your life

They could not take your pride

In the name of love

One more in the name of love
The scene outside the Lorraine Motel is frozen to April 4, 1968, including the same model cars that were in the parking lot that evening (not morning).  The lobby, though, has been converted into the National Civil Rights Museum and a huge brick extension sits across the road in place of the dilapidated building where the assassin hid.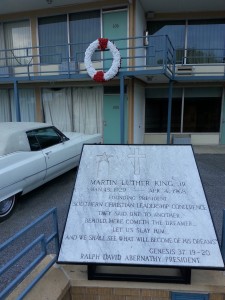 As I stood outside room 306–a reef on the door just like the one placed April 5th–my eyes welled up and a lump rose in my throat. I'd spent the day luxuriating in the heights our people can soar when white and black harmoniously collaborate—the sublime emerging from subjugation. Yet here lay a stark reminder of the unseemly flip side—a nation's deepest shame played out upon the same soil that gave birth to so much splendor.
I don't necessarily buy into the concept of white guilt, but suddenly felt embarrassed standing amidst black families who had come to pay tribute, as though I were intruding. Part of me wanted to apologize for every idiotic thing ever done in the name of racial hate, though I knew that would be patronizing (and just plain awkward!) Besides, King's dream was of peaceful coexistence.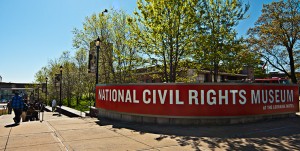 The U2 song "Pride (In The Name Of Love)" now dominated my thoughts, and I choked on the line "They took your life, they could not take your pride." King had come to town in support of a sanitation workers strike and was gunned for standing up for basic human dignity. It boggles the mind how a man of love could inspire so much hate. He was aware of the threats on his life, but would not be bullied or marginalized. So they took his life.
They could not take his pride.
FROM UNBEARABLE PAIN, TRANSCENDENT BEAUTY
I was unprepared for how deeply that moment outside a motel in Memphis would affect me through mere proximity. As I walked back to Beale Street along the Memphis shoreline a gentle rain began to fall. It felt as though God himself were mourning our capacity to wrench pain and discord from an already indifferent universe.
The next morning I packed my soggy camping gear and headed south down legendary Highway 61 which cuts through the Mississippi cotton fields where slaves once coped with backbreaking labor (their compessation: degradation, humiliation, brutality, rape, and death) through the only means available—music. From these fields of nightmare emerged America's one indigenous art form and greatest cultural gift to the world: the blues/jazz/rock-n-roll continuum. How ironic that from unbearable pain came such transcendent beauty.
NEXT ARTICLE