BIG MUDDY PEEK-A-BOO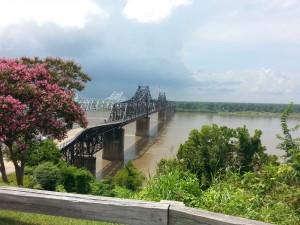 As I headed south on Highway 61 out of Vicksburg the Mississippi River reappeared, glistening in the late afternoon sun through a frame of pink flowering shrubs. It was a stirring sight, but the road soon turned inland so I hopped on the Natchez-Trace Parkway hoping for even a faint echo of the magnificent Blue Ridge Parkway. Instead, a monotonous sentry of towering pines dominated the flat landscape.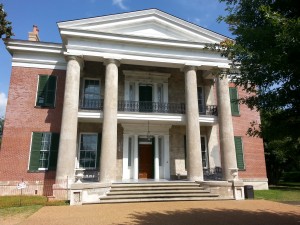 I arrived in Natchez at 4:00 and made an unplanned stop at a historic park on the outskirts of town. It too was not quite noteworthy—a plantation home of dubious beauty, preservation, or significance. I declined to pay for the final ranger's tour of the day and instead briskly walked the overgrown 'gardens' before heading into town seeking a smaller version of Vicksburg.
(UN)EPIC EPILOGUE
Whereas Vicksburg rose from the river on a steep but sloping hill, Natchez was perched atop a plummeting bluff that provided dramatic views of the Mississippi. A small park along the cliff formed a lovely centerpiece to town, but there was little else to see in this tiny river community.
Natchez once was a thriving riverboat stop between Vicksburg and New Orleans segregated into two distinct sectors. Atop the bluff set 'Natchez On The Hill' where wealthy, God-fearing merchants and plantation owners stood removed (at least outwardly) from sin and vice. Along the narrow strip of land at the bottom of the cliff lay 'Natchez Under The Hill,' a bustling and rowdy wharf lined with bars, gambling dens, and whorehouses. Multiple attempts from on high to tame Natchez Under The Hill had failed during its frontier days, but now the entire town appears sleepy and reserved—tamed by the sands of time.
It was brutally hot, so after walking down to the river I spread my tent out (I'd left it out overnight to dry but it had rained again) and fled into the lone public establishment within sight for a drink and bite to eat.  The food and atmosphere were pleasant if unremarkable. I relished the chance to jot down some thoughts and reflections but found little other reason to linger.
As I drove out of town, however, I passed a sign pointing to Natchez Under the Hill. Kicking myself for missing a chance to hang out there instead, I drove down the bluff only to find a couple of empty bars and cheesy t-shirt shops.  My disappointment quickly waned, though I did feel a growing melancholy. This was the last stop of my epic journey.
FROM SHACKS & STRIP MALLS TO SILT & RECECDING SOIL
Dusk fell as I crossed into Louisiana and passed a steady line of strip malls and country shacks that lead into Baton Rouge. (While New Orleans is a cultural jewel, you'll never hear many folks raving about the rural Louisiana landscape!) As for Baton Rouge, I'd visited friends who teach at LSU throughout My Year of Mardi Gras and felt little need to return–they were all out of town and beyond the university and a few government buildings deserted on evenings and weekends there was little to see.
I-10 between NOLA and Baton Rouge cuts through large, unpopulated stretches of river and marsh, and as I drove over the receding silt and soil on an endless succession of bridges I reflected on my journey. I had started thousands of miles away at the river's meager trickle from Lake Itasca and traversed the heart of the country witnessing spectacular changes both geographically and culturally.  Though my journey ended as the lights of the Crescent City rose to embrace me, the river itself meandered on another hundred miles to the Gulf of Mexico. (And I'd already documented this final stretch on a frigid February day.)
VINI VIDI VICI
I had been invited to crash at the home of a writer friend, and it was past 9:00 when I arrived.  She was in the throes of revision and I was exhausted, so after minimal obligatory small talk I crawled into bed and sunk into restless sleep, overwhelmed by a swirl of emotions.  Over the past year and a half I'd seen and done so much, yet now it was all over.  There were no more dreams of grandeur, no more tricks to try.  Tomorrow I'd quietly pack up and head back to Florida without stirring a wrinkle on the surface of this deep cultural pond. I came. I saw. I hadn't conquered. Not by a long shot.
The next morning I awoke early with little time to say goodbye (for now) to the city that had lured me and captivated my imagination yet never quite felt like home. After a farewell breakfast at Slim Goodies, I picked up a U-Haul trailer, hurriedly loaded my belongings in storage, and set out the nine-hour drive back to Jacksonville where I would recoup, regroup, and decide how to move on from My Year+ of Mardi Gras. I had hoped to launch at least a part-time writing career in New Orleans, but continued to struggle to grow an audience or figure out how to turn warm, fluffy sentiment into cold hard cash.  Deep down I know I'll type away until the day I day, yet part of my feared I was giving up. I was desperate for closure a sign of some sort, so was grateful when the universe offered a sly wink.
During my farewell trip along the Mississippi my favorite destination and fondest memory had been Hannibal, Missouri—home of literary hero Mark Twain. To my surprise and delight the U-Haul trailer I was assigned boasted a picture of a leaping frog illustrating Twain's most famous short story: "The Celebrated Jumping Frog of Calaveras County." Every U-Haul illustrates a different location, yet out of thousands of American destinations I'd drawn Mark Twain's hometown.
Perhaps it was just coincidence, but maybe—just maybe—the universe was giving me a little nudge to keep on hauling….
NEXT ARTICLE