ON WITH (AND INTO) THE SHOW!
With the start of parading season, the stretch run to Mardi Gras is underway and the whole town is hopping, making social scheduling nearly impossible as everyone adds last-minute touches to their costumes, picks up throws, and completes contraptions and/or shuffles them around town for repair and delivery.
Wait. That's me!
Which makes me officially part of the local insanity. And into this maelstrom flew my oldest brother, Jerry who, by the end of his first night in town, was already part of the show!
A GRAMMY FOR FRIED CHICKEN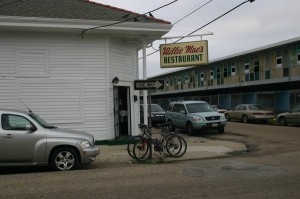 Jerry landed in New Orleans with a blossoming cold so my plan to rush him to Liuzza's by the Track for a Barbecue Shrimp Po-Boy before the free NOLA Brewing tour was squashed. Instead, we headed home so he could lie down before heading to Willie Mae's Scotch House, as comfort food sounded more in order than spicy seafood! Willie Mae's has been voted [Read more…]