ALL-AMERICAN TOWNS & THE NOT-YET-MIGHTY MISSISSIPPI
The shores of the Mississippi River straightened out south of Brainerd, and as I approached a string of pleasant small towns hugging its banks I realized I wasn't going to reach Iowa before dark—not even close. As the sun dipped towards the western horizon I felt the stress of my own expectations; tomorrow would mark a full week in Minnesota, the first of ten states bordering the river. I'd built some flexibility into my trip but not enough to spend two months meandering back to New Orleans!
Despite my stress, I wanted to see as much as humanly possible so around 4 o'clock pulled into the small waterfront park at Little Falls—the next significant small town after Brainerd—to stretch my legs and snap a few pictures of the dam built upon its namesake. It seems ever town in Minnesota maintains such a pastoral park curled up against the river, and in the glistening later afternoon sunlight teens idly lounged about on summer break while cubicle bound professionals paused on their way home for a moment in the sun. Unfortunately, I didn't have long to linger, wanting to get as close to the border as possible before nightfall.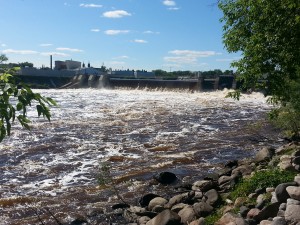 I only made it an hour and two towns closer, however, (skipping industrial St. Cloud) before stopping again. Mike and Kelly Chase, friends from my Krewe of Rocckus adventure that kicked off this blog, had invited me to [Read more…]