LIKE MARINES KEEPING ALOFT A FALLING FLAG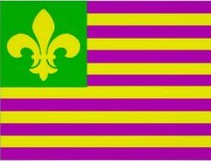 Now that Mardi Gras prep is in full swing I had plenty to document this past week such as Set Your Phasers to Stunning, the Chewbacchus fashion/talent show and all out nerd blitzkrieg, as well as shopping at Plush Appeal for Morpheus throws. Alas, that insanely pervasive arctic blast had other plans. Have no fear, for this is New Orleans. Though your plans made fade quicker than NOLA city services in sub-freezing temperatures, some new and unexpected weirdness will rise up to take its place like Marines keeping aloft a falling flag.
Disclaimer: I am about to take the piss with NOLA natives and long-time residents for their freak out over a little almost ice, but considering the relish with which they gleefully correct newcomers for pronouncing Burgundy like the wine (uh, it's bur-GUN-dee) and Calliope like the Greek god (it's cow-LEE-ope, duh), a little turn-about is fair play!
A NEW WHO IN DR. WHOVILLE
As fate would have it, my next older of two brothers flew into town this week (my oldest is coming for Krewe du Vieux weekend) to escape the frigid temperatures and licorice smelling chemical water back in West Virginia where we were raised. Sadly for him the cold weather followed on his heels and as for the water, well, despite a lack of recent known chemical spills I'm not about to vouch for the water supply in a city infamous for issuing boil advisories hours or even days after the fact.
The weather already began running interference before he arrived, and his Saturday afternoon flight was delayed until during Set Your Phasers to Stunning. This was particularly disappointing since, whereas I grew up the quiet sci-fi geek, Kevin (after a rocky start) blossomed into Mr. Popularity by high school and was the athletic partier in the family. Suffice it to say that Kevin wouldn't know Dr. Who from a Who in Whoville; thus I was looking forward to his reaction to a pageant of cross-gender Doctors rocking hula hoops, thundering and blundering speeches by frumpy Thors, and hip-hop Chewbaccas doing dance routines. Oh, but other weirdness awaited.
SHE-WOOKIE ANATOMY & LAST LAUGHS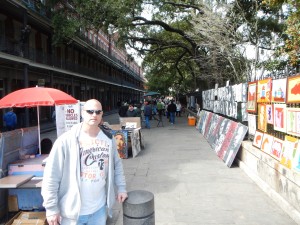 Between Saturday night and Monday afternoon I introduced my NOLA virgin brother to many of the staples for first time visitors: red beans at Camellia Grill, a Ferdi's Special at Mother's, a muffaletta from Central Grocery, a Big Ass Beer on Bourbon, some cheap trinkets from the French Market, a ride down St. Charles. We also squeezed in a few firsts for me such as a Pelicans game and happy hour at Landry's overlooking Lake Pontchartrain (he wanted to see boats). We fit in a lot in a short time but had to be home Monday night because I was hosting a K.R.A.P. craft night. This gathering had been rescheduled from Friday because everyone else was suffering from some sort of creeping crud (and somehow, despite not showing up, they still managed to give it to me!) but seeing as we'd missed Set Your Phasers to Stunning, I was now glad that it fell during my brother's visit.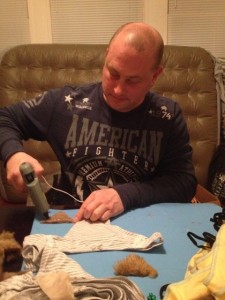 At first Kevin was a little skittish, hiding in the kitchen where I was simmering red beans and gumbo for the gang, but we soon coaxed him into the dining and had him assemble Wookie merkin panties. (I know my brother and what holds his attention!) Although I had to explain merkins to him three times he was quite amused at the whole affair, and soon the engineer in him emerged and he began fretting over correct placement of the furry patches. "It doesn't matter!" the K.R.A.P.ateers jeered. "We're throwing them to strangers we'll never see again." Besides, how do you know a she-Wookie's anatomy isn't irregular?!
THE QUIET CONFIDENCE OF COMPETENT CITY SERVICES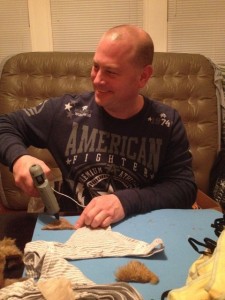 As we all worked at different tasks news of record cold and potential ice dominated the conversation. The temperature was just starting to drop yet schools and city government had already been shut down the next day. Radio personalities warned that ice could form on roads and sidewalks so only leave the house if absolute necessary.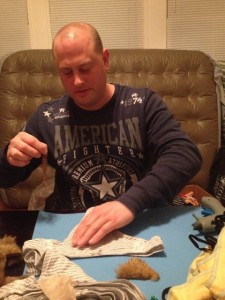 As she screen printed bandoliers, Chrissy mused that northerners must be having the last laugh at New Orleansians who'd scoffed at their disorganized and panicked hurricane prep. Not that chatter from official channels was helping. Per Rachel, Entergy had already declared we'd probably lose power citywide and it would take them days for them to restore it. So much for instilling confidence.
MAJOR UPROAR OVER MODERATE WEATHER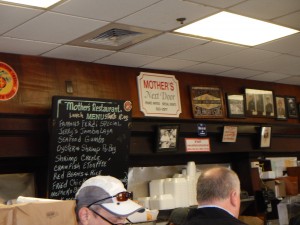 Tuesday morning as we drank coffee the temperature still hadn't dropped to freezing though it was falling fast. We decided to walk to Camellia Grill for a late breakfast but as we donned our coats a frigid rain began to fall. I grew up in the snow and have a 4WD if needed, so hit the road. It was fine but eerily still. At the Camellia Grill, instead of a line out the door there were only a handful of patrons and the normally lively staff seemed miffed at our arrival. They declared they were closing soon, though a few more customers trickled in after us and we managed to coax a delicious if subdued breakfast out of them.
Afterwards we drove down Magazine Street where everything was shut despite the fact that not a hint of ice had yet formed. Kevin wanted to see the casino so, despite the fact that I'm not much of a gambler I figured it would be warm and, more importantly, open. Downtown we parked just a few blocks away from Harrah's though it felt further with a damp wind now cutting through our coats. Inside the afternoon crowd was sparse and conversation was all about the weather. The bartender at the video poker bar where we eventually settled was fretting over getting home while the tourist from Maryland beside us who taught my brother to play Jacks & Better was as amused as we were about the panic over temperatures in the 20s and 30s with a chance of ice. This would be moderate winter weather back north, and you'd have to shut everything down north of the Mason Dixon line from November to April in this case. Yes, I realize they don't have salt trucks down here, but there wasn't even yet ice on the roads. Still, if the roads did get slick I wouldn't want to be driving past people who don't know how to drive on slick roads!
WHEN A DOLLAR IS WORTH MORE THAN A DOLLAR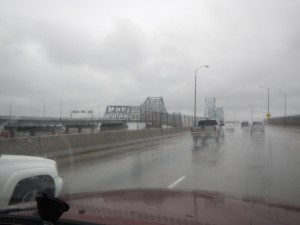 Upon arrival Kevin had been lured in by a Blackjack machine run by an animated woman with big boobs and a tight bustier (apparently the casino knows my brother too!) He'd walked away with a $2.50 credit that he kept alive at the video poker table for a couple of hours, scoring free drinks a long the way. Being a book nerd apathetic to the lures of gambling, I downloaded a free Kindle book of David Copperfield on my phone and read until out two hour meter ran out. Despite the city being shut down I was paranoid that meter maids would be the one exception but when I went outside I was stopped by heavy, frigid rain.  Any meter maid who would brave that deserved to snag a violator.
When I returned Kevin, tired of me watching, fed five dollars into my machine. I do enjoy cards—just not giving away my money—so the stakes were low enough for me to relax. After an hour and a half and three free drinks I cashed out at $10, gave Kevin back his five, tipped four to the bartenders, and walked away with $1. It was hardly a fortune, but anytime you go out drinking and leave with a dollar more than when you came it's a win.
GLACEE GRAS GHOST TOWN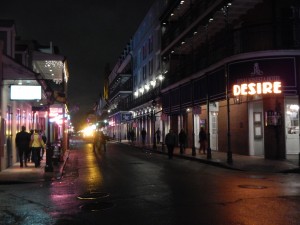 It was almost 5:30 when we left and the rain had stopped, but the wind was vicious. We tried to walk to Bourbon Street, just a few blocks away, but the bitter cold turned us back to the truck. Nearby Domenica, the Italian restaurant run by famous NOLA chef John Besh, was one of the few places open so we rushed over to try and catch their famous happy hour that ended as six. As we ordered a round of drinks, though, the bartender let us know, none too politely, that there was no room at the inn if we wanted food. That's fine. There's no room in my wallet for a tip, either.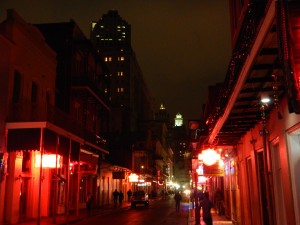 Instead we walked over to Bourbon Street only to be greeted by the unprecedented sight of an empty street. Even this summer during the slowest season when l lived around the corner there was always something happening—a few drunk tourists wandering from bar to bar and a lone loser trying to toss beads from a balcony they'd overpaid to access. This Tuesday night, however, for Glacee Gras (Icy Tuesday) the streets were deserted except for the reflection of neon glistening off wet black asphalt.
ANOTHER HISTORIC FIRST ON BOURBON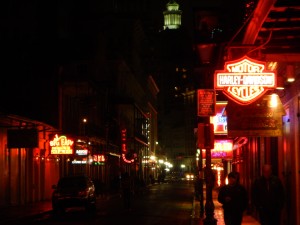 Food was the first priority, but our only options on or near Bourbon Street were Bourbon House—too expensive and upscale; Desire Oyster Bar—packed to the rafters; the Erin Rose—Kevin thinks po-boys have too much bread; a touristy Cajun seafood joint—been there, done that; or the one and only pizza and daiquiri shop open. I tried to steer Kevin away from this last option—Bourbon Street pizza is only intended to be consumed following 3 hurricane, 2 hand grenades, and a more beers than you can remember. When he declared it the worst pizza he'd ever had I thought back to going to Denny's for breakfast one morning and realizing why you usually end up at such places at 3 a.m.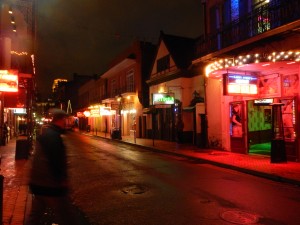 At least 90% of the French Quarter was shut down but there were a few music clubs and, ahem, gentlemanly establishments, open. We chose the most happening bar and settled in as Kevin declared us Kings of Bourbon Street. Kevin is always the life of the party and a master of recruiting whoever's close into his social circle so he went to work befriending the modest crowd that had braved the weather, including a Texan in ten-gallon hat who offered him a job. I played along for a while, but the crowd, the music, and the twirling carnival of a Bourbon Street soon grew monotonous so I pulled my out my phone and returned to David Copperfield. I'm pretty certain I'm the only person in history to sit in a Bourbon Street bar reading Charles Dickens on their phone, but when my battery faded so did my mood. Still, Kevin was having the time of his life and talked me down with declarations of a once in a lifetime opportunity to hang like this every time I attempted to leave.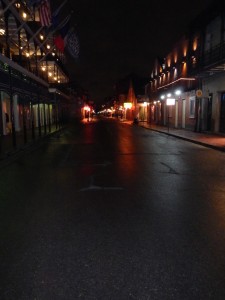 Finally after midnight and six hours in a smoky Bourbon Street dive I put my foot down. As we walked back to the truck, the few open clubs were still humming but the streets were empty…and free of ice. There were a few slick patches on the sidewalk, but we managed to navigate this icy minefield and survive Glacee Gras: The Almost Ice Storm of 2014.