WHAT THE DEL?!? (UNEXPECTED INSPIRATION)
I never intended to fall silent for so long. After sharing my second ride with Morpheus and my adventures the following weekend, I didn't even document Fat Tuesday itself when I once again dressed in my purple, gold, & green pirate outfit and caught Zulu for the first time since my first Mardi Gras in 2000. (The costume worked: I scored 5 Zulu coconuts!) As I ground to this unexpected halt, I simply felt like Forrest Gump: That's all I gotta say about that.
Despite my blogging break, I have begun writing again, returning to a pre-teen mystery set in New Orleans that I began in the months before moving back. I'd contracted a major case of writer's block upon moving back to Florida, but recently a few kind strangers who stumbled upon the blog and downloaded Jeremiah's Scrapbook reached out and inspired me to keep plugging along. As I returned to my novel, I happily discovered that the plot that eluded began congealing in my subconscious during my hiatus; thus I've been stealing moments here and there (after declaring myself unable to write in such bursts) between working full-time again and attending every music festival in the southeast. Despite my return to fiction, however, I wondered if I'd ever return to the blog. I felt I had nothing left to say.
And then I found inspiration in the most unexpected place. It took a bluegrass, folk, and string festival in the mountains of western Maryland hosted by bluegrass legend Del McCoury to make me wax nostalgic for my first visit to New Orleans. What the Del?!?
AN ANCIENT CRY REKINDLES YOUTHFUL WONDER
My love affair with New Orleans began in 1998. I was living in Tallahassee when my then girlfriend, in grad school at Florida State, suggested we attend Jazz Fest. I'd never been to New Orleans but I love music and visiting new places, so of course I agreed. Still, I thought it was silly that she had friends who attended every year. What a waste of vacation!
Like many, I arrived not fully understand the diversity of the New Orleans Jazz & Heritage Festival. I loved jazz, but was surprised to discover 11 stages spread across the New Orleans Fairgrounds pulsating with classic and alternative rock, folk, jazz, blues, gospel, Cajun, zydeco, funk, and styles I didn't even know how to categorize. Although there were countless famous national acts, I gravitated to New Orleans jazz, brass, funk, and Cajun rock, lapping it up like a greedy toddler. How had no one ever told me about this joyous, vibrant and soulful music?!? If I weren't so elated I would have felt robbed. Where have you been all my life?!?
I left town with a fistful of CDs from the now-defunct Virgin Megastore by Jackson Square, returning in 1999 to discover bands that remain amongst my all-time favorites: Better Than Ezra, Rebirth Brass Band, Galactic, Kermit Ruffins, and Dirty Dozen Brass Band.
I've since attended countless times and become somewhat of a festival junkie. Yet, these days I attend more for acts I know and, often, have already seen. To an extent (R.I.P. B.B.) The Thrill Is Gone. It's not that I think any less of Jazz Fest. I'm just so well steeped in music that I stumble on few surprised. Even when I've tried to connect with the next generation of local bands such as Royal Teeth and Sweet Crude or national acts like My Morning Jacket or Arcade Fire I've been left cold. I was starting to feel a bit old.
And then a 76-year-old bluegrass picker sporting a dated snow-white pompadour with a voice as ancient high lonesome as the Appalachians that birthed these hillbilly blues helped me reconnect with such youthful wonder.
A PERFECT HILLBILLY DUST DEVIL
I stumbled on DelFest quite by accident. In 1999 I'd dragged my oldest brother to Jazz Fest over his protests that, "Horns make me nervous." Jerry's an engineer who calls me the 'artsy fartsy' one of the family, and though I had emulated his musical tastes growing up, I've since been the one exposing him to new sounds. Yet he was on board this current string and bluegrass revival from the start and turned me on to Old Crow Medicine Show several years ago, though my interest was slow to build.
Although I'd still listen to old country or bluegrass from time to time out of nostalgia, I long ago quit viewing the music of my birth home as a major part of my personality. Gradually, though, as rock and modern country continued to stagnate I began to appreciate the synergy of this roots and string movement that Jerry had been nudging me towards. Then I got caught in a perfect storm that blew me back to my roots.
It started just before Christmas when my country music loving father was diagnosed with an aggressive form of prostate cancer. As I stewed in apprehension awaiting further news I found myself listening to the old country music that he'd played when I was a child, slowly realizing how deeply it was woven into my DNA. About that time Aimee surprised me by buying Don Williams's tickets. I thought she was kidding at first, but she was giddy with excitement, explaining he was the first concert she'd ever attended. In January, as my father's procedure approached, this smooth country crooner's satin voice and easy demeanor proved to be the sonic cup of tea and a blanket my tattered soul needed. All the while I was really digging Old Crow Medicine Show, who around this time announced they were coming to St. Augustine. Suddenly I found myself basking in the Appalachian hillbilly music of my West Virginia home.
I DOUBLE DOG DEL YOU
When I checked OCMS's website I noticed that a week after St. Augustine they were playing a music festival in western Maryland. Jerry lives in the eastern MD, so I decided to look into this Memorial Day Weekend event. Although I hate to admit it, I knew little about the host, bluegrass legend Del McCoury, beyond his name, and Old Crow was the only band I really knew, but the pictures from past years looked fun, with its stages nestled snuggly between two mountains.
So I sent Jerry a link, doubting he'd give it a second look. I couldn't recall the last time we'd attended a concert together and it's been over a decade since his last Jazz Fest, so when he immediately responded: "Okay. Sounds good," I called to see if he was joking. (And asked again about 5 times over the next three months just to make sure!) It turns out his stepdaughter lives twenty minutes from the Cumberland Fairgrounds where DelFest is held, and he and his wife camp in the area several times a year to visit the grandkids. So to my surprise plans moved forward and last week I few to D.C, arriving–just like my first Jazz Fest–having little idea what was in store.
DEL WILL BE THERE…AND THERE'LL BE BANJOS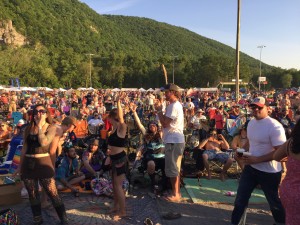 Although we encountered a ticketing snafu the opening Thursday afternoon (they turned us around after waiting in traffic and sent us to a college 20 minutes away for wrist bands—something that would have been nice to have been included in on the website or emails) our troubles immediately melted upon walking onto the grounds. Del McCoury was opening the festivities with his band, and we were immediately struck by his infectious laugh and easy-going demeanor. This narrow hollow between two looming green ridges was his living room and everyone felt welcome. And everyone was instant family.
Unlike Jazz Fest or any other music festival I've attended, DelFest was a small, intimate affair with three stages that never got too crowded. Whereas at Wanee Fest you are forced to camp far from the stages and trek back and forth, here you camp right on the fairgrounds. Although the main stage was cordoned off, people camped right by the Potomac Stage, and you could hear the main stage from the Del-uxe camping area.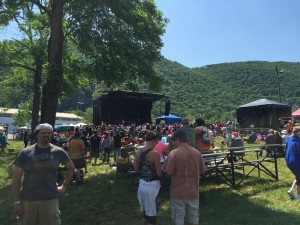 Each of the four days, Del took the stage and each day we came to love him more. Every musician he'd invited gushed about how honored they were and how welcoming Del had been. Many admitted they'd been coming long before being asked to play. The audience ranged from little kids to twenty-something hipsters to middle-aged fogies like us to vibrant and youthful retirees of Del's generation.
Friday morning as we walked around checking out the various camping areas, already planning for next year, we talked to a guy pushing thirty who gushed about what a great event this was. "My friends and I go to a lot of festivals, but this is the only one where we buy tickets before the lineup is even released." He grinned. "But we know Del will be here. And we know there'll be banjos." He shook his head as if there were nothing more to say.
ROCK STAR IN BLUEGRASS CLOTHING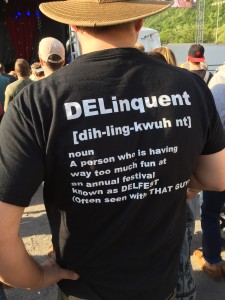 Del McCoury may be an old school bluegrass picker and crooner, but he has rock star gravitas. Twenty-something hippies were walking around wearing pins that said: "I Dig Del" and the crowd was thick with 'Del Yeah!' t-shirts. In fact, this latter exclamation was the unofficial slogan of the festival. Between songs bands would implore the audience: "Can I get a 'Del Yeah'!" and passers-by would grin and offer a high-five while crying the refrain. Normally such a cultivated cult of personality, with Del's name punned in every way imaginable, may seem self-aggrandizing or creepy, but Del came across as everyone's grandfather unifying with love and music.
Like that first Jazz Fest, I spent the weekend wandering around in awe soaking up new sounds. Although not as diverse, the lineup was much more varied than expected, mixing bluegrass and old-timey string bands with alt-country, folk, traditional outlaw and honky-tonk country, jam bands, and even a young soul quartet from Boston.
And at the center of it all was Del, returning every day, usually with his band that features his two sons and with grandchildren sitting in, picking his acoustic guitar and charming the audience with his infectious laugh and sly humor—joking, telling stories and just hanging out.
I can think of nothing that sounds more square and unrelatable than an aging bluegrass singer with a white pompadour and thick Appalachian twang, and yet Del was as hip as anyone I've ever seen take the stage, bringing together musicians and fans of all generations and genres in a delightful four days of love, respect, laughter, and music. Everyone seems to Dig Del!
LONG STORY LONG….
Next post I'll discuss some of the bands I discovered, but I felt I needed to explain how a blog about New Orleans music and culture jumped from Mardi Gras to a hoedown in the hills!
Del Yeah!