LOGO MEDALLIONS: THE CURE FOR BEAD AMNESIA
While my brother Jerry was visiting a couple of weeks ago, I dragged him along to play photo journalist during Morpheus 'pick-up' day at Plush Appeal. I'd decided to forego the $360 package, but still spent well over $200 piecing together logo novelties and extra plush throws. I could have gotten generic plush toys and beads for cheaper, but for me a lot of the fun is catching a specialty souvenir from each parade. It's a ton of fun catching big and elaborate beads, and I still cherish the Saints beads I caught one year, but couldn't tell you at which parade. Over time you forget even where the gargantuan beads came from, but a logo and date will bring a smile to your face and flush of memories every time. Still I'd saved money by ordering only 3 bags of the specialty Morpheus beads with blue and silver moons and stars, and no medallions were available for ala carte, which was a bummer.
LIKE A LITTLE PIRATE ON CHARRRRISTMAS EVE!
As I pulled up in front of Plush Appeal, I was as excited as a kid on Christmas Eve. There was already a large line snaking through the warehouse next door where distribution was occurring, though I hopped out of place to greet Kim, my awesome float lieutenant. As I waited for the krewe to piece together my order she instructed me to grab my hat from her silver SUV. I walked into the parking lot and looked around.  Every third car was a silver SUV! Doh! I've come to realize that that is sooo Kim.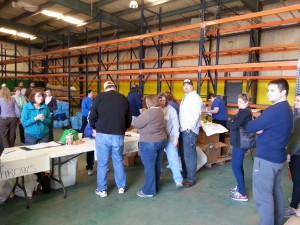 After a little detective work I found the correct car and returned to find five heavy Morpheus bags and a giant Plush Appeal shopping bag waiting. And this was a modest package which I still needed to supplement! Yikes!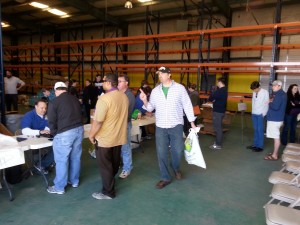 After I lugged my haul to the truck, Jerry and I wandered next door to the actual store, which he observed was [Read more…]