FOLLOWING THE RIVER AGAIN (THEORETICALLY)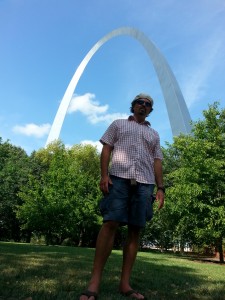 Although I stayed up late chatting with my neighbor, I was up early the next morning to meet an old friend, Matt Gregg, for the 1:00 Cardinals game in St. Louis. So after heading back to the Java Jive to book a room via their internet (any excuse for great coffee) I headed south along the river.
At least theoretically.
As I left town it was immediately clear that flooding had worsened overnight. After the second major detour around a flooded small town I steered away from the rising waters.
CASINO QUEEN: A MUSICAL LANDMARK (OR NOT)
Casino Queen / My God you're mean

I've been gambling like a fiend / On your tables so green

Casino Queen.
On their debut album, Wilco—a band with Midwestern roots— [Read more…]