THE TRANSPLANT TWENTY-FIVE
Last weekend I attended The All Chewbachus Spring Croquet Invitational and B-B Chew, a Chewbacchus 'related' (though not 'officially sanctioned' as even sci-fi walking parades in the Marigny have gone legit with insurance disclaimers) 'Gathering of the Nerds.' Held on the banks of the Mississippi River at a park below Audubon Zoo called 'The Fly' (for reasons unknown to me), this picnic and croquet free-for-all included many of the same attendees that were at the St. Patrick's Day party I attended two months ago just as I was starting My Low Carb Lent. Happily, fifteen to twenty pounds less of me showed up this past Sunday, for that party two months ago had been the first major test I would face.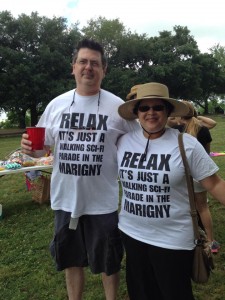 Now that Jazz Fest is over, the event this weekend provided a nice gateway through which to return to the early days of my quest to correct the dietary sins of My Year of Mardi Gras. Eschewing New Orleans living may seem an odd direction for this blog, but most transplants I talk to have had a similar experience; it's like gaining your 'freshmen fifteen' in college, only your 'transplant twenty-five' tends to come at a time in your life when your metabolism has slowed and you can't simply lose weight by exercising a bit and skipping the desert line for a few weeks!
PUTTING THE 'S' IN HOLI-DAY
Observing Lent in New Orleans is no easy matter, despite the heavily ritualistic Catholic culture. After the mass consumption of Mardi Gras the city may aspire to forty-seven days of fasting (if you count the Sundays, which is apparently a debatable point), but there are just too many good reasons to party here. Forty-seven days quickly gives way to four-to-seven days, and broken Lents come especially quickly in a year [Read more…]