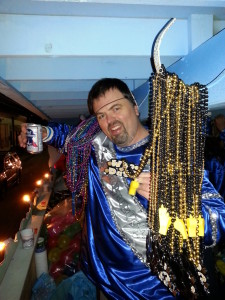 When last I signed off I'd just finished following the Mississippi River from its Lake Itasca source to New Orleans. It was my grand farewell to both the city and my year (and a half) of living like a working writer. I've since moved back to Jacksonville where I've been scrambling to reenter the professional realm—a much rockier and time-consuming transition than expected. I never expected to fall silent for so long but I was carrying an overdue balance of delayed reality and the 'real world' always demands its due.
Successful writers seem to steal a minute here or there while the coffee brews or the washer runs that extra spin cycle, but I typically require blocks of unbroken time to focus and access my brain's creative center. Perhaps this trait will sentence me to a life of stifled ambition, but I have not been able to write while restructuring and reestablishing my life as a Floridian and occupational therapist.
The Christmas season, however, left me wistfully dreaming of New Orleans. In December of 2012 (while preparing to move) I visited and was surprised by the beauty and festivity of a Crescent City Christmas. I have always associated holiday mystique with snowbound northern destinations, yet found a New Orleans holiday utterly enchanting. Thus, spending the season away spurred me back to the keyboard to reflect upon the Top Ten Things I've Missed Since Leaving New Orleans.
10) A CRESCENT CITY CHRISTMAS
I visited New York in 2011 expecting to rekindle my waning Christmas cheer yet was a victim of my own expectations. I came to New Orleans in 2012 sans expectation and stumbled upon what I'd missed in the Big Apple. If I miss Mardi Gras (which I won't, barring tragedy) or Jazz Fest (50/50 chance) then these two favorites will surely crack my list; however, for now I'll include my third favorite NOLA season, having blessed to experience the entire season last year.
When I arrived in 2013 I believed Halloween—my favorite holiday as an adult—would easily assume the #3 position in my NOLA hierarchy, yet what tugs at my heart and fires my imagination are memories of Christmas tree lights cutting through a French Quarter fog in Jackson Square; the elegantly twinkling tree in Antoine's plush dining room; Kermit Ruffins standing before a tree topped with his signature red hat while playing a jazzy Peanuts style "O Tannenbaum; ordering the special Reveillon menu at The Gumbo Shop after a free Christmas concert at St. Louis Cathedral; and….sigh.
9) PROCESSIONS, BOTH PLANNED & SPONTANEOUS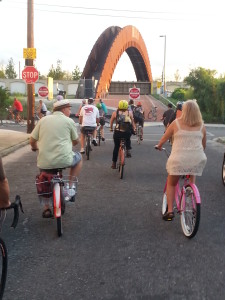 Whether an organized second-line, a Happy Thursday bicycle group, or just a mix of tourists and locals falling in behind a brass band on Frenchmen Street, part of the magic of New Orleans is everyone's willingness to drop everything to follow a Pied Piper to no particular destination—folks here realize it's all about the journey. This phenomenon is so interwoven into local DNA that when our weekly bike parades blocked an intersection, drivers waited patiently and often honked in appreciation or offered a friendly wave. In any other city such an inconvenienced motorist would lay on the horn and a middle finger, furious at your impertinence.
I also miss, of course, the friends I made during such treks. Upon compiling this list I considered including the peeps I left behind, but quickly realized that all those folks were already imbedded throughout.
8) A WORLD OF WEIRD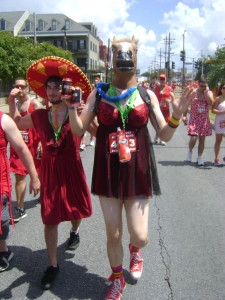 Before moving to New Orleans I was collaborating with a photographer friend on articles for a Jacksonville publication. We'd eagerly scour other magazines and websites looking for weird or unusual happenings to cover. Upon moving to New Orleans, though, I joked: "In Jacksonville I had to work to find weirdness, but in New Orleans I just walk out my front door and watch the crazy parade pass by."
It's common to claim that there are 'two types of people in the world,' but on this point I'm thinking in triplets. One type of person (a majority) fears or reviles odd or unusual behavior. A smaller second type tends to tolerate or ignore it—live & let live. Then there are those—a minority for sure—that revel in weirdness. I definitely fall into this third category. I love the strange, novel, and unusual. Although I admittedly can get uncomfortable when someone pushes boundaries too far, I generally admire people who don't mind going out on a limb and happy live outside the expectations of polite society. And many of those people find an accepting home in New Orleans.
7) DIVE BAR DISCOVERY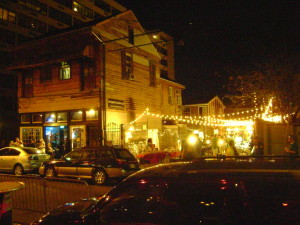 There are thousands of unique and interesting watering holes in New Orleans filled with unique and interesting people, covering the full spectrum from grime to grandeur; thus, a night out always held the thrill of possibility. Some of this is admittedly self-perpetrating myth, and my dive bar explorations were dampened by a lack of company (I made tons of friends, but few whom I could just call on a whim), but, still, every trip out the door felt like a trip of discovery (especially when close friends came to visit), and I miss that constant sense of possibility.
6) CREATING/VEGETATING IN COFFEE SHOPS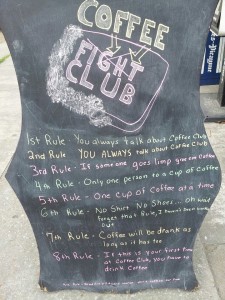 I was in New Orleans to write, so spent more time in the coffee shops than bars. Fortunately there is a funky and unique java joint nearby in every corner of the city. One thing about Jacksonville (and most cities) that drives me nuts is how quickly the local coffee shop fad was obliterated by Starbucks and Panera, so I even devoted a section of my Geaux Local guide to coffee shops.
And this warrants another shout out, for owner Eugene and the rest of the Krewe Du Brew staff became good friends and always made me feel at home. I felt like Norm in a caffeinated NOLA version of Cheers and wish I were typing these words in that stately columned St. Charles café while the streetcars rumble past….
5) MARINATING IN HISTORY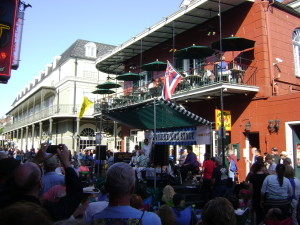 I was recently discussing my only trip to the U.K. with an Irish friend, noting that this thrilling trip held a constant melancholy undertone because I was deeply affected by the constant weight of ancient history that surrounded me. In America everything is new, creating the illusion that the world is still in a state of creation; in England there is a five hundred or thousand-year-old castle in every town to remind you of the brevity of human life. It was both exhilarating and daunting.
Regardless, I love immersing myself in history and New Orleans is the most European city in the U.S. Every nook and cranny of New Orleans is drenched in history, if not quite so ancient. Perhaps this is why so much of My Year of Mardi Gras was tinged in melancholy, but good or bad, every corner of New Orleans seems significant so simply being there made me feel relevant by default.
4) INTIMATE MUSICAL PERFORMANCES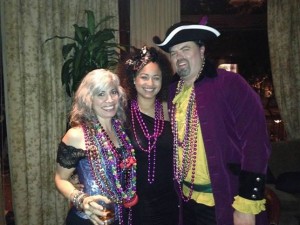 When it comes to national touring acts, North Florida has come into its own in recent years.  In 2014 alone I saw four all-time favorites (Paul McCartney, Mary Chapin Carpenter, and The Allman Brothers Band), and another, Wilco, is coming in May. I find myself with more options than expendable income these days.
Nevertheless, few if any cities can compare to New Orleans when it comes to a local organic music scene, and Jacksonville is particularly deficient in this area. It is no secret that music is woven into the very fabric of daily life there, and I am grateful to have had the opportunity to attend so many intimate shows in small but iconic venues. Along the way, I befriended a few amazingly talented musicians such as Robin Barnes and her band and Vince Marini and they often visited for Red Beans on Monday. Even though I was burning through savings and barely earning a dime, it was a thrill to feed a few starving musicians and play the role of patron to the arts if even on the smallest scale. And it was a thrill to head out on any random night and support so many unheralded artists making exceptional music.
3) THE LITERARY LIFE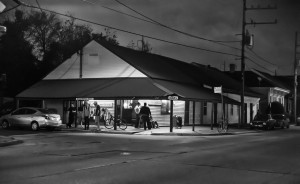 If the music scene in Jacksonville is on life support, the literary scene is DOA. I may have not achieved the foothold I desired in NOLA, but while living there I interviewed nationally known writers, became close friends with several other writers and professors, and could rest assured that even those friends who weren't writers still read veraciously. (Most of my Florida friends don't read at all—including this blog—so I can tease them freely!)
New Orleans is a literary city to its very core. Although it was hard to stand out in such a sea of talent, it was easy to join in, such as with the monthly book group at the sadly defunct McKeown's Books & Difficult Music. Owner Maggie was one of the first people to show genuine kindness to this frazzled outsider when I stumbled into her shop looking for a way to connect with the local literary scene, and I still miss those meandering and sometimes unruly discussions with a lively cast of characters at the monthly non-fiction book club.
2) CONSCRIPTIVE COMMUNITY CONNECTION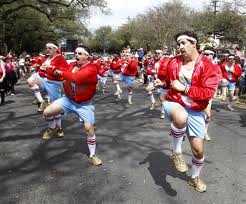 Okay, perhaps no one is forcibly drafted into community life in New Orleans, but there is a strong affirmational social pressure to participate.  If you're a native, it's bred into you. If you're a transplant, you probably didn't matriculate because you wanted to sit in your basement and play X-box (besides, there are no basements below sea level!)  Whether it's a Mardi Gras Krewe (and I miss my Morpheus and Chewbacchus peeps and those crafting sessions assembling bandoliers and Wookie merkin panties!) or a bike club or a an ironic dance troop or an amateur brass band or a social aide & pleasure society or whatever else floats your eccentric boat, there is something for everyone.
It doesn't matter what the outlet, nearly everyone plugs in somewhere. People in NOLA are proud of their city and, more importantly, are part of their city. In a world of gated communities and Facebook friends and hyper individualism bordering on social disconnect, it was refreshing to experience a place where people still value connecting on a human level and working towards a common goal—no matter how absurd or frivolous.
1) HOPE & PURPOSE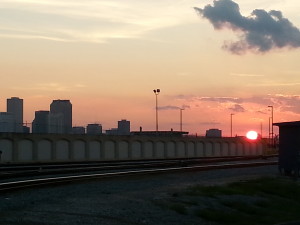 This is the biggie.  When I decided to get a second Master's in Occupational Therapy rather than pursue my Ph.D. in literature I quietly admonished myself for giving up on my dream. And for half a decade I did.  But over time I gradually sought out more and more writing outlets until I finally pushed all my chips onto the table and moved to New Orleans to devote my full attention to figure something out. Over a year and a half I experienced a ton but made little visible headway towards practical goals, so was faced with a difficult decision. I never realistically believed (we all dream) I could 'make it' in a year, but hoped for signs of progress or visible markers along the road. Instead I was financially floundering, having seen my early inroads (published in Offbeat, connecting with a couple of nationally known authors) quickly fade. My closest friends were far away and the sacrifices I would make in staying just didn't seem warranted.
Still, as long as I was in town I felt like I was in the game, much like the NFL team belonging to the city I'd left. Although the Jaguars have been the laughing stock of the NFL for years, at least they can say they're in the league, and that means there's always a chance. Only 30 U.S. cities—and cities in the world—can say that. Similarly, as long as I was in New Orleans I was striving for something more—paying my dream due respect—no matter how futile the endeavor. I was losing but in the game. Since moving back I have been necessarily focusing on more immediate financial and personal goals, but I miss that grander if hyperbolic sense of hope and purpose.
Of course, everything wasn't always rosy in New Orleans. 'The Big Easy' is a despised nicknamed coined by outsiders with no idea what daily life is truly like in the nation's most quirky and challenging city. If everything had been Big & Easy I'd still be there. So my next post will surely be the one to irk the friends I left behind (for residents tend to take NOLA criticisms quite personally): Top Ten Things I Don't Miss About New Orleans One Bit!
NEXT ARTICLE