A RIVER BY ANY OTHER NAME (OR BRANCH)
Identifying a river seems to be an obvious endeavor, but choosing which trickle of rainwater is the true source can be as tricky as determining which grain of sand begins a beach. Thus, it wasn't until 1832 that the source of the Mighty Mississippi was established when a local Native American led Henry Schoolcraft—a geologist and U.S. diplomat on an Indian peacekeeping mission who decided to take a side trip after failing to find the source with previous expeditions—to the portage flowing from a lake that Schoolcraft named Itasca. As with any such claim, controversy quickly ensued and other ambitious explorers tried to refute his claim.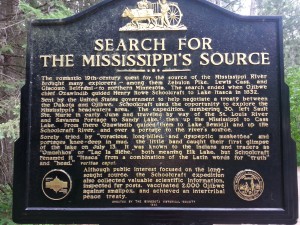 Modern scientists even question whether the northern branch of the great confluence should be considered the 'true river,' for the Missouri River, branching to the west, dwarfs the length of the entire recognized Mississippi while the Ohio River—branching to the east—contributes by far the greatest volume of water. Yet while debate may continue in scientific communities, Schoolcraft triumphed with historians, mapmakers, and vacationers seeking to stride the humble origins of the nation's greatest river.
SEEKING TRUE HEAD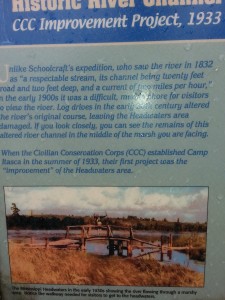 Schoolcraft created the name Itasca by combining the Latin words veritas (true) and caput (head), though he might as well have called it Lake Disappointment! Early writers and naturalists, eager to witness the birth of the Mighty Mississippi, decried this marshy, log and debris jammed outlet as an unworthy beginning for the nation's legendary artery.
Although the modern aesthetic would tend towards preseveration, depression era work corpsmen decided to [Read more…]