LIKE A BAD PENNY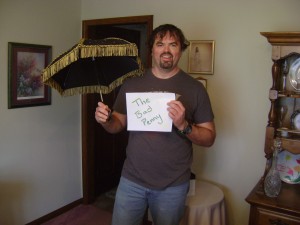 Well, I finally arrived in New Orleans (actually Metairie) at 9:30 last night where  Captain Billy and Peggy, my friend Mark's parents, so graciously fed me and put me up for the night.  In a few minutes I'm heading to the Hilton at the foot of Poydras to check into my Rocckus room,  (as opposed to Romper Room, one of my favorite shows of youth–appropriate as Mardi Gras is one big grownup Romper Room!) , but will return later this week.  The Captain and Peggy also put me up for Mardi Gras 2011 (you can see their picture on the WHY page) and again for Jazzfest last year.  Now here I am again.  I can't say enough about their generous hearts and bountiful hospitality, a trait found throughout New Orleans–one of the many reasons I love this city.  I just hope they don't come to regret it!  I've had such a wonderful time every time I've stayed here that I just keep turning up like that proverbial bad penny!
OPERATION ENDURING BEAD-DOM
"[Mardi Gras is] a year of preparation and perspiration that unfolds over several weeks like a military campaign hell-bent on spreading heaven throughout the darkest months of the year." –quoted from WHAT Is 'My Year of Mardi Gras?
Is it arrogant or improper to quote myself?!  Oh, well.  I'm at Mardi Gras now so I'll bet my lucky boxers worse sins are being committed as I write.
I include this quote, though, because it's a bit of writing of which I'm proud.  I think it's quite a good descriptor of what Mardi Gras is and what it aims to accomplish.  Despite the bad publicity it receives, Mardi Gras is a collective celebration of life that focuses the energy of an entire city towards the powers of light and goodness.   That's alright by me.  The world would be a better place if more communities focused their collective creativity and energy on communal festivity.  The world needs more, not less Mardi Gras, so let  'Operation Enduring Bead-dom' begin!