THE TRUE START OF MARDI GRAS CARNIVAL SEASON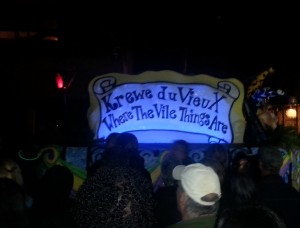 Although Carnival season begins on January 6th, the celebration truly kicks off just over three weeks before Mardi Gras when the bawdy and satirical Krewe du Vieux rolls through Marigny and the French Quarter, the first of nearly sixty processions that will roll through greater New Orleans area by Fat Tuesday. Thus, the excitement was palpable as my oldest brother (who'd flown in for this event) and I drove downtown Saturday afternoon through creeping traffic. Betweeen Krewe du Vieux and the NBA All-star Game nearly everyone had somewhere to be!
When we finally reached the far side of the French Quarter, however, Esplanade above Rampart was packed, as was all of Marigny, so we parked deep in a sketchy neighborhood past St. Claude and wound our way towards Frenchmen.
Jerry had decided to come this particular weekend after becoming intrigued by [Read more…]