ANCIENT DRUIDS & NYX: OSHUN & CLEOPATRA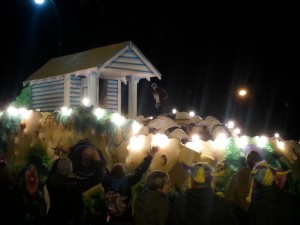 Nyx Grand Marshal Susan Spicer
Yesterday was rainy, cold, and wet. Even at a little after 5:00 as I rushed to Krewe du Brew, my favorite New Orleans coffee shop, to blog and try and beat the closing of St. Charles Avenue it was cold and drizzly.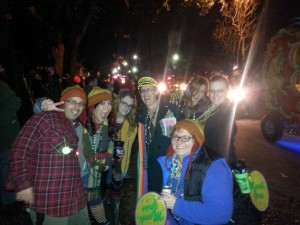 The K.R.A.P. Krewe Gathers
Ah, but the Gods of Carnival shined upon us. The ladies (and Pimp Daddy Bryan 'Rocksteady') from K.R.A.P. were gathering to watch two of our own parade in Nyx, the all female krewe that formed three years ago with Muses membership (the reigning sarcastic hipster queen of female krewes) and has quickly swelled to over 1,300 riders and rivals Muses for top diva–countering their custom shoe throws with hand decorated purses.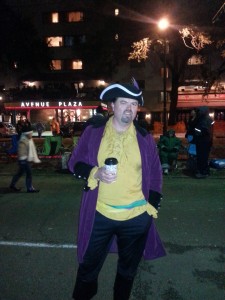 The Purple Pirate Cradles Krewe du Brew Coffee On A Night When Ice Cream Wouldn't Melt
K.R.A.P. co-founder and Thunderlord Rachel Unger was riding in float 21 and last-minute Mordor refugee Ann Thompson was in #12. A few others were mixed in as well. Their Chewbacchus compatriots made [Read more…]