CHERRY POPPIN' IN A RED DRESS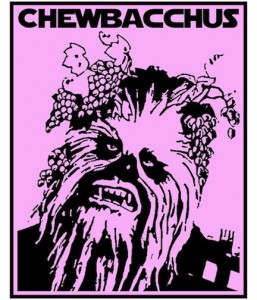 So my Carnival cherry has been popped, and in a red dress and support hose, no less. After seeing dozens of Mardi Gras parades in my life and having fallen in behind a few second-lines (next best thing to joining a krewe!) I rolled through the Marigny on Saturday night with the Intergalactic Krewe of Chewbacchus for my first ever Mardi Gras parade as participant rather than spectator. Like the movie trilogy that inspired Chewbacchus (I'm still in denial about the three prequels), it was an epic production of thrilling and inspiring grandeur.
Rolling with the oft mentioned sub-krewe of K.R.A.P. (Krewe of Really Awesome Parodies), I embraced their theme of Star Wrecks whole-heartedly…everyone seemed to agree that my costume was a glorious wreck of epic proportions. We're talking Edmund Fitzgerald worthy Star Wreck.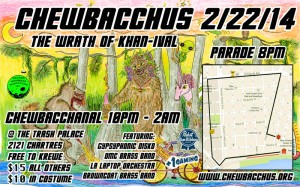 YOU HAD ME AT HELLO
At last writing, I was hastily posting prior to rushing to K.R.A.P. member Danielle Wheeler's house for some early afternoon pre-gaming as we donned our cringe-inducing parodies. Although my costume idea had popped into my head the moment I read the 2014 Chewbacchus theme on their website: The Wrath of Khan-ival, it took me a while to identify an opening to assimilate into the group. I'd been handed a K.R.A.P. recruitment card, though, at the kick-off party back in September, and the name caught my interest. Thus, I rushed back from a Florida visit in October to attend a sub-krewe meeting where Rachel Unger and Chrissy Gross—our fearless leaders—announced the theme of Star Wrecks; and the grumbling began. Folks said they didn't understand it or that it gave them no ideas. Hell, it made perfect sense to me: A hung-over, disheveled, half-drunk, morning after, walk-of-shame parody of your favorite sci-fi character. Baby, you're singing my song.
It wasn't that my costume fit K.R.A.P.'s theme, but that [Read more…]