WHO AM I?
Eric Sarrett

Born & Raised in Beckley, West Virginia (No I won't tell you at what hospital, my favorite pet, or my mother's maiden name!!!)
Lived post-college throughout Virginia & Florida, though I spent nearly a decade in Jacksonville before moving to New Orleans to write.
Careers: Writing, teaching, and healthcare. I abandoned teaching for a healthcare career over a decade ago, but my dream and life ambition has always been to write.  While slowing it down, this new path never derailed my dream.
WHO I'M NOT: AN ASPIRING WRITER!
I'm a writer.  Period.  People who claim to be aspiring writers have always puzzled me.  I've never aspired; I've just written.  Even in grade school as soon as I learned to string sentences together on a page I was recording my imaginary adventures and entertaining classmates with satiric caricatures (though I could never convince them to pay 25 cents for those stories—my first experience with the cold, harsh world of for-profit publishing!)   By high school my stories were so widely shared that I was shocked to be introduced to parents who were fans.  In college, in addition to stirring up controversy with the literary magazine and student newspaper to the point that the Dean of Students threatened expulsion, I became so frustrated that no one read the minutes I was required to distribute as fraternity secretary that I began including a running commentary.  Before long the entire fraternity was awaiting their weekly release…and half the campus!
As an adult I've published, primarily in regional magazines, but have yet to hit on that magic formula—a failing I intend to correct with this blog.  So have I made money with my writing?  Yes.  Do I make the majority of my income from writing?  Not yet.  Call me an aspiring independent businessman if you like.  But when it comes to writing don't doubt my ability, passion, or determination.
WELL, WE CAN TELL FROM YOUR PHOTO YOU'RE NO STARVING ARTIST!
Nope.  Based on these credentials:
Master of Science in Occupational Therapy, Virginia Commonwealth University
Master of Arts in American Literature w/creative thesis (i.e. novel titled Supporting Cast), Radford University
Bachelor of Arts in English, Concord College
I've supported myself as:
Occupational Therapist
Most recently serving largely Alzheimer's and Dementia patients in assisted living senior care
Previously serving children with special needs in Virginia and Florida public schools
Adjunct Professor of English
Keiser College
Tallahassee Community College
As well as:
Investigator, Florida Board of Bar Examiners
Graduate Teaching Assistant, Radford University
Camp Counselor, Activities Leader, and recurring volunteer at Camp Easter Seals-East, Milford, Virginia
UM, ENGLISH MAJOR TO OCCUPATIONAL THERAPY???
Yes.  You read that correctly.  As stated above, I've wanted to be a writer since before I could write.  In college, the obvious path seemed to be to get my Ph.D. and teach until I could publish.  Yet by the time I was finishing my Master's Degree several things were happening: 1) Teaching writing was proving to be unfulfilling and frustrating (How do you teach something that has always come naturally?!); 2) I was finding academic life to be creatively stifling (It seemed everyone there was reading books about life and writing authoritatively about it.  I wanted to be like Steinbeck and Hemingway—live life and then write about it!); 3) I was finding fulfillment in a summer job I'd signed up for on a whim: Counselor at an Easter Seals camp serving both children and adults with physical and/or cognitive disabilities.  Enabling this population was inspiring and empowering and the bond formed amongst staff and campers is unlike any other sense of community I've encountered.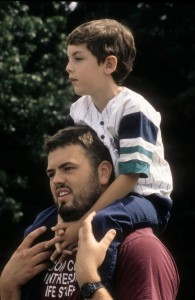 Although it's easy to dismiss summer camp as a fluff job, I learned more about life and myself those summers than at any other time.  In addition to discovering the importance of patience, humor, & empathy for coping with and succeeding in life as well as learning to see past a person's appearance and limitations, I forged lifelong friendships and went from being a haughty post-grad man-child to a positive and energetic yet informed and proactive adult.  It was this work that forged the unlikely transition between my intended academic career and my actual career as an Occupational Therapist working with physically and cognitively challenged populations.   Easter Seals taught me to fight for the underdog.
It was quite daunting going back to grad school in a foreign field after just beginning my teaching career, though I don't regret this decision.  I feel like I've touched many lives over the past decade, but grad school and practicing a new profession left little time or mental energy for writing.  Gradually, though, my heart and soul compelled me to devote nights and weekends to my creative self until I finally realized I was never going to become what I was always meant to be by devoting scraps of time.
So, starting in 2013, all my chips are on the table.  I'm leaving steady employment with no immediate means of income in sight, launching this blog, and fully committing to my literary ambitions.

WHAT DO I LOVE & VALUE, MAKING ME WHO I AM?
Family & Friends first and foremost—nothing more important
Writing, obviously.  In the past two years I've published adventure/experiential essays, informative articles, and interviews for:
Offbeat
(I Want a) BUZZ

Folio Weekly
But here is a non-exhaustive list of other formats I've embraced:
 Short stories (notably winner of Florida Times-Union holiday fiction contest)
Two fiction novels, one of which will soon be available on Amazon for the Kindle
Dozens of song lyrics
TV sit-com pilot inspired by my work in assisted living facilities for aging adults with dementia and/or failing health that I intend to shop this year
Blog (duh!)
Two Acts of a Three Act musical, written before it became apparent that the musician friend who hatched the idea was never going to commit a note to paper!
Music, equaling if not surpassing my love of writing.  A particular enthusiasm for New Orleans music inspired this blog, but here is a non-exhaustive list of genres I love:
Classic Rock
Alt-Rock
Jazz, all eras
Blues
Cajun & Zydeco
Funk
New Orleans Brass Band
Old School R&B , especially with a N.O. flare (Irma Thomas, Johnny Adams)
Country & Bluegrass
Literature & History, as you may guess.  Some favorite authors past & present:
Mark Twain
John Steinbeck
John Irvin
Bill Bryson
Denise Giardina
Travel & Culture: I have particular affinities for New Orleans & Chicago but love immersing myself in new settings rather than 'sight-seeing,' having visited 46 states and 7 countries on 3 continents.
Cooking: I love Cajun cooking but, yikes, am into healthy & organic—a seeming paradox. Everything in moderation!
Health & Fitness, particularly an addiction to Brazilian Jiu-Jitsu in recent years. (Check out BJJtraininginfo.com!)
Architecture.  Not that I'm knowledgeable, but partly why New Orleans and Chicago stir my soul, as did living in Richmond, VA and near St. Augustine, FL.
Well-written serial TV.  In moderation, but I'm not that snob that pretends I never do.  Scrubs is my favorite and inspiration for my screenplay, though otherwise I enjoy complex shows with twisting plots and complex characters like:
Breaking Bad
Dexter
The Walking Dead
The Shield
Justified
Weeds
Battlestar Galactica (2000s version!)
Sports
Lifelong WVU Mountaineer fan (gulp!)
Cubs fan since I fell in love with Chicago as a youth (double gulp!)
NFL loyalties have wavered though hardly followed fair-weather—I've rooted for the Jaguars since moving to JAX (triple gulp!)
 OKAY, ENOUGH ABOUT YOU! WHAT ABOUT YOUR CRAZY IDEA?
Now that you know WHO this Mardi Gras Masked Man (or Mad Man) is, click here to learn WHAT his crazy blog and adventure is all about.  Or, if you're interested, below is an excerpt from the Prologue to the memoir I plan to write based upon this blog, briefly telling my life story up to the point where this narrative begins.
Prologue
[BIOGRAPHICAL EXCERPT]
I once quipped while playing in a modest Jacksonville blues band that while my body was born in West Virginia, my heart was born in Chicago and my soul in New Orleans.  To my delight, our singer latched onto this introduction for the handful of gigs secured before egos began to outpace our talent.  Still, a lot of truth rested in this clever turn of phrase, for my love of culture and diversity had first ignited during childhood visits to the Windy City and my soul was truly reborn during my first pilgrimage to The City Care Forgot.
I'll always proudly wear the blue and gold WV of my West Virginia home yet I never truly felt at home growing up there.  I am too loyal to turn my back on my roots, yet the rich inner life I yearned for in youth found scarce nourishment within the vertical confines of rural Appalachia.  Don't get me wrong.  The mountains of my youth were a veritable playground of rolling hills, steep gorges, and pristine rivers, but they offered little cultural sustenance for a budding 'artsy-fartsy soul,' as my oldest brother dubbed me.  While other children rampaged through the thick and abundant forests and learned to navigate their way home through endless sameness, I sat in my basement and created endless worlds through elaborate action-figure melodramas that would stretch on for months.  While other pre-pubescents learned to aim a gun and skin a deer, I buried myself in books.  And while other adolescents roared down to the river on their four-wheelers to learn to shotgun beer and dip snuff, I learned to pluck the guitar on the edge of my bed while writing reams of rhyming verse that I was desperate to turn into song lest anyone accuse me of poetry.
My first connection to the outside world came through TV, top-forty radio, and my daddy's country music, but the bookstore in the local mall was my true conduit to distant lands.  I recall the ladies who lovingly packaged my purchases with a fondness most reserve for former teachers, for these were the stewards who truly watched me grow and guided my maturing interests along the way. (Until, that is, at age sixteen my interests matured a little too much and I was caught sneaking Playboy, thus leading to several years of embarrassed self-banishment!)
Although my family traveled every summer to somewhere steeped in American history and culture, my first taste of a true city came in sixth grade when I began traveling to Chicago with my best friend.  I instantly fell in love with the expansive possibility of this invigorating metropolis, yet it never occurred to me that it could be anything other than an occasional change of scenery.  In truth, despite a raging imagination that created and destroyed universes on a near-daily basis, I didn't know where to begin imagining a future for myself.  I simply did not know enough to know what I was missing.  I was in high school before I discovered the Beatles; I was in college when I first truly heard jazz; I was in grad school before I read my first work of Appalachian literature and realized my experiences held artistic credibility; and I was already transitioning from the world of academia to a second career in healthcare when I first arrived in New Orleans.