TO SCHIZOPHRENIC OR NOT TO SCHIZOPHRENIC 
This has been my longest blogging break in a while. Although partly due to getting wrapped up in the novel I'm preparing to release on Kindle, Jeremiah's Scrapbook, (more about that later!) it has more to do with the fact that, during this series of post titled 'The Voice' I'm searching for, well, my voice.
I know that sounds crazy for someone who's already posted over 50 articles and has a unique, sarcastic way with words (see section headings) that can be an obstacle when I do freelance work for magazines that want you to conform to an anonymous, unified voice. I guess, then, what I'm seeking is not 'a voice' but 'which voice.'
This blog is at times confessional (such as these last two posts), at times a travelogue, at times food and music reviews, at times an exploration of unique cultural trends such as Mardi Gras Indians or St. Joseph's Day, and usually a blend of all the above. As I try to build a consistent audience, I'm wondering whether I'm best served with this scattershot, all-inclusive approach or if I should focus more on my difficulties and triumphs adapting to the city (confessional), my adventures in the city (vicarious), the city's culture and oddities (reporting), or opinions on food, music and festivals (reviews). For now I'll continue to do all the above but can't help but wonder if, over time, one won't stand out as 'the voice' I need to adopt to build a readership.
TOM PETTY: THE DALAI LAMA OF IMPATIENT BLOGGERS
That readership has grown (thank you, regulars), but has been averaging near forty to sixty daily page hits on average for a while.  I've had a few days of over a hundred hits, approaching 150, but haven't been able to remain there and continue to climb. Hoping to grow, I've been out networking at every opportunity; I've passed out hundreds of business cards for the blog, attended book salons, reached out to local authors, talked to strangers in bars and at festivals, contacted magazines and one radio station, reached out to other bloggers, and pretty much flung myself in every direction I can think. It will take time to grow, but, as Tom Petty says, "The waiting is the hardest part."
BY AIR(WAVES) AND BY SEE (ME, NOT EMAIL)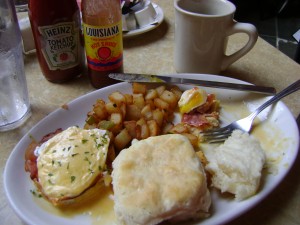 I had one particularly promising day right before Jazz Fest where it seemed the stars were aligning. I hopped on my bike in Uptown and after a stop by the Superdome to buy my tickets, peddled into the French Quarter for a lovely breakfast in The Old Coffee Pot, not realizing that such courtyard breakfasts would be in reach every day since at the time I had no intentions to ever move to the Quarter. Afterwards, I stopped by WWOZ, the local public radio station that is a fierce supporter of local music, regularly inviting local musician on the air. Even though they were busy passing out festival 'Brass Passes,' I was greeted enthusiastically, given and tour, and introduced to the operations director as though they had a true interest in my project.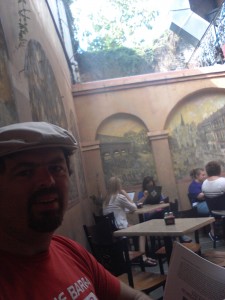 Next I stopped by Offbeat. I'd been emailing with follow-up pitches ever since my Krewe of Rocckus article with no response. Fortunately the editor was in and once I had him face-to-face, he easily agreed to some Jazz Fest reviews and a story on a Robin Barnes. He also seemed optimistic the website could link my articles back to my blog. Score!
WHEN DUCKING DOWN A BLIND ALLY ON A STRANGER'S ADVICE ACTUALLY WORKS OUT
Next I took a bike ride toward the lake to scout the Fairgrounds for Jazz Fest, though my luck took a seeming turn for the worse when I blew a tire, pulling out my phone to discover the closest bike shop was miles away across the bayou. Steaming, I started the long trek pushing my bike, stopping at a service station to futilely pump the tire and later asking a guy with a truck outside a convenience store for a lift (he wasn't going my way and didn't really seem to care.)
Heading down Orleans Avenue through a part of the city that I wasn't familiar with and that didn't seem the worst but didn't seem the best either, a young man stopped to chat. When I told him I had a flat, he pointed down a road to a cluster of industrial buildings and said, "There's a bike shop back there. Just cross the railroad tracks and go behind that big warehouse."  I was a little wary. It didn't like the place where any business would be, let alone a bike shop. Was there someone waiting back there to clock me and take my money? Did he know I was broke?! I cautiously eased down the road as he watched and yelled directions from afar, walking in the middle to leave space between me and anyone lurking around the corner. When I finally rounded to the back of the large, rusty warehouse sure enough there was a little bike shop in an open garage—no frills. I had to wait for the guy to get back from lunch, but he treated me fair, did a good job, and turned out to be an entertaining eccntric, claiming to be the first registered Libertarian in Louisiana.
IF LENNON & MCCARTNEY HAD MET IN A BIKE SHOP
As he worked on my bike, a guy came in cursing and pushing his street bike, threw it on a rack, and began changing his tire. "You're quite comfortable here," I said with a laugh. He smiled and said he used to work there but had recently returned to his previous life as a singer/songwriter. We started talking music, politics, and life in general, swapping business cards to perhaps get together and collaborate. Later I listened to his stuff online and was quite impressed so made a point to stop by one of his regular gigs.
I never heard back from any of my follow-up queries to WWOZ, despite their enthusiams, and Offbeat continues to be difficult to reach, though I do have an article and review coming out this weekend and am interviewing Robin Barnes Monday; for some reason, though, I doubt I'll ever get those back-links to my blog. Tonight I'm heading over to Vince's, the bike shop musician, to jam and see if we hit on any worthy ideas. It's two steps forward and one back, but progress all the same.