PICTURESQUE TROPICAL FRAMES
Although I'm back in New Orleans, my need to reflect and process continues after months of frantic, unrelenting madness running from Mardi Gras to Jazz Fest, so to clear my head this morning I ambled through quaint back streets of Uptown for a long stroll to Slim Goodies for breakfast with Trombone Shorty on my i-pod. I returned last night in time for this repeat appearance by Trombone Shorty & Orleans Avenue at Wednesdays in the Square following their triumphant set closing out Jazz Fest, and I was still buzzing this morning from their bouncing melodies. The summer heat and humidity is just setting in, prompting a light and pleasant sweat, and the air was filled with fragrant blooming flowers I can't identify but that stir my soul nonetheless. As I wandered along my eyes feasted on the vibrant and historic architecture that these spring blooms enveloped in picturesque tropical frames.
WEALTH WITHOUT VISION VS WEIRDNESS ON STERIODS
I moved here from tropical north Florida yet in nearby Ponte Vedra Beach, the richest enclave north of West Palm, the limitless money on display displays no imagination. I have always been disillusioned by the prominent faux-Spanish McMansions that are photo-copied and crowded along the shore as monuments to wealth without vision. To the south, St. Augustine provides a welcome contrast with its tropical gardens, southern Victorian porch-and-column architecture, and artistic quirkiness. Uptown New Orleans is more like the latter if St. Augustine had bred like rabbits and juiced up its weirdness and creativity on 'roids.
MAGNIFICENT MANSIONS, QUAINT COTTAGES, & VISUAL NON-SEQUITURS
The Garden District is the most famous iteration of Victorian southern architecture in New Orleans with it's mansions of towering columns, wrapping wooden porches, massive shuttered windows revealing peeks into elegant parlors, and lush gardens; yet all of Uptown reflects this aesthetic if to a smaller, quainter scale.
Granted, current denizens can't take credit for the historic architecture, but they have embraced the spirit. There is no cookie-cutter conformity in this city where it's a virtue to stand out and march to a different drum. Each house is unique, as is every street, and every resident seeks to add their own touch. As I perused this individuality on display one house caught my attention and I had to stop for a photograph. The rocking chairs and tropical vegetation brought to mind Key West while the beads hanging from the Medieval porch ornament and colorful wreath by the door were pure New Orleans (as was the decorative iron fence). Yet that rusty suit of armor provided a pleasant thematic non sequitur perhaps hinting at some unknown predilection by the owner. Such tiny but captivating details are the fuel that fire a writer's imagination. There may be a short story hiding on that front porch just waiting for my discovery.
FIESTY FIFTIES, SULTRY SIXTIES, & JIVE AT SEVENTY-FIVE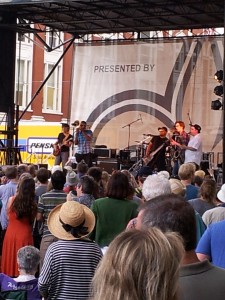 In much of the world creativity is the domain of youth but in this city age is no excuse for a fading imagination. During Jazz Fest I was thrilled to see twenty-somethings sing along to Billy Joel and Fleetwood Mac. In contrast, last night as Trombone Shorty turbo-charged his jazz with hard rock, driving funk, hip-hop rhythms, and rap-inflected lyrics, there were locals in their fifties and sixties dancing joyously along; seventy-five year old legend Allen Toussaint even came on stage to lead a call-and-response rap.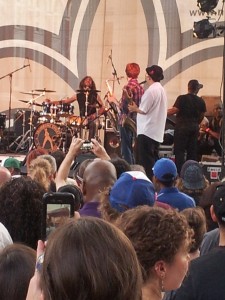 I've always felt that if you only listen to the music of your generation then you don't love music—you love fitting in. Nowhere is this more apparent than in this city where past and future collide on a daily basis. I've said it time and time again—people who think New Orleans is stuck in the past are fools. This is a city mines the beauty and wisdom of the past as it thoughtfully wades into the future as opposed to rushing forward without direction.
BULGING GUTS, BURSTING INSEAMS, & JAZZ HAND WHERE THEY SHOULDN'T BE
As for the need to stand out, there can be few better examples of the 610 Stompers who took the stage before Trombone Shorty. Mardi Gras parade staples, this group of young to middle-aged men wear knee socks, head bands, nylon short shorts, and seventies color-contrast t-shirts, executing dance routines filled with hip thrusts that accentuate bulging waists and bursting back inseams, leg kicks of unathletic grace and height, and jazz hands where jazz hands shouldn't be. Composed mostly of professionals, these men certainly aren't making money but are becoming parade favorites. This city rewards weirdness and these guys have found a way to be of New Orleans even while working very American corporate day jobs.
I have always beaten a unique path, so this celebration of weirdness drew me here as much as the embrace of deeper culture, and this melding of high art and lowball self-expression unfolded in perfect metaphor as the 610 Stompers ceded the stage to perhaps the city's most talented and promising young musician. While he's clearly an entertainer with his brash, engaging, and—I'll just say it—badass swagger, at twenty-seven Trombone Shorty also displays the musical depth and genius of a legend in the making. It was a transcendent moment and just another night in New Orleans.
EXISTENTIAL SONAR PINGS
Thus I'm basking in the moment, living in a city where every walk is a visual feast; every bar a sonic awakening; every meal a gustatory temptation; and every day an infinite promise of the strange and unanticipated. Yet living in the presence of such brilliance can also inspire existential sonar pings, bouncing your self-doubt off unseen shadows in the future's murky depths. Some days I feel quietly confident while others I fear I'm just mildly delusional as I actively and aggressively seeking to connect with the local creative scene, sniffing whiffs of imminent triumph that are always followed by reminders of 'two steps forward, one step back.' Thus as I walk I reflect and wonder if I can find The Voice in this chaotic chorus of competing counter melodies to forge these writings into something more than just a personal indulgence.